CHURCH & MINISTRY
Anderson
Compassion International in Brazil

By MeLissa LeFleur



A group from GotQuestions.org traveled to Brazil to see Compassion International's work in the area. Here is one perspective...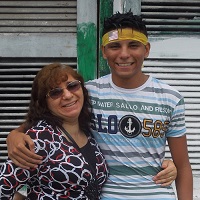 When I was 16, I thought mostly about school and basketball. Sure, I thought about boys, worried about the next geometry test, and tried to ignore whatever teenage drama was occurring around me, but I didn't worry about what I was going to eat that day or if I would get a shower. Although I didn't realize it, my life was pretty easy. My parents made sure I had clothes to wear and money for lunch. Like most teenagers, I took those things for granted.

While in Brazil, I met Anderson. He looked like any other teen boy, but I quickly realized that he is the most mature 16-year-old I've ever met. As we walked to Anderson's house, our translator let us know that Anderson lives alone. Then he pointed to the trench behind the house and commented that the house didn't have plumbing. As we turned the corner, Anderson welcomed us in to his home. I wondered if he felt nervous about having us in his home or if he was excited. At 16, I hated when people came into my room! His house contained a bed, a couch, and a place to store his clothing. There was a small section with a few kitchen items. I chuckled when I saw his basketball shoes lined up with pride next to a bottle of hair gel. Yep, even though he lives alone, he's still a 16-year-old-boy!

I could tell he was nervous, but really excited to tell us about how God has worked in his life.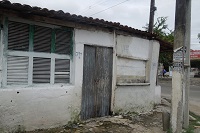 When he was 10, his father died, leaving Anderson and his two older brothers alone. Their mother had abandoned them years before and their older sisters were also gone. With the death of their dad, the two older boys turned to drugs and violence in an attempt to deal with the grief. Within 4 weeks, both of Anderson's older brothers were dead — one from a drug overdose and one from gang violence. At 10 years old, Anderson was an orphan, living by himself in the family home. He had a big decision to make. Would he turn to the streets for "support" or would he turn to the local Compassion Center? He didn't know much about the center, but the church was only a couple blocks from his house.

At first, he turned to the streets like his brothers had done, but he quickly learned the dangers. One day, he walked into the Compassion Center and the people he met there have been his family ever since. He walks to the center each day and receives a hot shower and a meal. With their encouragement, he recently started attending school again with hopes of becoming a P.E. teacher and a pastor. He's working hard to graduate high school on schedule even though he missed a couple of years. Despite the horrible circumstances of his life, He is choosing to walk with God!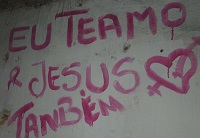 The Compassion program has been instrumental in keeping him off the streets and giving him the necessary resources for life — clean water, food, medical care, education, life-skills training, and the opportunity to hear about Jesus. Anderson realizes that he can dream big! His situation and the poverty that surrounds him does not have to spoil his dreams for the future!

I have a friend who says, "It's not the years, it's the mileage." Anderson has walked a lot of miles and has endured more life experience than most adults. My prayer is that he keeps God as his navigator as he walks this journey of life.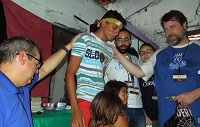 2 Corinthians 1:3-4 says, "Praise be to the God and Father of our Lord Jesus Christ, the Father of compassion and the God of all comfort, who comforts us in all our troubles, so that we can comfort those in any trouble with the comfort we ourselves receive from God."

Anderson is a living testimony of those verses. May God continue to give him the opportunity to share with others the compassion he has received.

On the wall of his house he painted, "Eu te amo e Jesus também" — "I love you and Jesus does too!"

Keep spreading the love of Jesus, Anderson!


To release a child from poverty in Jesus' name, sponsor a child today.


---

Images courtesy MeLissa LeFleur
1. Anderson and his "mom," the director of the Compassion center.
2. Anderson' home.
3. "I love you and Jesus does too!"
4. Our group prayed for Anderson to continue to follow God and be used by Him.


---
Tags
:
Hardships
|
Ministry-Church
|
Personal-Life
---
comments powered by

Disqus
Published 3-18-15