GOT QUESTIONS
Got Questions? FAQs
Funding

By S. Michael Houdmann, Got Questions Ministries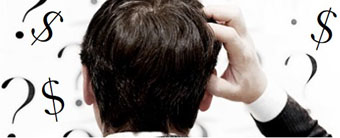 I know this post might seem incredibly self-serving, but I promise you that we receive this question a lot. Especially once people learn the scope of what we do, they are often very curious about how we pay for it all.

In 2015, GotQuestions.org had approximately $640,000 in income. Of that, 69% was from donations and 31% was from advertising. In regards to donations, as a 501(c)(3) non-profit organization, we can receive donations and give tax-deductible receipts in response. In regards to advertising, we allow other Christian ministries, organizations, causes, and/or products to advertise on our websites.

Being a primarily donor-funded organization definitely has its challenges. How aggressively do we fundraise? We have an online donation page — https://secure.qgiv.com/for/gqm — and a few times a year we send out a fundraising plea to our subscribers, but that's it. Even with that, we receive the occasional complaint. Contrast that with the advice we always receive from "professional fundraisers" that we need to be doing so much more. I think our fundraising is a balanced approach. We completely trust God to provide for our needs and we believe it is appropriate to make people aware of our needs.

Advertising can also be a dilemma. Thankfully, we have the right to reject/refuse any advertiser we do not approve of. But, where do we draw the line? Does an advertiser have to be in complete agreement with our statement of faith, or do we only require agreement to the essentials of the Christian faith? It is a somewhat similar issue to what we face with our recommended resources. We turn down far more advertising than we allow, to the consternation of our advertising representation company. While we have definitely made some mistakes in advertising we have allowed, and probably in some advertising we have not allowed, again, I think we have found a reasonable balance to how we view our advertising income.

What does GotQuestions.org do with the money it receives?

First, at the decision by our Board of Directors, GotQuestions.org has a reserve fund that could keep the ministry going for a few months in the event of some kind of financial catastrophe. We firmly believe that God gives us money to put to work in His kingdom. At the same time, we believe a reasonable reserve is appropriate.

Second, we spend the money on what we believe to be the priorities God has led us in. The major expense categories are as follows:

Payroll for our eight employees = 52%
Translations = 15%
Paid article writers = 5%
Programming = 5%
Webhosting = 4%
Email marketing = 4%
Graphic/web design = 3%

The remaining approximate 12% is spread out over 15 other expense categories.

A common way for a ministry to categorize its expenses is to divide them into three sections: Program Services (the actual work of the ministry), Administration (the behind the scenes work that makes the ministry possible), and Fundraising (money spent with the goal of bringing in more money). Applying this division to our 2015 expenses results in the following:

Program Services = 87%
Administration = 11%
Fundraising = 2%

As any Christian ministry or organization should do, our financial reports are available upon request. We are always ready, willing, and able to answer any questions about how we raise and/or spend money.

That vast majority of GotQuestions.org donors are "small" donors. We are not reliant on "large" donors to make ends meet. We strive to budget based on the small donations we can reasonably expect to receive. That way, when large donations do come in, we can use those funds to amplify or expedite something that is already taking place.

God is good. Since the day I stepped out in faith and became an employee of Got Questions Ministries, the ministry has never been unable to pay a paycheck or bill. Are there some projects that are essentially on hold due to a lack of funds? Yes. But, we view these as waiting for God's timing to be right. We are waiting on God, not because God is late, but because we are not sufficiently in tune with Him.

As long as we are seeking God's will, we know that He will provide what we need in His timing. We covet your prayer support, and if you are able and so led, your financial support.


---
Tags
:
Got-Questions?
|
Ministry-Church
---
comments powered by

Disqus
Published 2-25-16