THE ABIDING LIFE
What is abundant life?


By Gwen Sellers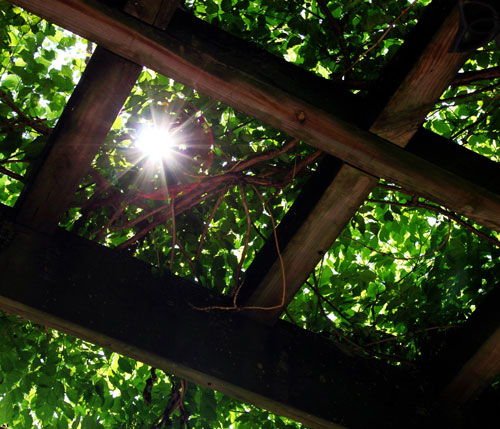 "The thief comes only to steal and kill and destroy. I came that they may have life and have it abundantly." (John 10:10)

Abundant life. That's the gift of Jesus to His followers. Something Christians can confidently claim. A promise of God. But what is abundant life?

The answer is different depending on whom you ask. One of my friends says that abundant life is God's provision. This may mean denying things we want for the sake of submitting to God's better plan. It involves relationships, experiences, knowledge, love, physical health, and earthly possessions. This friend says that we often take God's gifts for granted because we don't know really understand abundance at all. We only know stability despite circumstances because God provides peace and hope.

Another friend talks about the characteristics of abundant life. She says it involves confidence based on knowledge of our identity in Christ, peace and hope based on our knowledge of God's sovereignty and love, and sense of purpose based on commitment to God's will. For her, abundance is about surrender to God. It is freeing to release control to the One who knows best and loves completely. This friend says, "Our life, based on an increasingly intimate relationship with God, is one that is full of good and eternal things." This includes the joy that sets followers of God apart from those striving after earthly things.

Yet another friend speaks to the quality of abundant life. It isn't more of what we have, but better. This friend says abundant life is more deeply satisfying. It isn't about a bigger house, but about a house being a home. She says that we need eyes to see God's special provisions and hearts that are grateful to receive it.

I've watched these friends and others in their experience of abundance. Some feel it most in relationships, others in time spent alone with God, or in His little love gifts. Others sense abundance in delving into the depth and truth of Scripture. All seem to agree that abundance is based on deep knowledge of God and willingness to receive His gifts as gifts.

I have one friend who takes abundant life to the next level. Helping believers be freed from the enemy to abundance in Christ is her life mission. This friend astounds me with her faith in God and the companionship she feels with Him. She intimately knows God as her deliverer. She believes that she has been set free—healed—so that she can speak.

Sometimes life feels lonely. Christians often talk about suffering for God and act as though God creates difficulties in their lives. This friend refuses to believe it. Yes, our lives have difficulties and God is able to use them, but He does not create them. "God is not the author of evil," she tells me, "but He does make what the enemy intended for evil into something beautiful. God is the giver of good gifts." To her, abundant life is a daily reality, a perspective that is steeped in God's truth and His word. This is what she says about abundant life and her journey:
I gave God my everything and asked Him for His everything. He delivered me from fear and into freedom and abundance. I believe we have to seek God with all our heart, soul, mind, and strength (Mark 12:30). We sometimes allow junk in and get messed up. But I believe that if you open up the temple (your heart), God will clean it out.
Although she has experienced God's physical healing, that is not what she finds most amazing about God. She is sold out to Him. She wakes up with God's name on her lips and His word in her mind. She truly communes with God, bringing every thought to Him. When she hears His voice, she recognizes it, verifies it through Scripture, and then confidently moves forward. This is not to say that she never struggles, but she knows where to go. When something in her heart is amiss, she takes it to her Lord and receives a response. She says it is possible to live with a prayerful attitude in the midst of real life—work, errands, relationships. She doesn't live in a commune or seclude herself from "the real world." She is attuned to God and to His purposes and lives those out in the midst of our current realities.

She does believe that prosperity is part of abundant life—prosperity by God's provision, not necessarily mountains of money. "We are blessed to be a blessing," she says. And God's provisions serve to give Him glory. She does not believe that worldly goods are merely for our pleasure. They are for His glory, to point others to Him. "If Christians aren't different from everyone else, then what's attractive about them? If the needs of Christians are not met, then why would a non-believer think the Christian life is any better?"

I see no pride in my friend; she does not think she is something special. She simply takes God at His word. Jesus said He came to give abundant life, so she believes that is His desire for all of His followers. When she sees a dissonance between biblical promises and Christian lives, she does not rewrite the promise or suggest that abundant life is only meant for Heaven or for the early church; she claims God's promises for her life today. She is adamant about seeking God and truly knowing Him, trusting Him with her all. Their relationship is intimate, even if life sometimes feels lonely.

I don't want to be saved only for an abundant life in Heaven. I want what God has to give me today. These friends encourage me with their perspectives and the evidence of God's work in their lives. Ephesians 3:20-21 says, "Now to him who is able to do far more abundantly than all that we ask or think, according to the power at work within us, to him be glory in the church and in Christ Jesus throughout all generations, forever and ever. Amen." Yes, to God be the glory! Abundance is a display of His character. In this life, it is a foretaste of what is yet to come when we know Him fully (1 Corinthians 13:12).


---

Photo Credit: Wandering Star Photography


---
comments powered by

Disqus
Published 10-10-12