THE TAKE AWAY
Travel the World


By Kersley Fitzgerald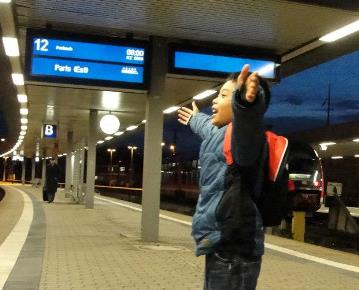 JT and Dev and I had an amazing opportunity this Christmas. We flew to Germany and spent two weeks with friends who had retired there. They live outside of Frankfurt, in a little village with cobblestone streets and the whole deal. Shortly after we arrived, they took us to the Netherlands, to a Christmas Market held inside a huge cave complex. Christmas Eve was a day trip to Paris. After Christmas, we spent a few days in Rothenberg, a walled city. They completely spoiled us, and JT begged us not to go back home. In part because of their long, blonde 14-yo daughter who loved Mario Brothers as much as he did.

We learned some things on the trip, and not just that our ancient high school German was nicht zo gute. Here are a few things.

Try new stuff. I can be a bit of a picky eater. But when you're in a foreign country, it's hard to be specific. This was epitomized while I was trying to order dinner at a Turkish restaurant in Germany. I was too specific. They got the order wrong, and I tried to correct it. Then they wound up giving us a free meal just to get rid of us because they couldn't understand what I was saying. The rest of the trip I was pretty flexible. If the order was wrong, oh well. I guess I'll just try what they gave me. (It helped that we were in Germany. No nasty peppers or cilantro.)

Rudeness is in the eye of the beholder. We spent quite a bit of time on the Autobahn. It wasn't the mystical porthole into another world that I thought it would be. It was mostly a four-lane highway lined with pine trees. But because it was mostly two lanes each way and most people were driving fast, the driving was more aggressive than what I was used to. Here in Colorado, we have all the room in the world, anyway. In Germany, when you swerve in front of someone it's not called "cutting them off." It's just driving. No need to get upset about it. Just pay attention and don't use your cruise control. (And I understand traffic in Germany is nothing compared to Italy.)

Stereotypes are boring. I was actually disappointed with our host at one point. After checking out the Eiffel Tower, we found a real live French café for lunch. I was looking forward to meeting the quintessential rude French waiter. Instead, we got a guy who was raised in Detroit. He was so happy to meet English-speakers that he bent over backward for us. But we did get the 20-something elevator-girl on the Eiffel Tower say, in a beautifully stereotypical accent, "Zis iz zee Eiffel Tower. We have no haught-dogs!"

If you don't pay attention, you could miss something beautiful. We were on the top of the Tower, looking out over Paris. It was very crowded. People were pulling away, others were pushing us back. I turned around to see who was pushing. The people who had pulled away were cheering and taking pictures. Finally I saw what was going on — a Romanian man had just proposed to his girlfriend. I didn't get a picture, but they were sure cute.

Do what you can and don't fret the rest. The morning we were to leave was supposed to be a big snowstorm in Denver. Our flight wasn't until nine, but subtract two hours, then another hour-and-a-half for normal driving, plus however extra the storm would take, and we were looking at leaving our house around four. Instead, we had a friend drive us up the night before, and we stayed in a hotel. That was good. We made our flight. But aircraft problems and a lack of de-icing stations made us miss our connection from Detroit to Frankfurt. We didn't particularly want to spend Christmas in Detroit, but Dev learned long ago the golden rule of travel — thou shalt be courteous to all who are in charge of your flights. Amazingly, the airline had already re-routed us through Heathrow before we even landed. We were later than we'd planned, but we made it. And, no, Dev, this does not count as "I took you to England."

Don't let the rain get in your way. Figuratively and literally. Literally — it rained much of our time in Germany and the Netherlands (it was lovely in Paris). We didn't care. We went out anyway, even when the rain made it wicked-cold. We met another visitor who had stayed in because of the rain, and she had a miserable time. Figuratively — I was sick the whole time. Every time I ate my stomach hurt. But I knew I couldn't let that get in the way of a trip of a lifetime. And it didn't. Unfortunately, I'm now convicted about dropping out of things at home just because I'm a little under the weather.

Be willing to laugh at yourself. Our hostess was so proud of her glass pickle. It's a German tradition — the parents hide a glass pickle ornament on the tree, and whichever child finds it gets an extra present. She was so proud that she showed her German neighbor. "What is this?" the neighbor said. "This is not German!" Turns out, it was a myth. It was started by some soldier in the Civil War. It didn't matter — a joke's as good as a tradition. Our hostess still bought one for JT!

My mom has a super power. She can flip a switch in her brain and just decide that no matter what, she's going to have fun. It turns out, the skill is transferable. This deciding-to-have-fun thing was new to me, but it worked. It was exhausting for this poor little introvert in a house filled with extroverts, but it worked. And we had an absolute blast.




---
comments powered by

Disqus
Published 7-9-13