THE TAKE AWAY
Ministry Highlight: The Pathfinder Mission


By Kersley Fitzgerald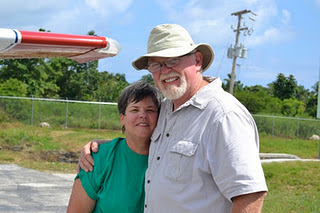 Once upon a time, there was a couple in Montgomery, AL, named Charley and Martie Elgin. After long careers in the military as civilians (and some active duty for Charley), they were looking forward to retirement and watching their girls give them grandbabies.

Then hurricane Katrina struck.

"Forget about retiring!" they said. "Let's move to southern Mississippi and help rebuild lives."

And that is what they did.

They left their comfortable suburban home in Montgomery and moved into a shack in Waveland. For several years they rebuilt houses, built sheds (because one thing the government emergency housing definitely lacked was storage!), led Bible studies, coordinated countless volunteers, and occasionally saw their grandbabies.

One day they said, "We've done all we can here. Let's go back to Alabama."

So they moved into an old camp called Bridgestone.

"This is perfect!" they said. "We can rebuild the camp to provide rest for ministry workers, develop a system to make and ship sheds, and see our grandbabies more!"

Then Haiti had an earthquake.

Yeah, you see where this is going.

So, they hooked up with Children's Hope, a ministry out of a church in Montgomery that wanted to build an orphanage in Jacmel, Haiti. "Okay," they said. "Never built an orphanage. Never been to Haiti. But we can do that."

Of course they can. In a former life, Charley was an Army helicopter pilot. Martie was a specialist in the aircraft maintenance database system we actually used when I was a maintenance officer. Now they're learning about the architecture of chicken coops and what kind of septic system is adequate for so many kids. In the meantime, family members have died, Martie's had to have a couple of different surgeries, their health insurance premium keeps rising, and Haitian bandits are robbing American missionaries. Then they decided to help fund a school and provide medical care for the students. And provide Bibles. And support two other schools. And build a fourth school. And fund a community clinic. And learn Creole. And be one of the major employers in Jacmel, Haiti.

Did I mention they're raising a granddaughter?

And way back when we knew them in Montgomery, they seemed so normal.

Soon Martie will have another hip replacement, and they'll start the transition to spending more time in Haiti and less in the US. The orphanage currently houses twenty kids, but they're constructing facilities for forty more. They have a new medical doctor in the clinic, and the staff all go to villages in the mountains every Friday for en masse house-calls. Come September, Pathfinder-funded schools will be teaching, feeding, and giving medical care to over 200 kids. Soon they'll be working with Calvary International Development Ministries to open a school that teaches single moms and widows how to sew; first project: school uniforms. Besides construction laborers, they'll be responsible for the salaries of 32 teachers, doctors, nurses, and other professionals. Not to mention their own health insurance.

It's just been amazing to see them, time after time, say "yes" and step out in faith. And God shows up. It's not all butterflies and cookies. Try helping people in Haiti surrounded by spiritual warfare, little clean water, and a distinct dearth of Indian block presses (I don't know what that is, but they needed one for a while). They don't have super-human strength. And they're not spring chickens. But they don't have to be. All they had to be was people who showed up when God called.


---
comments powered by

Disqus
Published 6-21-12