THE ABIDING LIFE
Sabbath Rest


By Gwen Sellers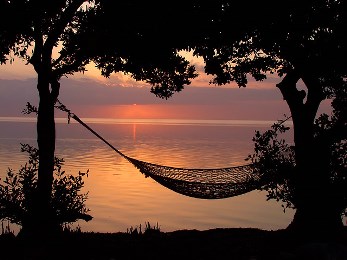 Single page/printer friendly
Continued from Page One


Several more times in Ezekiel 20 we see the Sabbath separated from other laws. God seems greatly distressed that the Israelites broke His laws, and especially His Sabbaths. Idols give us nothing. God is the source of life and He deeply desires relationship with us. He wanted Israel to discard the worthless idols of Egypt and to enjoy His very real provision. When God freed the Israelites from their captors, He gave them rules meant to enable life. God's rules aren't about His ego or sense of control; they are for the good of the people. Jesus echoes this concept in John 15:1-11. Obedience to God leads to life. Not because it spares us from His wrath — the death of Christ rescued us from that (1 Thessalonians 5:9-10; 2 Corinthians 5:21; Romans 8:1-4). But because God designed us and knows the boundaries we need. And we see that not only do God's rules set us up for life, the Sabbath specifically was "a sign between [God] and [His people], that they might know that [He is] the Lord who sanctifies them" (Ezekiel 20:12). This is the whole concept behind Jesus being our Sabbath rest. God sanctifies. We do not work to earn His favor. He freely gives it and asks us to simply rest in it. Profaning God's Sabbaths means failing to understand Who He is. He is creator who sustains the entire universe and does not even have to work to do it. He is the one who rescues the oppressed and sets free the captive (Luke 4:16-21; Galatians 5:1). He is the one who cleanses us (1 John 1:7; 2 Corinthians 5:17). It isn't about our striving, but about His sovereignty. As one of my friends pointed out, it is when we bring our weariness and burdens to Jesus—not our efforts — that we receive rest. The Sabbath was meant to remind people of God's faithfulness and enable them to enjoy His love.

Yet rest is not simple. One of my friends said it is "elusive." Like the Israelites of old, in our frenetic society we find it difficult to trust our welfare to God. Is salvation really a free gift, or do I have to prove myself worthy? Could it really be that if we cease from our labors He will provide? What if He doesn't? And instead of resting in God, we work ourselves into a tizzy, failing to understand Who God is and what He has promised us. Hebrews 4:9-10 says, "So then, there remains a Sabbath rest for the people of God, for whoever has entered God's rest has also rested from his works as God did from his." Because we can rest in God's love, we can also rest from our work. Then verse 11 says, "Let us therefore strive to enter that rest, so that no one may fall by the same sort of disobedience." How bizarre. We "strive" for rest? Aren't striving and resting contradictory? When we examine our hearts, I think it makes sense. I don't naturally trust that I'm lovable and forgiven. But God says I am (John 17:20-26; Ephesians 1:3-15; 5:1; Romans 8:15; 31-39). I don't naturally trust God to take care of me in my daily life. But God says He will (Matthew 6:25-34; Romans 8:32; Luke 11:13). On the other hand, I do naturally work to gain approval and to meet my daily needs. It takes effort to give up my own sense of control and rely on the reality of His control. I have to strive to enter God's rest.

This is why I think rest is first a heart position before it is an action (or lack of action). The Old Testament law allowed for compassionate "work" to be done on the Sabbath. When Jesus was asked about healing on the Sabbath, He said, "Which one of you who has a sheep, if it falls into a pit on the Sabbath, will not take hold of it and lift it out? Of how much more value is a man than a sheep! So it is lawful to do good on the Sabbath" (Matthew 12:11-12). He then proceeded to heal a man. In a separate instance when Jesus' disciples met with rebuke for plucking grain on the Sabbath, Jesus told the accusing Pharisees, "The Sabbath was made for man, not man for the Sabbath. So the Son of Man is lord even of the Sabbath" (Mark 2:27-28). The Sabbath is not about what we can and cannot do; it is a gift from God to us. Sabbath is about relying on God and intentionally resting from our self-effort. Practically, that can look like a lot of different things.

One of my friends mentioned that rest is "Getting out of the daily grind to fill whatever is empty in me." I love that. To her rest is refreshment for her heart. Some people feel filled up by yard work or by cooking. Others find those to be gruesome tasks. Some find rest in visiting with family or playing with friends whereas others find rest in reading a book or watching a movie. One of my friends pointed out that rest is not equivalent to leisure; in fact sometimes we need to take a break from our leisure activities. For her rest is about a change in current activity. To me this speaks of following God's direction in the moment. As one friend said, it's "dependence" on God and His leading. Another friend mentioned surrender. Rest is what happens when we surrender our control to God's. It's the result of obeying Jesus's command to "Take my yoke upon you, and learn from me, for I am gentle and lowly in heart, and you will find rest for your souls" (Matthew 11:29).

I agree that Christians are not meant to abide by strict Sabbath laws where someone else defines what counts as work and what counts as rest and when both are permitted. But we are called to let our hearts be at rest in Christ; and I think that may very well lead us to regularly enjoy resting from the labors of our daily lives.


---

Image credit: IronRodArt; Creative Commons


---
Tags
:
Christian-Life
|
Controversial-Issues
|
Health-Wellness
---
comments powered by

Disqus
Published on 3-12-2014