THE ABIDING LIFE
Addicted to Sin


By Gwen Sellers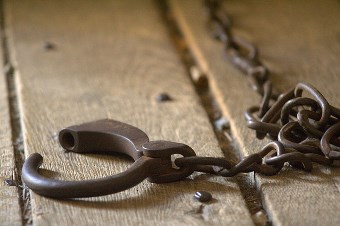 "I'm Gwen and I'm a sinner. I've had a new nature for 21 years."

Most of us are familiar with this introduction format from Alcoholics Anonymous (AA) and other 12-step groups. Because of a class I'm taking, I've had more opportunity to really think about this statement and what it means. Recently a few sober members of Alcoholics Anonymous (this is a term they used) visited our class to tell us more about the organization. A fellow student asked why, each time before speaking at an AA meeting, participants state their name and that they are an alcoholic. I've had the same question. At times it has seemed to me that those involved in AA and similar groups live as if they are constantly in recovery. Don't they ever arrive? If you've been sober for 20 years, aren't you kind of done with recovery? Does keeping the label mean these people are staying stuck?

Not at all! According to the presenters, the disease of alcoholism is never fully cured. Likely the same could be said for a majority of addictions. Sober members of AA say they know they are one drink away from being right back where they were when they started. At least for one presenter, labeling herself an alcoholic is freeing. She is being honest about a problem she has; she continues to attend meetings to stay sober. She is actively managing something that could enslave her so that she can live a life free from its grip.

This all got me thinking about my view of the Christian walk. I want to be done with sin. I want God to make me perfect now so I never have to think about sin again. Why do I continue to sin, even repeating the same sins over and over? Easy. I am a sinner by nature (Colossians 2:13; Ephesians 2:1-5). Jeremiah 17:9 says, "The heart is deceitful above all things, and desperately sick; who can understand it?" My natural heart is "desperately sick" and addicted to sin.

The joy of coming to Christ is that I am made new! I am given a new heart. Sin has been defeated and its chains cut (Romans 6:5-11; Hebrews 10:12-14). Judicially I am declared righteous before God—perfect and without stain. That will never change, no matter what I do. But, while still on this earth, living like the righteous person God declares me to be takes some effort. My sin nature does not suddenly disappear even though I have a new nature (read more about this concept in this article). Instead, I am given the Holy Spirit, who works in me to actually make me one without stain, to help me live out of the new nature. If I don't rely on Him, I'm just one sin away from living like a person without Christ. Paul wrote, "So I find it to be a law that when I want to do right, evil lies close at hand. For I delight in the law of God, in my inner being, but I see in my members another law waging war against the law of my mind and making me captive to the law of sin that dwells in my members. Wretched man that I am! Who will deliver me from this body of death? Thanks be to God through Jesus Christ our Lord! So then, I myself serve the law of God with my mind, but with my flesh I serve the law of sin." Left to my own devices, I'll sin. Abiding in Christ (see John 15:1-11), I'll experience the newness of life God has for me.

Part of the mystery of the Christian walk, made evident by Alcoholics Anonymous, is that we are new and we are also being made new. We are sinners, but we are no longer slaves to sin (Romans 6:11). Sober members of AA are alcoholics, but they are no longer enslaved to their addiction. None of us has to live as we once did, in the "futility of [our] minds" (Ephesians 4:17). But we also must recognize who we once were. We must remain alert, cognizant that sin knocks at our doors, that the chains we once wore can often feel comfortable (1 Peter 5:8-9). We need to know who we were and who we are now. Labeling myself as a sinner is a statement of truth. Staying in "recovery" by continually abiding in Christ is what keeps me from living like a sinner.

Interestingly, one of the main tasks of sober members of AA is to support others struggling with alcoholism. Members stay sober by helping others become sober. They aren't so much interested in making that other person better. They are interested in staying well and passing along a strategy that has proved helpful for them. One of the ways we stay connected to Christ and aware of the depth of His graciousness is by sharing His message with others. When we keep before us the reality of the death in which we once lived (and/or the experience of those death-like symptoms when we fall into sin as believers) and the freedom in which we now live, we are not likely to sprint back to death. When we share the trueness of life that is ours in Jesus with others, we are more apt to continue in that life ourselves (John 10:10; John 15:10-11). When we recognize that even though we've been 21 years with a new nature, we are still sinners, we stick with the program and keep walking with Christ.

May He keep us ever close and may we be "sure of this, that he who began a good work in you will bring it to completion at the day of Jesus Christ" (Philippians 1:6).


---

Image Credit: Lee Harkness; "Shackles"; Creative Commons


---
comments powered by

Disqus
Published on 8-6-13