THE ABIDING LIFE
Believing God


By Gwen Sellers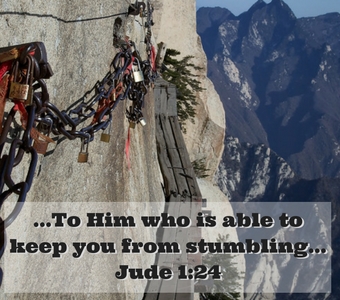 Single Page/Printer Friendly
Continued from Page One




The good news for me is that in the midst of sin's deceptive tugging and my own sinful and weak nature, I have access to God's truth. He doesn't leave me ill-equipped. More than that, I have access to the power of the Holy Spirit — the same power that raised Jesus (Ephesians 3:14-21). I can submit to God, resist the Devil, and watch the enemy flee (James 4:7). I can also confess my sins to God and be cleansed (1 John 1:9). There is no need to hide from God. Rather, I can bare my heart before Him and ask Him to have His way, trusting that He is loving and gracious (Psalm 139:23-24). The voice of God does not condemn His children, but rather convicts and trains so that He might be glorified and we might experience more fullness of life (Romans 8; Hebrews 12:11; John 15:9-11).

James 1:13-18 is a helpful passage:
Let no one say when he is tempted, "I am being tempted by God," for God cannot be tempted with evil, and he himself tempts no one. But each person is tempted when he is lured and enticed by his own desire. Then desire when it has conceived gives birth to sin, and sin when it is fully grown brings forth death. Do not be deceived, my beloved brothers. Every good gift and every perfect gift is from above, coming down from the Father of lights with whom there is no variation or shadow due to change. Of his own will he brought us forth by the word of truth, that we should be a kind of firstfruits of his creatures.
Sin is alluring. But truly good gifts come from God. Though sin may promise benefit, it can never bring it. Though obeying God may look like a bad option, it will ultimately produce good. This good may not look like "good" in a material or worldly sense, but it is always good in our souls and spirits. It brings us closer to God, who is the source of true life.

I can tend to be ashamed of my unbelief and want to hide it from myself. I can also be stubborn in my own thinking and try to justify my wrongdoing in an attempt to avoid conviction. Looking at my own heart and admitting my weakness and sin can be scary. But hiding it from myself is even worse. If I peer into my heart with God, I can trust that I am safe. He already sees everything that is there. He alone is able to bear the load of what is there. It is His truth that will make sense of it. Relying on my own wisdom is futile, as Romans 1 demonstrates. But relying on God's wisdom, which He bestows on His children, leads to life (James 1:5). John 1 gives a beautiful depiction of Jesus as the light of the world. It's His light I need in my life, not only to expose sin so that He can cover it, but to expose goodness and truth, to lead me in the way I should go, to give me true wisdom in the midst of a lost world. As the father of the child in Mark 9 cried out, "I believe; help my unbelief!" (see Mark 9:14–29).

My church concludes every service with the doxology of Jude 1:24. Our pastor recently explained its importance. Jude spoke against false teachers and the licentiousness they were encouraging. He then exhorted his readers to persevere in the faith. Jude ends with a reminder that it doesn't all fall on their shoulders. It is Jesus "...who is able to keep you from stumbling and to present you blameless before the presence of his glory with great joy, to the only God, our Savior, through Jesus Christ our Lord, be glory, majesty, dominion, and authority, before all time and now and forever. Amen." Yes, amen! My heart might deceive, but it can never keep me from the love and faithfulness of God. I am secure in His hands, and can therefore trust Him for my future as well as for the details of today.


---

Image Credit: Frank Kehren; "Cliffside Path"; Creative Commons


---
Tags
:
Biblical-Truth
|
Christian-Life
|
God-Father
|
Sin-Evil
---
comments powered by

Disqus
Published 9-5-2016