THE ABIDING LIFE
Celebrating Life in the Midst of Illness


By Gwen Sellers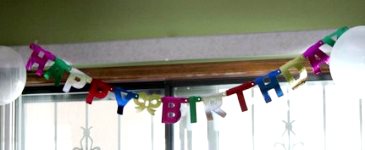 Birthdays. I love them. Mostly always have, and hopefully always will. Rather than bemoan the fact of getting older, I view birthdays as a celebration of life. We get to give gifts, eat cake, sing. Basically, it's an excuse to party, which is something I enjoy.

Sometimes, though, birthdays can be tough. I distinctly remember one year in college when I was just gritting my teeth to get through life. I was depressed. Didn't want to be there, and certainly had no motivation to celebrate my life. My mom sent me a care package complete with a pan of my favorite brownies, candles, birthday-themed paper goods, and even birthday hats. I opened it, said, "that's nice," and then stuffed everything back in the box.

Another year we had just found out that my dad has Huntington's Disease, a progressive neurodegenerative disease that forced him to retire and go on disability. Celebrating felt more like marking progress in the slow march to his death than it did rejoicing in his life. But that hasn't happened again. In fact, today is my dad's birthday and I find it a joyous occasion. I think the rest of my family does, too. We are truly thankful for him, truly appreciate the value of his life, and truly rejoice that he was created and given to us.

To me, my dad's birthday is not just an excuse to party. It's an image of how God brings beauty from ashes. While reading in the synagogue in Nazareth, Jesus applied Isaiah 61:1-3 to Himself. Isaiah's prophecy says, "The Spirit of the Lord God is upon me, because the Lord has anointed me to bring good news to the poor; he has sent me to bind up the brokenhearted, to proclaim liberty to the captives, and the opening of the prison to those who are bound; to proclaim the year of the Lord's favor, and the day of vengeance of our God; to comfort all who mourn; to grant to those who mourn in Zion—to give them a beautiful headdress instead of ashes, the oil of gladness instead of mourning, the garment of praise instead of a faint spirit; that they may be called oaks of righteousness, the planting of the Lord, that he may be glorified."

My dad's illness has not been an easy road, probably mostly especially for my parents. It broke our hearts. But God used it to open up our family to new ways of relating. We have a deeper appreciation for one another. Because my dad is actually quite healthy (which he works hard to maintain, stewarding his body and his time as "one approved" by God (2 Timothy 2:15)) and receiving excellent medical treatment, my parents are truly enjoying living the retirement years together. And I love getting to join in as often as I can (which is, thankfully, quite often as I live in the same town). They are freed from the "prison" of work schedules and "doing life" to engage in the pleasure of actual life. Though we are unsure what exactly the future holds, there is a certain beauty in simply being each day. The diagnosis, and the adjustment, brought mourning. It was associated with some very practical losses as well as emotional ones. But God has comforted us, showing us that He, not my dad, is our firm foundation. We recognize that the blessings of my dad's health are truly from God. Not everyone with this disease fares so well. I am getting to know my dad better, and often benefit from his godly character. He is an oak of righteousness in my view. Through all of it, we know that the glory belongs to God. We pray that His Name will be magnified in our lives.

So, on my dad's birthday, we can put on our birthday hats (those "beautiful headdress[es]"), eat our cake (who says canola oil doesn't bring gladness?) and put on our party clothes ("garment of praise"). We are not faint in spirit. We are joyful because God is good and life is worth celebrating.


---
comments powered by

Disqus
Published on 6-21-13