THE ABIDING LIFE
The Love of Friendship


By Gwen Sellers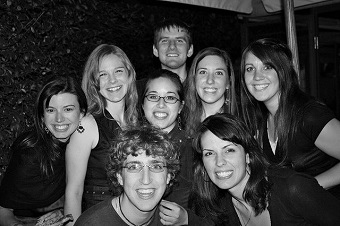 Single Page/Printer Friendly
Continued from Page One






I admit that I have fallen on two bad extremes of the friendship spectrum. I have inappropriately expected my friends to fill my heart completely. I've been needy and codependent. I've had the "savior complex." I've also walled off my heart and chosen not to interact socially, trying to live life as a lone wolf. Neither was a good situation, and neither is what God has in mind when He calls me to love others as He loves them. I'm learning now that genuine friendship involves risk and work. It also involves a lot of fun. And all of it has incredible payoff. My friends are treasures. I count them as gifts from God. Each is unique, and I thrill at learning from their uniqueness. I feel honored that they share their hearts and lives with me. I feel safe doing the same with them.* I'm experiencing genuine phileo, and it's pretty awesome.

So, yes, I am single. But I am far from alone. I may not have the typical Valentine's "love" in my life, but I sure do live a life filled with a lot of love. And I'm going to celebrate it. I'm going to send cards to family members and exchange gifts with my parents (storge love). I'm having friends over for chocolate fondue and heart-shaped brownies (phileo love). And I'm going to mostly celebrate the agape of God that enables all this community and love to begin with. I hope you'll do the same.

Some parting verses for you:

Jesus praying for future believers in John 17:20-24:
I do not ask for these only, but also for those who will believe in me through their word, that they may all be one, just as you, Father, are in me, and I in you, that they also may be in us, so that the world may believe that you have sent me. The glory that you have given me I have given to them, that they may be one even as we are one, I in them and you in me, that they may become perfectly one, so that the world may know that you sent me and loved them even as you loved me. Father, I desire that they also, whom you have given me, may be with me where I am, to see my glory that you have given me because you loved me before the foundation of the world.
John's instructions in 1 John 4:7-12:
Beloved, let us love one another, for love is from God, and whoever loves has been born of God and knows God. Anyone who does not love does not know God, because God is love. In this the love of God was made manifest among us, that God sent his only Son into the world, so that we might live through him. In this is love, not that we have loved God but that he loved us and sent his Son to be the propitiation for our sins. Beloved, if God so loved us, we also ought to love one another. No one has ever seen God; if we love one another, God abides in us and his love is perfected in us.
---

*I feel compelled to caution here that there are appropriate boundaries in terms of intimacy in relationship. The threat of codependency and emotional affairs is real. There is reason to guard your heart (Proverbs 4:23) and only invite certain people into certain places. We do not have to be friends with everyone. We are called to demonstrateagape to all people, but not phileo. We also do not have to phileo people the same way. There are varying levels of friendship, each with different boundaries, and that is by design. The key to navigating what those boundaries should be is giving our hearts more fully to God and trusting Him to be their Protector, as well as our Guide. When we trust Him and seek Him, we can live a bit more freely in love that is genuine and appropriate to the situation.









Image Credit: B Duss; "More Friends"; Creative Commons


---
Tags
:
Biblical-Truth
|
Christian-Life
|
Personal-Life
|
Personal-Relationships
---
comments powered by

Disqus
Published on 2-12-15