THE ABIDING LIFE
Obedience and Human Nature
Of Chopsticks and Forks

By Gwen Sellers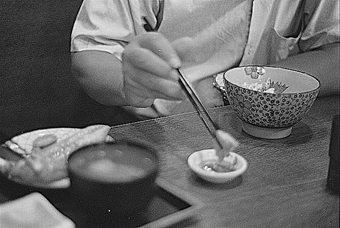 Obedience. What do you think of when you hear that word? At least to me, it seems the word does not carry positive connotations. It sounds like being forced to do something we don't want to do, or being denied the ability to do something we do want to do. It sounds controlling, perhaps even cultish. At the very least, it's a word we use in relation to young children, and even pets; it's not a word we think applies to the adult life. And, yet, Christians are called to obey God.

I've often reminded myself that obedience to God leads to what is truly life. In John 15:9-11 Jesus says, "As the Father has loved me, so have I loved you. Abide in my love. If you keep my commandments, you will abide in my love, just as I have kept my Father's commandments and abide in his love. These things I have spoken to you, that my joy may be in you, and that your joy may be full." Jesus clearly links obedience and fullness of joy. It makes sense: God designed us; He knows what is for our best; God loves us infinitely more than we can comprehend. Of course following His commands is for our good.

Even so, there can still be a mental block for me when I think about obedience. No doubt much of it has to do with the fact that I still have a sinful nature. I don't particularly like thinking of myself as a dependent child who must always obey. Yet at the same time, the thought that I am God's beloved child, that He is a Father who knows fully and loves fully, is extremely comforting. The truth is I am dependent on God, and the fact that He sets clear boundaries is foundational to my sense of security.

Another hang up for me with obedience is that I don't like the idea that my "freedom" is restricted. But at the same time, I know without doubt that true freedom comes only when I fully abide in Christ. It is when I die to my sinful nature that I can fully live. We are all slaves to something; being a slave to anyone other than God brings only death. Acknowledging God as my Master brings life and freedom.

I think another reason the idea of obedience can sound so off-putting is that it can so easily be linked with a works-based faith. Fear that God doesn't fully accept us unless we obey creeps in. A genuine call to obedience becomes a legalistic adherence to man-made rules.

Rather than attempt to jolly myself through the human "junk" that mucks up the word "obedience," I wonder if the battle against the flesh would be easier if I thought about obedience in a new way, with different terminology. A terminology that still conveys the truth, but also makes it more obvious that obedience is part of living out the new nature. It isn't forced; it's a response from freedom enabled by grace.

Second Corinthians 5:17 says, "Therefore, if anyone is in Christ, he is a new creation. The old has passed away; behold, the new has come." Colossians 3 is all about living out of the "new man." Something happens when we are saved; we actually become new. We still have our sinful natures, but we now also have the Holy Spirit residing in us. We don't obey out of what we contain within ourselves; obedience is empowered by the Holy Spirit.

To me, this whole obedience issue is akin to living in two different cultures. When Asian people living in the United States use chopsticks, we do not think them strange. That is simply their culture; it's what they do. They aren't "obeying" their parents or their government by using chopsticks instead of forks; they are simply acting out of who they are. As Christians, we do not belong to this world. We are like Asians living in the US. Using chopsticks is like obeying God; at its best, our obedience to God is natural, not an exerted effort. The more we grow in our faith and relationship with God, the more obedience becomes natural.

Yet, we know that even as we grow in God obedience does take effort and doesn't always feel natural. Let's go back to the analogy. At times Asian people living in the United States might be "tempted" to use forks. Perhaps they think it will make them fit in better, or it looks appealing. Christians, though we belong to a different world all together, are still enticed by the sins of this world. Sin often looks appealing. We want to fit in where we are, and sin is one way to do that. Sometimes sin looks expedient; it seems to offer a better reward than does following God.

The analogy gets interesting when we consider we are both. We have both the sinful nature and the Holy Spirit. It is not just that sin looks appealing, it is very natural for us. At the same time, it is not just that we know we should obey God, it is who we are in Christ. Metaphorically using a fork is a natural part of who we are. And, yet, metaphorically using chopsticks is even more genuinely what we were designed for and what we are restored to in Christ. It is the truest part of who we are.

I like the way Galatians 5 shows the contrast:
For freedom Christ has set us free; stand firm therefore, and do not submit again to a yoke of slavery...For you were called to freedom, brothers. Only do not use your freedom as an opportunity for the flesh, but through love serve one another. For the whole law is fulfilled in one word: "You shall love your neighbor as yourself"...But I say, walk by the Spirit and you will not gratify the desires of the flesh...But the fruit of the Spirit is love, joy, peace, patience, kindness, goodness, faithfulness, gentleness, self-control; against such things there is no law. And those who belong to Christ Jesus have crucified the flesh with its passions and desires. If we live by the Spirit, let us also keep in step with the Spirit. Galatians 5:1, 13–14, 16, 22–25
While we live in a fork world, using chopsticks might sometimes feel more like "obedience" than like something natural. We do have to make an effort, be willing to stick out, and deny the part of us that wants to sin. But I don't think obedience needs to be a dirty word. Perhaps rather than "obey," we are learning to live out who we really are in Christ. We are owning that we are chopstick users living in a fork world. And we are embracing the trust, effort, suffering, joy, hope, and freedom being in this world but not of it entails (John 17:14–19).


---

Image Credit: Brian Lin; "Stlish"; Creative Commons


---
Tags
:
Biblical-Truth
|
Christian-Life
|
God-Father
|
Sin-Evil
---
comments powered by

Disqus
Published 12-8-15