THE ABIDING LIFE
Temptation and Transformation
By Gwen Sellers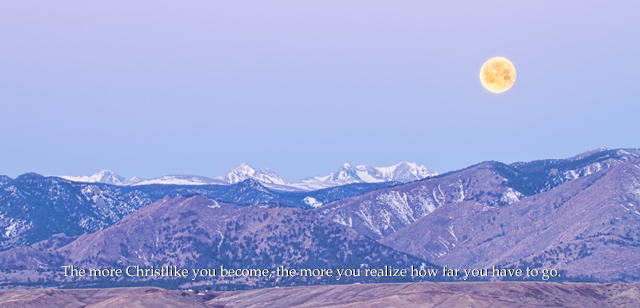 Single Page/Printer Friendly
Continued from Page One




In Ezekiel 36:26-27 God tells the nation of Israel, "And I will give you a new heart, and a new spirit I will put within you. And I will remove the heart of stone from your flesh and give you a heart of flesh. And I will put my Spirit within you, and cause you to walk in my statutes and be careful to obey my rules." Second Corinthians 5:17 says, "Therefore, if anyone is in Christ, he is a new creation. The old has passed away; behold, the new has come." Colossians 3 talks about putting off the "old self" and putting on the "new self":
For you have died, and your life is hidden with Christ in God...Put to death therefore what is earthly in you...Do not lie to one another, seeing that you have put off the old self with its practices and have put on the new self, which is being renewed in knowledge after the image of its creator...Put on then, as God's chosen ones, holy and beloved, compassionate hearts, kindness, humility, meekness, and patience, bearing with one another and...forgiving each other; as the Lord has forgiven you, so you also must forgive. And above all these put on love, which binds everything together in perfect harmony. And let the peace of Christ rule in your hearts, to which indeed you were called in one body. And be thankful. Let the word of Christ dwell in you richly...And whatever you do, in word or deed, do everything in the name of the Lord Jesus, giving thanks to God the Father through him. Colossians 3:3, 5, 9-10, 12-17
God does not merely work toward behavior modification, He is making us absolutely new. The very self is exchanged — a sinful self is put to death and a justified self is raised with Christ into new life.

One interesting aspect of the Colossians 3 passage is the way it talks about the church. Verse 16 says, "Let the word of Christ dwell in you richly, teaching and admonishing one another in all wisdom, singing psalms and hymns and spiritual songs, with thankfulness in your hearts to God." Part of the way God makes us new, both in our hearts and, consequently, in our actions is through other believers. In the battle against sin, we need not only the power of the Holy Spirit, but the encouragement of other believers. It should also be noted that it is in relationship with other people where the rubber often meets the road. It's easy to be forgiving when there is no one around we need to forgive.

Realizing how enticing sin can be and how my desires can quickly tend toward sin rather than toward God is a humbling thing. Truly I am alive only by the grace and mercy of God. What is perhaps even more astounding is that He takes great delight in me. God does not despise me for my sin. Instead, He makes provision for my salvation and sanctification, loving me the entire time. Romans 5:8-11 says:
...but God shows his love for us in that while we were still sinners, Christ died for us. Since, therefore, we have now been justified by his blood, much more shall we be saved by him from the wrath of God. For if while we were enemies we were reconciled to God by the death of his Son, much more, now that we are reconciled, shall we be saved by his life. More than that, we also rejoice in God through our Lord Jesus Christ, through whom we have now received reconciliation.
Romans 5:17 says, "For if, because of one man's trespass, death reigned through that one man, much more will those who receive the abundance of grace and the free gift of righteousness reign in life through the one man Jesus Christ." Paul reminds us in Colossians 3 that we are "chosen ones, holy and beloved" (Colossians 3:12). He told the Philippians, "And I am sure of this, that he who began a good work in you will bring it to completion at the day of Jesus Christ" (Philippians 1:6). Paul talks specifically about our sinfulness in conjunction with God's steadfastness in Romans 7—8.

The battle with the flesh is real, yet God does not condemn. Rather, He has loved us and does love us; and we are more than conquerors. I love that Romans 8 ends with a complete assurance of God's love. Nothing — absolutely nothing — can separate us from God's love. My sin, my desire to sin, my reluctance to allow God's Holy Spirit to transform me, none of it is too great a barrier for God. Jesus has conquered all on the cross. I have been set free, and He will help me learn to walk in that freedom. What an amazing Savior!


---

Image Credit: Bo Insogna; "Full Moon Setting Over The Colorado Rocky Mountains"; Creative Commons


---
Tags
:
Biblical-Truth
|
Christian-Life
|
Jesus-Christ
|
Sin-Evil
---
comments powered by

Disqus
Published on 10-6-15