CHURCH & MINISTRY
Compassion International in the Dominican Republic
The Child Sponsorship Program

By MeLissa LeFleur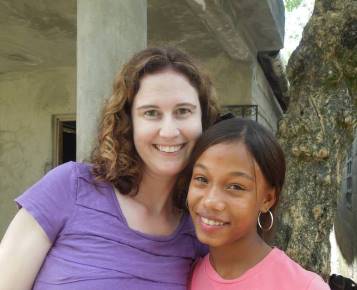 Photos of Maria and Miguel, my two sponsored kids, grace my fridge. A few years ago, that's all they were to me. I was happy to help them, but it wasn't personal.

Then I met them!

My perspective changed! When that little girl from Ecuador ran into my arms, she jumped off my fridge and into my heart. When I stepped foot into Miguel's home in Colombia and saw the dismal conditions, hugged his momma, and heard the dreams his dad had for him, it became very personal. These little ones became part of our family. I also became a cheerleader for what Compassion International is doing around the world to release children from poverty in Jesus' name.

This year, the GotQuestions.org Team hopped on a plane and landed in the Dominican Republic to see what Compassion is doing in this culturally-rich country. What an opportunity!

Throughout the Dominican Republic, God is using Compassion to meet basic needs and provide spiritual training to almost 50,000 precious kids. One of the ways they do this is through church-based centers, using their Child Sponsorship Program. Sponsorship isn't about a "rich" person sending a "poor" person a check every month. It is about investing in a child's life — sending letters that share of God's love, funding gifts for special occasions, and praying for each other. These one-on-one relationships help break the cycle of poverty. It tells the child she is loved and that she doesn't need to be trapped by her current circumstances.

Let me tell you about "Y." I honestly don't know her first name (only the first letter), but we made a connection. We were visiting a Compassion Child Development Center at a church in the Dominican Republic. She walked up to me and started feeling my hair, just like many of the kids did on this trip. I didn't know she was deaf until she started talking to me in sign language. I don't know sign language or Spanish, but I'm not too bad at charades! So, we did our best to communicate. She ran and got a print-out of the sign language alphabet. I don't think she realized that my Spanish is very limited, so when she spelled out words, I still didn't know what she was saying! Even so, we played charades and had a great time. She even gave me a sign name — the sign for the letter "M" along with the sign for curly hair.

The center provides Y with consistent and nutritious meals, instructions on health and hygiene, and most importantly, she learns about Jesus' love for her. Y also receives all of her education at the Compassion center. Her local community doesn't have the resources to provide education for her and the other deaf students so the Compassion center provides all their education. What an amazing ministry this church has to their community! Y smiled as her deaf classmates shared their dreams of going to college, becoming accountants, becoming doctors! What dreams would these kids have if Compassion wasn't in that community?

Y's Child Development Center is much like the other centers I've visited:

— They are all Christ centered — Each student is taught biblical concepts, the enormity of God's love, and how to have a personal relationship with Him.

— They are child focused — Each Compassion center is committed to making a difference in the individual child's life and ministering to their unique needs.

— They are all church based — This is very important to me and it sets Compassion apart from many other sponsorship programs. What a way for the local churches to assist children in their communities!

— They are committed to integrity — They honor the dignity of each individual — both the child and the sponsor. They are also committed to the integrity of the gospel. One thing that always stands out for me is the accountability of each center. Each child has a binder that contains his/her birth certificate, medical records, school grades, name of the child's sponsor, a schedule of letters sent, and an itemized list of gifts sent by the child's sponsor. (Whenever I look through a child's folder, I wonder how much more effective my church's ministry would be if we kept such detailed records of the children in our community!)

When I waved goodbye to Y and left her at the center, I was confident she would grow to be a woman of God and a leader in her community. I wish I could take her sponsor out for coffee and sit across the table from him or her. I'd probably cry, but I'd be sure to share, "You are an integral part of a young woman's life. Through you, she is flourishing, she has purpose, she has dreams. Her inability to hear will not hold her back! She is beautiful — inside and out — and her love for Jesus radiates from her face. He is shaping her to be a leader for Him. She loves you and looks forward to your letters! Someday, I hope you get to feel her warm hugs. Just wait, I bet she'll play with your hair too!"

Be the hands and feet of Jesus to a child in poverty. Sponsor a child and show her the love of Jesus.


---

Image: MeLissa and "Y"


---
Tags
:
Christian-Life
|
Ministry-Church
|
Personal-Life
comments powered by

Disqus
Published 4-25-14