CHURCH & MINISTRY
Compassion International in the Dominican Republic
The Complementary Intervention Program

By Gwen Sellers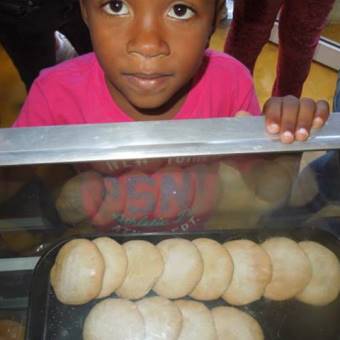 I am often fascinated by the behind-the-scenes look at things — the way chocolate is produced and turned into packaged candy, how laser beams are built and what they can do, the way something gets from concept to product. Our time at the site with the Complementary Interventions in the Dominican Republic was like a field trip designed just for me. Two young tour guides and a few adults led us around their campus to see all the things they do. And they do some cool things!

First, a bit about Compassion's Complementary Interventions ("CIV"). While child sponsorship is a wonderful program, Compassion recognizes that sometimes communities need a little more help than that program can provide. CIV is designed to remove obstacles to healthy child development by supporting the broader community. Interventions range from disaster relief, to building infrastructure, to equipment for safe water, to vocational schools, and beyond. The local church comes up with a proposal, presents it to the local Compassion team, obtains approval, and then receives funding through Compassion. A benefit to donors is the ability to contribute toward a project or make a one-time gift that affects a lifelong change without committing to monthly sponsorship. The project we saw was financed by a group of chiropractors from Canada, who contributed $20 for each patient they saw. They raised approximately $250,000 to contribute equipment to a bakery, install a water filtration system, provide computers, and build a culinary school.

We saw the bakery first. Greeted by a delightful storefront with racks full of bagged bread and a display case complete with cookies, I was ready to learn more. In the back is the baking area with its ovens and proofing racks and cutting utensils. The bakery is staffed by community members and also students learning to bake. It provides bread for the children at the Compassion center and also sells to the community. Students learn about baking and business; and people get the daily bread they need.

Next, we saw the water filtration system. Tap water is non-potable across the Dominican Republic, even in hotels and restaurants. This means that people buy a lot of bottled water. However, sometimes the people selling the bottled water haven't actually filtered it. Plus, it costs about 40 pesos for a five-gallon jug. So clean water is a big deal. The lead lab technician joined us and told us how water is pumped from a well into a holding container, and then is filtered into another holding container before passing through more treatment steps. Each layer of treatment has a test to make sure no contaminated water passes through; but when it finally gets to the tap, the technicians inspect the water with a UV-light to make sure it is safe. The entire process occurs in one large room and technicians check the equipment multiple times a day. Water is bottled right on site. Community members can fill a five-gallon jug for only 15 pesos.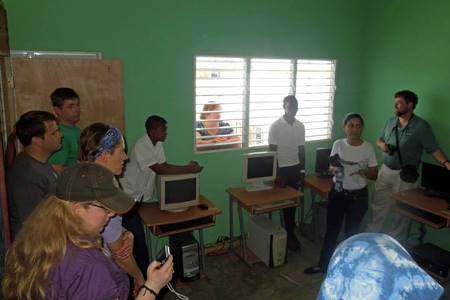 Then we visited several of the Compassion classrooms, invitingly decorated with the students' artwork and various educational posters. One of the classrooms was the CIV computer lab. The two students leading the tour happen to be taking vocational classes in computers. And I was with a bunch of computer people, so there was some geeking out. The room had about eight computers. Students are learning several computer skills including assembly, programming, and how to use the internet.

Last stop was the culinary school. Tile floors and walls adorned with children's handprints welcomed us into the new building, which is also home to the project administrative office. There were two kitchens—one about the size of a typical U.S. home kitchen, but with open space in the middle rather than a counter island. On the other side of the wall was a huge kitchen with tons of counter space, cabinets, two sinks, and fancy looking appliances. Running parallel to both kitchens was the classroom area with desks and a projection screen. Before they had the new facility, the culinary school graduated about 15 students. This summer, after about eighteen months in the new place, they will graduate 500 students. Tourism is the number one industry in the Dominican Republic, so chefs are needed. And culinary training is available both to students at the center and to members of the community.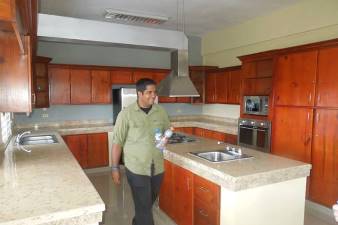 A while later, we got to meet the pastor of the church associated with this Compassion project. He was amazing. Evidently his community used to have a sugar factory, but it closed rather suddenly and unexpectedly. He knew he needed to help in some way and had heard about Compassion. He applied for their church to be part of Compassion's Child Development Sponsorship Program. But the church didn't meet all of Compassion's requirements. So he asked for more time to bring the church up to snuff and a re-evaluation. Obviously the church was accepted. And even with all the current CIVs and the flourishing sponsorship program, he still has a drive to do more. The pastor's visions for his church and community are many and his passion is unwavering. He is delighted in all that God has done and excited for Him to do more. Right now this pastor is planning to add a second story to the classrooms so they can help more kids.

One thing the pastor said sums up my experience in the Dominican Republic. Compassion focuses on four areas of need: spiritual, physical, social, and economic. Not surprisingly, the pastor told us that spiritual is the most important. But in a very real way. He talked about those who are materially the wealthiest, actually being the poorest. They have money and even physical health and quite possibly societal acceptance, but they miss out on true life. On the other hand, even though people in his community may be lacking in material wealth, they have God. And I could see it. Throughout our time in the Dominican Republic, the people we met radiated with life. They looked me in the eyes and smiled with a sparkling smile. They greeted me and said they were glad I was there, and they meant it. They talked to me about the hardships in their lives without blaming God or asking me to step in and fix the injustice of it all. They accepted their lives for what they were, dreamed about what their lives could be and passionately pursued that, and praised God in the midst of both. They aren't waiting for a better tomorrow to praise God today. They are passionately pursuing God and seeking to serve and rescue others in any way they can. They are actively fighting poverty in their lives and in the lives of others. May we all be encouraged to do the same.

Would you like to make a one-time donation to help a community in need? Learn more here.


---

Image 1: One of the children from the Compassion project peeks over the bakery display.
Image 2: The tech geeks of GotQuestions.org meet the tech geeks of the Compassion school.
Image 3: Our in-country guide, Ryan, checks out the culinary school kitchen.
All images: MeLissa LeFleur


---
Tags
:
Christian-Life
|
Ministry-Church
|
Personal-Life
comments powered by

Disqus
Published 4-25-14