CHURCH & MINISTRY
The Roles of Churches and Bible Studies


By Tim White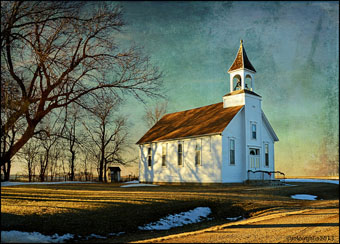 Churches and Bible studies fill specific needs, but the two are not interchangeable. A Bible study requires very little of us, unless we are teaching, leading music, or providing food. Just somewhat faithful attendance.

Church asks for much more. Church was never designed to be about me, what I could get out of it, and what I liked. It was not designed to be for spiritual education only, but involves every aspect of the Christian life. The areas that church participation supplies cannot effectively be emphasized in a Bible study.

If you study the definition and description of the New Testament church, based upon the Scriptures, you will see that a Bible study fails to meet those descriptions. Since God's design for a church was for our growth and maturity, you will understand that a Bible study, though it proves to be educational and challenging, fails to meet the requirements of growth in the Christian life and faith that God's design for a church does.

A Bible study fails to meet the requirements of a church in at least the following areas:

1. Promoting systematic giving. Giving is minimized in many churches. However, it cannot be emphasized in a Bible study because the study does not have the organizational support to deal with gifts of large sums of money.

Paul told the Corinthians, "Now concerning the collection for the saints: as I directed the churches of Galatia, so you also are to do. On the first day of every week, each of you is to put something aside and store it up, as he may prosper, so that there will be no collecting when I come" (1 Corinthians 16:1-2). In this passage, Paul was speaking of church collection as if it was expected, not the exception. The funds would be counted and allocated as the church directed, with the majority of it going to missions to help the struggling church in Jerusalem.

Special offerings can be given in Bible studies, but they are not set up, typically, to receive or encourage systematic giving, such as the tithe.

2. Providing services to the community. Church has always been about serving, not just learning. And not just about worshiping.

Serving is another one of those areas which churches have let slip. However, I have found that once people get involved in the service provided by a church in the community, they become part of all the other functions of the church.

In the past, our church has built wheelchair ramps for the elderly and disabled, cleaned yards after destructive storms, raised funds for surgeries for members of the community, and performed other service projects. These are unifying and help make the Bible studies come alive.

Eric Metaxas wrote:
Between 250 and 270 A.D. a terrible plague, believed to be measles or smallpox, devastated the Roman Empire. At the height of what came to be known as the Plague of Cyprian, after the bishop St. Cyprian who chronicled what was happening, 5,000 people died every day in Rome alone.
The plague coincided with the first empire-wide persecution of Christians under the emperor Decius. Not surprisingly, Decius and other enemies of the Church blamed Christians for the plague. That claim was, however, undermined by two inconvenient facts: Christians died from the plague like everybody else and, unlike everybody else, they cared for the victims of the plague, including their pagan neighbors.
This wasn't new — Christians had done the same thing during the Antonine Plague a century earlier. As Rodney Stark wrote in The Rise of Christianity, Christians stayed in the afflicted cities when pagan leaders, including physicians, fled.
3. Enforcing accountability and discipline. This is another area in which the church has slipped. However, it is obvious from a study of scriptures that the original church practiced discipline of its members. A large portion of 1 Corinthians is written about church discipline, including the excommunication of an immoral member (1 Corinthians 5).

A Bible study is not set up for church discipline and, thus, accountability to the group would be minimized against God's design for the church.

4. Providing financial participation in world evangelism and missions. Bible studies are typically not connected enough to support missionaries across the world. Most church denominations provide a vehicle to support world missionaries and fulfill the commission for the church.

5. Developing leadership in God-honored positions. There are only two God-ordained positions in the church: pastor and deacon. This is God's design and cannot be followed outside the organization of the church.

6. Exhibiting healthy, replicating growth. A church should be able to replicated itself, and thus replicate God's design for the church. A Bible study may replicate itself, but not according to God's design for the church. This would stand as an injustice to the next generations if we did not pass to them the replicated plan of God. Christ loved the church and gave Himself for her (Ephesians 5:25). That expensive cost for the church should ensure that its purity be maintained through our generation to the next.

I should clarify that a church need not have a church building. There are many biblical home churches which offer the opportunities to members as does a neighborhood church with a building. Many of these are effectively focusing on the original design for the church and are to be commended. Often, churches begin in homes and eventually purchase or rent space when they become too large to meet in a home. Others, however, simply open another home church to meet the need for expansion.


---

Image Credit: keeva999; "Methodist Church, Battle Center, Iowa"; Creative Commons


---
Tags
:
Christian-Life
|
Church-Issues
|
Ministry-Church
---
comments powered by

Disqus
Published 12-21-15