CHURCH & MINISTRY
C.T. Studd
Cannibals need Missionaries, too

By MeLissa LeFleur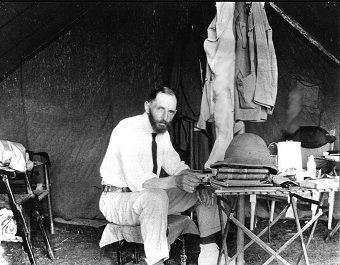 Did missionaries really leave for the mission field with no expectation to return? Did they say goodbye to their families, knowing full well a reunion was highly unlikely? I find the life of C.T. Studd an inspirational example of Christian service and I'd like to tell you about him.

Charles T. (C.T.) Studd was born in 1860 into a wealthy family. Life for C.T. was very pleasant and he received the most exclusive education available. He was a well-known British cricket player and received much prestige and fame from his sport, being twice called the "the best all-around cricket player in England." His future looked bright!

Everything was promising for C.T. and his two brothers until their father Edward attended a Dwight L. Moody crusade. During that event, Edward gave his life to Jesus Christ and became concerned for his three sons' spiritual conditions. Edward only lived two years after his conversion, but those two years greatly impacted his sons. During those two year, Edward dedicated himself to reaching others for Christ and also supporting ministries who had the same passion. He contributed largely to the founding of Moody Bible Institute in Chicago. Many have said that Edward accomplished more in two years than many believers do in a lifetime. The boys were shocked at the change they saw in their father and C.T. responded by giving his life to Jesus Christ in 1878.

After his conversion, C.T. went on with his life without much change, but in 1883, that changed dramatically. He attended an event where Dwight L. Moody preached and C.T. was convicted of his lack of witnessing. He began sharing his faith with others. "I tasted almost all the pleasures of this world, but the pleasure of bringing someone to the saving knowledge of Jesus Christ was greater." Two years later, he left his family in shock when he gave up his affluent and prestigious life in England and sailed to China to join Hudson Taylor in his mission work.
What is all the fame and flattery worthy...when a man comes to face eternity? I know that cricket would not last, and honour would not last, and nothing in this world would last, but it was worthwhile living for the world to come.
Joining Hudson Taylor's philosophy, Studd dressed like the Chinese, ate like the Chinese, and learned the language. While serving in China, at the age of 25, he inherited a large fortune from his father (equivalent to several million dollars today). He felt compelled by the Lord to give all of his fortune away for the cause of Christ. "If Jesus Christ be God and died for me, then no sacrifice can be too great for me to make for Him," Studd said. He gave God his fortune.

In 1888, C.T. married a young Irish missionary named Priscilla Livingstone Stewart and they ministered together in China for 10 years. The couple had four daughters, while their 2 sons died in infancy. They suffered severe persecution and reported that every time they stepped outside, they were greeted with curses. Yet, they didn't give up their desire to reach the Chinese people with the gospel. They served faithfully until health issues forced them back to England. While there, C.T. spent six years mobilizing hundreds of young people for mission work throughout the world. In 1900, he moved his family to India for six years until they returned again to England due to health problems.

C.T was now 50 years old and one night he saw a meeting advertisement while strolling a street in London. It said, "Cannibals Need Missionaries Too." He walked into the meeting and learned that hundreds of thousands of tribal people in Central Africa had never heard about Jesus Christ. He took up the challenge, "God has called me to go, and I will go. I will blaze the trail, though my grave may only become a stepping stone that younger men may follow."

C.T. ran into many obstacles — apparently many of his donors didn't want to send their beloved missionary to his grave. His donors said, "Don't go!" His doctors said, "You're not healthy enough. Don't go!" Yet, Charles insisted he was called by God to go to this very dangerous place. Ignoring the advice of his doctors and donors, he left his family in England and sailed for Africa where he served in Congo and Sudan for 18 years. Yes, that's 18 years of hard missions work with no furlough. While in Africa, he suffered many heart attacks and had other serious medical issues, yet he endured in his ministry. C.T. Studd died at the age of 71, still serving the tribal people of Africa.

I find it very inspiring to study the lives of our missionary pioneers — those who gave up everything to pave the way for the gospel. C.T. Studd radically changed the landscape of missions in England, China, India, and Africa, breaking ground for those who have followed him. May God give me that undeniable passion to tell others about His gospel message!
Some wish to live within the sound of church or chapel bell; I want to run a rescue shop within a yard of hell. – C.T. Studd
---
Tags
:
Hardships
|
Ministry-Church
---
comments powered by

Disqus
Published 10-20-15