CHURCH & MINISTRY
Sexual Sin in the Congregation


By Tim White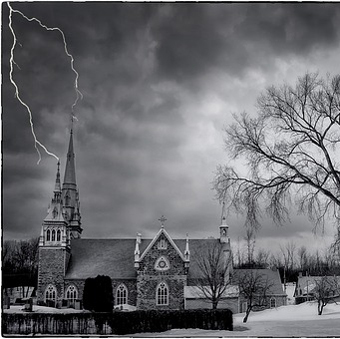 Situations in which churches biblically handle issues of morality are fewer these days, not because moral issues are decreasing, but because most pastors have lost their nerve in dealing with them.

Unbiblical sexual relationships are moral issues. Although many view homosexuality as worse than heterosexual immorality, both are a corruption of God's design for intimacy, marriage and pleasure. Both are destructive to both individuals involved, both families involved, and society in general. Our children have a declining hope of someday finding mates who will value them as persons and respect them in bed.

While society and educational institutions are teaching our children that acts and attitudes about sex can healthily run contrary to the Bible, the Church should be a voice of righteousness, taking a stand against this assault on God's pure design. Instead, many dhurches and pastors have silenced their voices in fear of rejection. There are fewer and fewer ambassadors for God standing in this gap.

Pastors feel that if they take a biblical stand on one issue (such as homosexuality), they will have to speak against others, like heterosexual affairs and divorce. Many claim that this will start a "witch hunt" in which people will point out other people's present and past sins while ignoring their own. The results of this fear is that the Church has become powerless to help people overcome temptation.

How churches handle such issues and how they should handle them are two different questions. A church should respond to morality problems in the congregation as they did in the first century, whether the sexual sin is publicly known or not, heterosexual or homosexual.

First, the righteous standard of God's design for sex needs to be heralded from the pulpits and teachers' lecterns in the Church. No one should have to ask this question because it should be commonly discussed and taught in the Scriptures.

Second, Paul told the church at Corinth how to handle members living in morally compromising lifestyles. The church had a gentleman who was sleeping with his father's second wife and was claiming that grace allowed that. Paul saw it differently:
When you are assembled in the name of the Lord Jesus and my spirit is present, with the power of our Lord Jesus, you are to deliver this man to Satan for the destruction of the flesh, so that his spirit may be saved in the day of the Lord. 1 Corinthians 5:4-5
When a sexual sin in the congregation is brought to light, the first thing the church needs to do is investigate to see if this claim is true. If it is, the church needs to meet prayerfully and dismiss the member. There appears to be more power in this than the immoral person simply losing his or her membership. There is a spiritual component of releasing these into the hand of Satan, physically, so the Lord can reach them in their pain.

Paul then instructed the members not to have any fellowship or association with the one removed from the Church. There is a distinct difference in how the Church was to treat the immoral within the congregation and how they treated those who were not in the Church:
I wrote to you in my letter not to associate with sexually immoral people — not at all meaning the sexually immoral of this world, or the greedy and swindlers, or idolaters, since then you would need to go out of the world. But now I am writing to you not to associate with anyone who bears the name of brother if he is guilty of sexual immorality or greed, or is an idolater, reviler, drunkard, or swindler — not even to eat with such a one. For what have I to do with judging outsiders? Is it not those inside the church whom you are to judge? God judges those outside. "Purge the evil person from among you." 1 Corinthians 5:9-13
This is all done to encourage repentance. Such action has the approval of God, and He works powerfully after this is done to bring repentance. Once the individual ceases immorality and repents, he is to be welcomed back into the congregation and covered with love.

Paul wrote in his next letter, "For such a one, this punishment by the majority is enough, so you should rather turn to forgive and comfort him, or he may be overwhelmed by excessive sorrow. So I beg you to reaffirm your love for him" (2 Corinthians 2:6-8).

Pray for our churches and pastors that we will understand that this is the Lord's Church. He determines our responses to internal sin. Our "reasonableness" is not pleasing to Him and is destructive.

What of the church that refuses to follow these steps? What should a believer do when church members admit and even flaunt their sinful lifestyle, and the church leadership does nothing?

I would recommend the believer consult with God concerning joining another church. This should not be done in a spirit of spite or bitterness, but because he would sense God's leading.

It is clear that we are not to have fellowship with believers who surrender to the flesh and disregard God's call to holiness:
But sexual immorality and all impurity or covetousness must not even be named among you, as is proper among saints. Let there be no filthiness nor foolish talk nor crude joking, which are out of place, but instead let there be thanksgiving. For you may be sure of this, that everyone who is sexually immoral or impure, or who is covetous (that is, an idolater), has no inheritance in the kingdom of Christ and God. Let no one deceive you with empty words, for because of these things the wrath of God comes upon the sons of disobedience. Therefore do not become partners with them; for at one time you were darkness, but now you are light in the Lord. Walk as children of light (for the fruit of light is found in all that is good and right and true), and try to discern what is pleasing to the Lord. Take no part in the unfruitful works of darkness, but instead expose them. For it is shameful even to speak of the things that they do in secret. Ephesians 5:3-12
If a church refuses to deal with those issues that are not to be even mentioned among church members, the members of the church become unwilling partakers in those sins. Each member who remains silent becomes just as guilty as the immorality they allow in their fellowship.

I, personally, would leave. I would find a church that stands for the righteousness of God, strives to obtain it as believers and teaches the truth. If I could not find a church in the area, I would find a faithful denomination and seek their help in organizing a new church in my area.


---

Image Credit: Patrice_Audet; untitled; Creative Commons


---
Tags
:
Biblical-Truth
|
Christian-Life
|
Church-Issues
|
Controversial-Issues
|
Sin-Evil
---
comments powered by

Disqus
Published 11-16-15