CHURCH & MINISTRY
What Is Sola Gratia?
Series: The Solas of the Reformation (And Why They Matter Today), part 3

By Dillon Burroughs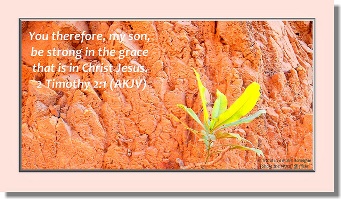 Sola gratia was a Latin term used by Protestant Reformers that meant "only grace." By "only grace," these leaders taught that salvation was a gift from God that could not be earned by human efforts. This teaching stood in stark contrast with the Roman Catholic Church of the time that was known for its additional requirements upon members to obtain favor with God.

Biblically, sola gratia was a teaching deeply rooted in the New Testament. Romans 3:23-24 notes, "For all have sinned and fall short of the glory of God, and are justified by His grace as a gift, through the redemption that is in Christ Jesus." Grace was required because of sin. Grace came as a gift, apart from works. (Ephesians 2:8-9)

It is also easy to see why the Protestant Reformers emphasized the book of Romans. Its focus on salvation by grace alone is clear in many places:
"But the free gift is not like the trespass. For if many died through one man's trespass, much more have the grace of God and the free gift by the grace of that one man Jesus Christ abounded for many." (Romans 5:15)

"As sin reigned in death, grace also might reign through righteousness leading to eternal life through Jesus Christ our Lord." (Romans 5:21)

"But if it is by grace, it is no longer on the basis of works; otherwise grace would no longer be grace." (Romans 11:6)
Martin Luther, leader of the Protestant Reformation in Germany, wrote regarding grace, "Either sin is with you, lying on your shoulders, or it is lying on Christ, the Lamb of God. Now if it is lying on your back, you are lost; but if it is resting on Christ, you are free, and you will be saved." Grace is Christ's gift to us. We do not earn it. We do not deserve it. It is a gift.

The Bible calls us to be careful not to fall into the trap of believing salvation is based on what we do. Paul called this a "different gospel" (Galatians 1:6). When discussing his own salvation, the apostle Paul noted, "He who had set me apart before I was born, and who called me by His grace, was pleased to reveal his Son to me, in order that I might preach Him among the Gentiles." (Galatians 1:15-16) His teaching was clear — Paul's salvation was by God's grace alone, not his own works.

Sola gratia is the teaching of salvation by grace alone apart from works. As Ephesians 1:7 says, "In Him we have redemption through His blood, the forgiveness of our trespasses, according to the riches of His grace." God's grace provides what we cannot — forgiveness of sin and access to God through Jesus.


---

Image Credit: Tito & Eva Marie Balangue; "2 Timothy 2:1"; Creative Commons


---
comments powered by

Disqus
Published 10-15-12