CHURCH & MINISTRY
What Makes Tim Tebow a Christian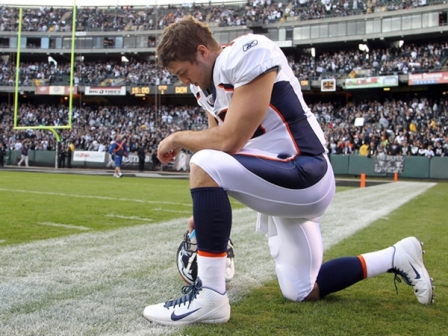 Predictably, this week's Love in Action feature is Tim Tebow. When you're a handsome football hero and the subject of about 100,000 facebook posts per minute, what possible motivation can you have to be selfless? I mean, you've earned the limelight. Why not just enjoy it? Why be humble in a culture that rewards ego and bravado? Why love when you can be loved? The answer is that he can't help it. He's a Christian.

If anybody hasn't read this ESPN article by Rick Reilly about Tim Tebow yet, you've really got to read it. Reilly points out something you may not have heard above the media roar about "tebowing" and the Broncos' recent amazing last-minute wins:
"Every week, Tebow picks out someone who is suffering, or who is dying, or who is injured. He flies these people and their families to the Broncos game, rents them a car, puts them up in a nice hotel, buys them dinner (usually at a Dave & Buster's), gets them and their families pregame passes, visits with them just before kickoff (!), gets them 30-yard-line tickets down low, visits with them after the game (sometimes for an hour), has them walk him to his car, and sends them off with a basket of gifts. Home or road, win or lose, hero or goat."
Wow. In my opinion, that's a person who deserves to have lots of money. But this is my favorite part:
"Take 9-year-old Zac Taylor, a child who lives in constant pain. Immediately after Tebow shocked the Chicago Bears with a 13-10 comeback win, Tebow spent an hour with Zac and his family. At one point, Zac, who has 10 doctors, asked Tebow whether he has a secret prayer for hospital visits. Tebow whispered it in his ear. And because Tebow still needed to be checked out by the Broncos' team doctor, he took Zac in with him, but only after they had whispered it together."
I admit I can be very cynical about celebrity philanthropism. But this brought me to tears. What a beautiful, selfless gesture. And it's not a one-time incident, as Reilly's article makes clear.

Charity is, without a doubt, an evidence of salvation. Galatians 5:13 says, "For you were called to freedom, brothers. Only do not use your freedom as an opportunity for the flesh, but through love serve one another" and Jesus said, in John 13:34 "By this all people will know that you are my disciples, if you have love for one another." It isn't hard to see the reality of that kind of love in Tebow's life. But love for one's fellow man, that in itself, does not save. What saves is Jesus Christ. And a saved heart loves others for Jesus' sake, because of the joy of its own salvation.

And I think Tim Tebow knows it. After all, when an NFL football star (who is, let's face it, probably the most peer-pressured creature on the planet) says "I want to thank my Lord and Savior Jesus Christ" to the cameras, there's a pretty good chance he means it.

What is so cool, to me, about Tim Tebow is that he's just a regular guy who loves Jesus. He's in a unique position, and he is handling it uniquely well. But when the cameras are off and the game is over, he's just another Christian, doing what Christians do: praying on his knees, loving people who are hurting and depending on God for all things.


---
comments powered by

Disqus
Published 1-24-12