COMPELLING TRUTH
Why You Either Believe Or Reject The Bible


By Robin Schumacher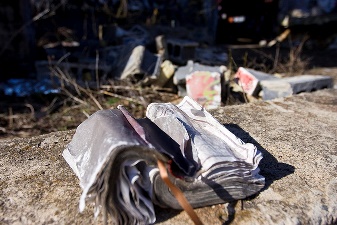 Single page/printer friendly
Continues from Page One




This is why anyone believes the Bible. Scripture is clear on this point and also exposes why God chooses this method: "For consider your calling, brethren, that there were not many wise according to the flesh, not many mighty, not many noble; but God has chosen the foolish things of the world to shame the wise, and God has chosen the weak things of the world to shame the things which are strong, and the base things of the world and the despised God has chosen, the things that are not, so that He may nullify the things that are, so that no man may boast before God" (1 Corinthians 1:26–29).

You believe the Bible because God specifically called you out of darkness and in the end He gets all the credit for it.

Why People Reject the Bible

What about those who don't accept the Bible? Scripture is equally plain as to why this is the case:

• "Jesus said, 'I praise You, Father, Lord of heaven and earth, that You have hidden these things from the wise and intelligent and have revealed them to infants. Yes, Father, for this way was well-pleasing in Your sight. All things have been handed over to Me by My Father; and no one knows the Son except the Father; nor does anyone know the Father except the Son, and anyone to whom the Son wills to reveal Him,'" (Matthew 11:25–27).

• "To you it has been given to know the secrets of the kingdom of heaven, but to them it has not been given...This is why I speak to them in parables, because seeing they do not see, and hearing they do not hear, nor do they understand," (Matthew 13:11–15).

• "And Jesus said to him, 'Blessed are you, Simon Barjona, because flesh and blood did not reveal this [that Jesus is the Christ] to you, but My Father who is in heaven,'" (Matthew 16:17)

• "Why do you not understand what I am saying? It is because you cannot hear my word. You are of your father the devil," (John 8:43–44).

• "Whoever is of God hears the words of God. The reason why you do not hear them is that you are not of God," (John 8:47).

• "You do not believe because you are of My sheep" (John 10:26).

• "For the mind that is set on the flesh is hostile to God, for it does not submit to God's law; indeed, it cannot," (Romans 8:7).

• "But a natural man does not accept the things of the Spirit of God, for they are foolishness to him; and he cannot understand them, because they are spiritually appraised," (1 Corinthians 2:14).

• "Even if our gospel is veiled, it is veiled to those who are perishing," (2 Corinthians 4:3).

• "We are from God. Whoever knows God listens to us; whoever is not from God does not listen to us. By this we know the Spirit of truth and the spirit of error" (1 John 4:6).

While non-Christians may provide many explanations as to why they discard the Bible, the actual reason they don't believe is that God hasn't spiritually awakened them (yet). The objection of not having enough proof fails to hold water because (1) there is plenty of evidence that attests to the Bible's validity; (2) people act contrary to evidence all the time, as I point out in my article that discusses evidence and hard core unbelief.

To Whom was the Bible Written?

Stating what few modern day preachers would dare say or put in print today, A. W. Tozer says:
The Bible is not addressed to just anybody. Its message is directed to a chosen few...Some believe and some do not; some are morally receptive and some are not; some have spiritual capacity and some have not. It is to those who do and are and have that the Bible is addressed. Those who do not and are not and have not will read it in vain...As the pillar of fire gave light to Israel but was cloud and darkness to the Egyptians, so our Lord's words shine in the hearts of His people but leave the self-confident unbeliever in the obscurity of moral night." [2]
While theology can be learned by anyone, the acceptance and adherence to spiritual truths such as those contained in the Bible cannot be done without being born again (John 3). This being the case, as Christians we should thank God for opening our previously blind spiritual eyes and hardened hearts to His Word and pray for those who do not embrace the Bible yet and ask God to have mercy on them just as He did on us (2 Timothy 2:25).


---

1. C.S. Lewis; Case for the Christian Faith
2. A. W. Tozer, "Why People Find the Bible Difficult" in The Best of A. W. Tozer, ed. Warren W. Wiersbe (Camp Hill, PA: Baker, 1980), pp. 164-166.






Image credit: JPott; Creative Commons


---
Tags
:
Current-Issues
|
History-Apologetics
|
Sin-Evil
|
Theological-Beliefs
---
comments powered by

Disqus
Published 3-17-14