COMPELLING TRUTH
Do's and Don'ts for Atheists at Christmas


By Robin Schumacher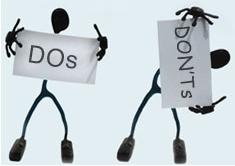 Printer friendly/single page
Part 1


Do Use Christmas as a Vehicle to Do Good to Others

You don't have to believe in Christ to use the Christmas season as a reminder that there are people hurting in the world who need help. If you're an atheist reading this, you might say, "What? I thought you Christians say I have to believe in God in order to have any kind ethics or morals and do good to others."

If you've been told this by any Christian in the past, let me apologize to you. The moral argument for God should never be understood to mean that non-Christians can't exhibit good moral behavior. Rather, it means that, without God, there is no way to ground objective moral values and duties. Everything becomes emotive, cultural, and subjective without God.

So by all means, use the Christmas season as a time to find others who need help in some way and jump in and make a difference in their lives. But in the process, honestly ask yourself why you're doing it (i.e. what's wrong with not helping people?) and see where that exercise takes you.

Do Engage Christians on Why You're an Atheist

While throwing up insulting billboards about Christianity isn't a great way to exhibit the 'tolerance' we hear so much about in our politically-correct culture, having respectful dialogs with Christians on why you're an atheist and asking them why they truly believe in Jesus is a great activity in which to engage.

When I've had someone intelligently and calmly exchange their atheistic views with me in our marketplace of ideas, I always walk away the better for it because I've learned how and why someone holds the beliefs that they do. Wouldn't you say that having a better understanding of people is a good thing?

Do Examine Your Atheistic Worldview

Participating in the prior point will likely result in this final "do", which is to use Christmas as a time to honestly examine your atheistic worldview. All of us — and I mean all of us — need to periodically reflect on why we believe what we do and ensure that our belief rests on a bedrock of truth vs. unsupported statements and propositions.

In my library, I have books and binders full of the writings of top atheists. Why? I use them to (1) better understand why atheists reject God and, (2) challenge the bad arguments for believing in God that I sometimes assimilate and hold.

If you're an atheist, let me ask you, do you do the same? When was the last time you read a work by a Christian apologist such as William Lane Craig, Ravi Zacharias, or Norman Geisler that worked through the philosophical and evidential arguments for Christianity? Have you ever contemplated things like, because our world exists, something must have always existed, and when you point to the universe as that eternal 'something' you exhibit a lot of 'faith' in the process?

Also ask yourself: is the reason you're an atheist really based on supposed evidence, reason, and such, or is it more emotive in nature and grounded upon personal things that have happened to you in the past? For example, a recent CNN article about Ted Turner described how he once dreamed of being a missionary, but watching his young sister Mary Jean suffer and die from a disease dramatically altered his early belief in God.

So there you have it — my do's and don'ts for atheists this Christmas. If you're an atheist, kindly consider these suggestions and see what following the recommendations brings you. Hopefully, they will provide a richer experience during this time than you've had in the past.

Finally, I must add that I also hope and pray that you more carefully consider the One whose birthday we Christians celebrate and think about why He came in the first place, which was to bring us all (including you!) a life that is abundant in forgiveness, grace, freedom, and love.


---

Image credit: freepik


---
Tags
:
Celebrating-Holidays
|
Other-Religions
|
Theological-Beliefs
---
comments powered by

Disqus
Published 12-20-13