CHRISTIAN LIFE & GROWTH
#AllSoulsMatter
7 Reasons Why My Faith, Not My Race, Comes First

By Laurel J. Davis
Originally posted in The Reluctant First Lady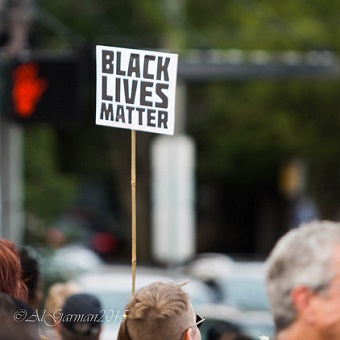 Single Page/Printer Friendly
Continued from Page Two




Perhaps it shouldn't be that way, but it is that way, and it's real, and it's exasperated by the media and by people — Black and White — who perpetuate our separation by refusing to allow for other people's perspectives on race in America.

Christianity, on the other hand, transcends skin color, cultural differences and personal preferences. It transcends nationalities, socio-economic status and political bent. As a Black person who is also now a Christian, my faith in Jesus means I have something in common with Uncle Si from "Duck Dynasty" — the blood of Christ — that has more eternal weight and meaning than the blood with DNA I have in common with my brothers and sisters according to the flesh.

The love of Christ is far more unifying than a multi-cultural movement about #BlackLivesMatter. Believers should focus more on the fact that #AllSoulsMatter because all the "whosoevers" who believe in Jesus, regardless of their race or culture, are part of the same spiritual family where real unity and harmony, not just equality and justice, will thrive.

Faith Before Race Reason #6: What Gets Glorified
Racial pride and social justice can cause Christians to glorify man — what makes Blacks special, what makes Whites special, what makes any race or culture special or worthy of attention, honor, defense or sacrifice. In fact, as much as I deeply hurt for the deaths of Michael Brown, Eric Garner and the rest, I equally cringe every time I see them almost deified when they were just ordinary human beings like you and me, not looking to die for anyone.

I just want to be careful in how I balance my loyalties. Loyalty to the Black community and loyalty to Christ are not necessarily mutually exclusive. However, my Lord and Savior deserves more, especially where there might be conflict. Man should never be glorified more than he deserves, and certainly not at the expense of giving Jesus the best of our attention, honor, defense and sacrifice.

Frankly, I don't want my support of my race to turn into idolatry. There are things I'll support because I'm Black, but not if it contradicts or distracts me from God's Word. Black lives matter to me, but all lives also matter to me because they matter to God whom I serve and to whom I owe everything. He is worth infinitely more to me than the color of my skin, the brutal slavery of my ancestors, and the continued discrimination and unfair targeting of my brothers and sisters in the flesh. #BlackLivesMatter and #AllLivesMatter. But #AllSoulsMatter more.

That's why, as a Black person, I want to pick and choose my battles wisely in how I protest racism and injustice. But as a follower of Christ, I have no choice but to be in battle daily for my faith, ready to defend it "in season and out of season" because it is being attacked more and more, every day, from all sides. Indeed, not everyone needs racial sensitivity training. But everyone needs Jesus. Including Black folks.

Christians need to glorify Christ more than the color of our skin. Why? Because while our bold witness for the Gospel can help turn a non-Christian into a Christian, our bold witness for the Black experience in America can never turn a non-Black person into a Black person. Sure, we want non-Blacks to understand and respect our history of struggle which continues to rage, but the satisfaction of knowing if they ever do come to understand pales in comparison to knowing you had something to do with leading a lost soul to a saving faith in Jesus Christ.

Besides, I wonder how much the devil himself is using these social injustices to get well-meaning Christians focused on earthly more than spiritual concerns.

Faith Before Race Reason #7: What to Expect
Racial equality and social justice are a worthwhile fight, but it can only go so far. Jesus said His Word shall never pass away but that heaven and earth shall pass away (Matthew 24:35; Mark 13:31; Luke 21:33). Racism will indeed one day pass away. But it won't be because of the people's protests, picket signs, die-ins and boycotts. It will be because Jesus makes all things new, in His way and in His timing, as He wills.

That is why, at least for me, my expectation is in Christ, not in my skin color and not in the people who are fighting for it, including me. If I suffer as a Black person (and yes, I have), I may never get the satisfaction of retribution. But if I suffer as a Christian, as Paul says at Romans 8:18, "I consider that our present afflictions are not worth comparing with the glory that will be revealed in us. For the creation waits in eager expectation for the children of God to be revealed." The suffering of my Black race offers no such eternal promise. #BlackLivesMatter and #AllLivesMatter for this life only, while #AllSoulsMatter for eternal life to come.

I want to close with a story from my college days at UCLA. One day I went into the office of the special interest newspaper for Black students, "Nommo" (Swahili for "the word," interestingly enough). I met a young Black male there, Todd, and I told him I wanted to offer my services as a writer.

Todd's immediate response was — and I quote — "Man, you're so proper, just like a White girl!"

"Well, gosh golly!" I replied.

You can't win for losing in this game we call race in America! Oh, the trials and tribulations of a light-skinned, half-White girl with good diction and "good" hair to match!

Of course, Todd and I became best buds right after that laugh. I chose not to be offended, and he appreciated my sense of humor in spite of his own poor attempt at it.

Bottomline, we all need Jesus! And Christians need to be loyal to Him first before anything and everything else.


---

Image Credit: Al Garman; "BlackLivesMatter-43"; Creative Commons


---
Tags
:
Biblical-Salvation
Biblical-Truth
Christian-Life
Controversial-Issues
Current-Issues
comments powered by

Disqus
Published on 7-13-15