CHURCH & MINISTRY
Appointed to His Service

By Laurel J. Davis
See Laurel's blog at The Reluctant First Lady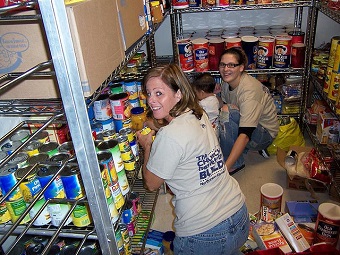 To borrow from the divinely inspired words of the Apostle Paul at 1 Timothy 1:12: We thank Christ Jesus our Lord who has strengthened this local church, because He considered us faithful, appointing us to His service!

The local church is blessed by God for its collective faithfulness, because He has entrusted the local body to accomplish many areas of service for His glory. It can't be done without the Lord, for only the Lord rewards the faithful by appointing the faithful to His service.

That principle is the steadfast endeavor of every God-focused church: to rely on His strength, remain faithful to Him and His Word, and continue to heed His call to serve in His name and for His glory alone.

But that strength, faithfulness and service are only as good as the strength, faithfulness and service of the individual people who make up that local church.

In other words, how willing are each of us to be strengthened by God and to remain faithful enough to be used by Him in the work of local ministry?

In addition to consistent attendance at Sunday services and weeknight Bible studies, in addition to caring prayers for fellow members and others, and in addition to freewill giving for the financial needs of the church — all of which contribute to its sustained strength and effectiveness — can Christ Jesus our Lord count on each of us to use our God-given talents and gifts for the building up of fellow believers and for spreading the Gospel where we each live and work?

Perhaps some of us feel unqualified, unworthy, unavailable, incapable, or too unsure about what exactly our particular talents and gifts are. Whatever our hesitation, every one of them can be overcome by the guidance of the Word of God, the empowering of the Holy Spirit and the faith we already have in Him for every other area of life and eternity. The only thing really required of us is regular prayer, a willing and humble heart, and a step of faith. Sometimes, too, the advice of a pastor or other church leader can help identify any specific hesitation or obstacles.

It is an awesome thing that, after the Apostle Paul thanks the Lord for appointing him to service in 1 Timothy 1:12, he then explains that it was in spite of once being an enemy of Christ and His people, and that therefore the Lord's grace upon him was more than abundant. Here's the whole beautiful passage (verses 12 through 16):
And I thank Christ Jesus our Lord who has enabled me, because He counted me faithful, putting me into the ministry, although I was formerly a blasphemer, a persecutor, and an insolent man; but I obtained mercy because I did it ignorantly in unbelief. And the grace of our Lord was exceedingly abundant, with faith and love which are in Christ Jesus. This is a faithful saying and worthy of all acceptance, that Christ Jesus came into the world to save sinners, of whom I am chief. However, for this reason I obtained mercy, that in me first Jesus Christ might show all longsuffering, as a pattern to those who are going to believe on Him for everlasting life.
If anyone's going to have hesitation about using his talents and gifts for service to the Lord, certainly it should've been Paul. And yet, Paul says he is an example of the Lord's great mercy and patience.

Let's let Paul's example encourage all of us to actively seek God's direction and strength as we faithfully commit ourselves, individually and collectively, to being appointed to His service.


---

Image Credit: marquisgt; "Northview Volunteer Day"; Creative Commons


---
Tags
:
Biblical-Truth
|
Christian-Life
|
Ministry-Church
---
comments powered by

Disqus
Published on 10-26-15