CHRISTIAN LIFE & GROWTH
Child-Like Faith


By Laurel J. Davis
See Laurel's blog at The Reluctant First Lady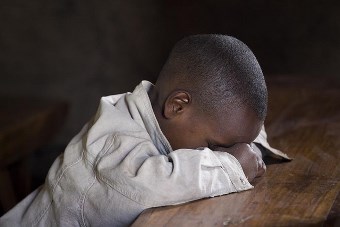 Few things are as pure and lovely as a child's prayer. Here's how a four-year-old prayed over her dinner once: "Dear God, thank You for this food. Because we really love food, and we like to eat it. And thank You for a lot of friends. And thank You for letting us play."

Beautiful.

Sometimes you can really catch a glimpse of the Holy Spirit in what little kids say about God. There's a glimmer that tells you a child is not just mimicking something he heard or was taught over and over again. Of course, Bible training even at a very young age is a must in every Christian household (e.g., Proverbs 22:6), and mimicking indicates at least some training is going on. But the spontaneity of her prayer shows that young child just simply knows good things like food and friends and play — things kids her age are supposed to delight in — come from God. And she can, with all confidence, openly express to Him her genuine appreciation.

A young child's perception of the image of God, as he or she tries to grasp who He is and what He's like, is a blessing to observe. To kids, Jesus Christ is Super Hero. They ask things like, Does Jesus wear a cape? Is He afraid of the dark? Can bugs bite Jesus? Another four-year-old even asked once, "If Jesus is in my heart, then how can He be in heaven?" Grownups should be sure to exercise their spiritual brains half as much as this young child must have done to even arrive at such an intelligent question. How many of us "grownups" would know how to answer it?

The point is this: Couldn't we Christians learn a lot from a child's perspective about God? That perspective is straightforward, innocent, trusting and honest. It is eager to think, to learn, to take root and grow. It is unencumbered by the effects of experience, time and the presumed wisdom of man that come with age and make us insecure, puffed up and insubordinate to the perfect will of God.



I'm certainly not condoning spiritual immaturity! Immaturity in the things of God is evidenced by gullibility, carnal thinking and living, pride, preferential love and self-centeredness, and it results at best in stagnant growth! But at the same time, the very example Jesus uses to teach us about our relationship with our Heavenly Father, is children. For of such, He says, is the kingdom of heaven (Matthew 19:14).

Throughout the Bible, God's people are often referred to as His children. In His divine plan, God purposely created all little kids to be the way they are — straightforward, innocent, honest and trusting — perhaps as a practical model for Christians of all ages to copy. Be therefore followers of God, as dear children (Ephesians 5:1).

Indeed, it is child-like humility before the Father that He acknowledges the most: Whosoever, therefore, shall humble himself as this little child, the same is greatest in the kingdom of heaven (Matthew 18:4).

So, like a four-year-old child blessing his dinner, picturing Jesus in a super hero's cape, or trying to figure out the exact attributes of "God manifested in the flesh," a true child of God is someone at any age who humbles himself and puts all his faith, trust and delight in his Creator. With childlike boldness, he seeks out his Father's reassuring face and allows himself to be moved by, to grow up in and to openly enjoy God's wonderful personal presence in his life.


---

Image Credit: Steve Evans; "Ethiopia: Innocent Prayers of a Young Child"; Creative Commons


---
Tags
:
Biblical-Truth
|
Christian-Life
|
God-Father
---
comments powered by

Disqus
Published on 11-6-14