CHRISTIAN LIFE & GROWTH
Comfort Food
Be Fed to the Full on God's Word

By Laurel J. Davis
See Laurel's blog at The Reluctant First Lady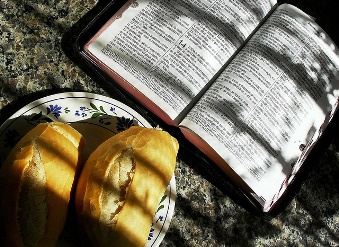 People often use food to relieve their woes. Stress, sadness, loneliness and frustration are often "fixed" with cookies, chocolate, an extra helping of macaroni and cheese, or a Big Mac with super-size fries and a Coke.

Or, if digestibles don't soothe the blues, then we'll try over-stuffing ourselves with reality TV, Facebook or Twitter, busyness, gossip, shopping, clubbing, drinking (or worse), and sex.

Now, all such "comfort foods" — except of course substance abuse — can have their calming benefits in the right contexts and with proper moderation and balance. But even then, do they really comfort us deep down where it's needed the most? If so, then for how long? Do they really relieve a hungry heart, or are they merely temporary fixes that feed the flesh more than they feed the Spirit?

Oh, how we need to be reminded that no so-called "comfort food" hits the spot quite like the precious Word of God! "How sweet are Thy words unto my taste! Yea, sweeter than honey to my mouth!" the psalmist says at Psalm 119:103. And the Prophet Jeremiah proclaimed, "Thy words were found, and I did eat them; and Thy word was unto me the joy and rejoicing of mine heart: for I am called by Thy name, O Lord God of hosts" (Jeremiah 15:16). Amen! and Hallelujah!

Notice the context of Jeremiah's statement here. He is languishing over God's rejection of an impending judgment on His wayward people. But he also says that God's Word was "found" by him and that it brought his heart joy in spite of the anguish.

Often what has been found and enjoyed must first have been sought for. So maybe if Jeremiah had been searching for God's Word more than anything else he could have tried to comfort and satisfy his distraught soul. Verse 16 really stands out as a promise even in the midst of threatened woe — a savory morsel of hope for anguishing souls hungry for real relief.

What a vivid, practical picture these Scriptures give us, a picture for us to live by, of God's wonderful Word as something to consume like food to satisfy our spiritual "hunger pangs."

A similar picture is given at Ezekiel 2:8 to 3:4 where the Lord says, "Open thy mouth, and eat that I give thee...cause thy belly to eat, and fill thy bowels with this roll [i.e., Word] that I give thee." To which Ezekiel says, "Then did I eat it; and it was in my mouth as honey for sweetness." The psalmist adds a sense of urgency to this sort of imagery: "I opened my mouth, and panted: for I longed for Thy commandments" (Psalm 119:130).

Jesus said at John 15:11: "These things have I spoken unto thee, that My joy might remain in thee, and that your joy might be full." Read the surrounding verses.

Couple that with such verses as, "Man shall not live by bread alone but by every word that proceeds out of the mouth of God" (Matthew 4:4); and "As newborn babes, desire the sincere milk of the word, that you may grow thereby: If so be you have tasted that the Lord is gracious" (1 Peter 2:2-3).

Such Scriptures remind us that God's Word, everything He has said to us, is intended to feed us to the full with His joy. Joy that enriches. Joy that remains. Joy that tastes so good to the longing soul. Joy that sticks to the ribs, so to speak, so that like Jeremiah's, our hunger pangs can be quieted even in the midst of our trials.

Let's feast on the sweet and savory words of the Lord. Let's taste that He is gracious. Take His Word in, chew on it, swallow it, digest it. Savor its richness. Absorb its goodness deep down into your spiritual bowels. Be fed to the full with the joy of the Lord. Yes, the Word of God really does hit the spot.


---

Image Credit: Sammis Reachers; "Biblia alimento para alma"; Creative Commons


---
Tags
:
Biblical-Truth
|
Christian-Life
|
Hardships
---
comments powered by

Disqus
Published on 1-14-15