CHRISTIAN LIFE & GROWTH
Gather in His Name

By Laurel J. Davis
See Laurel's blog at The Reluctant First Lady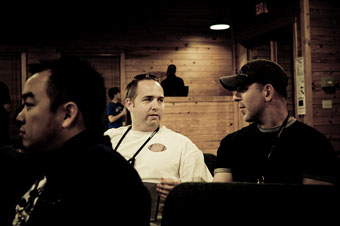 Going to church or not going church every Sunday does not make or break a person's salvation (cf. Ephesians 2:8-9). Just like going, even "religiously," doesn't make you a Christian, not going doesn't make you bound for hell.

But if you are a Christian already (Romans 10:9-13), then you should be in a setting of worship and teaching surrounded by fellow believers on a regular and consistent basis, at least once a week.

Plenty of Scriptures give us this strong admonition. Probably the most familiar is Hebrews 10:24-25, in which God actually commands us to fellowship together, which is reason enough for us to do it:
And let us consider one another to provoke unto love and to good works, Not forsaking the assembling of ourselves together, as the manner of some is, but exhorting one another, and so much the more, as you see the Day approaching.
Scripture also relates God's purpose in group fellowship, giving all the more reason why it should be among our highest priorities. Romans 15:5-7 is one of the best passages:
Now the God of patience and consolation grant you to be like-minded one toward another according to Christ Jesus, That you may with one mind and one mouth glorify God, even the Father of our Lord Jesus Christ. Wherefore, receive one another, as Christ also received us to the glory of God.
Of course, it's easier to be unified and to accept one another if we fellowship and learn about God and His Word together rather than apart. As Matthew 18:20 says, "For where two or three are gathered together in My name, there I am in the midst of them." Other excellent passages are Amos 3:3; 1 Corinthians 1:10; and Philippians 1:27 and 2:2.

Finally, in Scripture our wonderful Heavenly Father shares with us the benefits that regular group fellowship provides particularly to each individual member. As 1 Thessalonians 5:11 says, "…comfort yourselves together, and edify one another…"

Putting that in mind with Philippians 2:4 which says, "Look not every man on his own things, but every man also on the things of others" and Galatians 6:2 which tells us to "Bear one another's burdens, and so fulfill the law of Christ," then the point is clear: You can't help anybody else as effectively, and you can't get good enough help for yourself, if you don't fellowship regularly with others in the spirit of unity in Christ.

Read Acts 2:41-47 for one of the best models for us to follow of what being "gathered together in His name" can look like. Those early believers were unified in the truth, they shared together the experience of God's many signs and miracles done in their midst, they loved God enough and genuinely cared about each other enough to make sure everyone's basic needs were met, and they glorified the Lord together. They also had favor with all the different peoples around them, and the church grew in number daily.

That's not a promise that we will grow in numbers, for at that time God was still building the Early Church. But it should encourage us anyway to be actively unified in our worship and service and in learning God's truth so that, even if we don't grow in numbers, we grow individually in biblical wisdom and spiritual power, to God's glory.


---

Image Credit: fourth photoraphy; "Candid 2"; Creative Commons


---
Tags
:
Biblical-Truth
|
Christian-Life
|
Ministry-Church
---
comments powered by

Disqus
Published on 2-22-16