CHRISTIAN LIFE & GROWTH
The Purpose of the Congregation


By Laurel J. Davis
See Laurel's blog at The Reluctant First Lady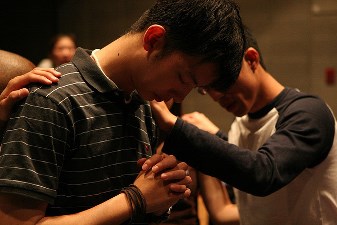 Going to church regularly and actively supporting fellow believers are both commanded of Christians in the Holy Scriptures. Of course, one of the main reasons for going to church is to supplement your own personal Bible study with teaching and leadership that measure up with God's Word. But for now, let's focus on one of the most beautiful things the local church fellowship — or "body" of believers — has been designed for.

First Corinthians 12:12-31 gives a wonderful picture of how the "Body of Christ" should function. To sum up, the human body is one body made up of many parts, each part having its own special function but also its own inherent limitations, or needs. Similarly, the Body of Christ is one Church with many members, each member having his or her own gifts and his or her own existing needs. A healthy, strong and effective body, whether it be a physical body or the Body of Christ, has all of its members functioning properly together, relying on each other's strengths and compensating for each other's limitations.

Think of it this way. When you stub your toe, how does the rest of your body react? It's automatic, isn't it? You immediately tense up. Your hands rush to the injured digit as your lungs, throat and mouth work in sync together to expel out an "Ouch!" Your knees instinctively bend so that your buttocks will now support the weight that was just on your feet. Your teary eyes assess the damage. Your whole body is laid to the floor and whatever you were doing comes to a halt because one member, the toe, which seemed so insignificant before, is now hurt and needs immediate attention from the other members.

Shouldn't it be just as automatic among the members of the Body of Christ? And all the more when a member, any member, is hurt? As 1 Corinthians 12:25-26 admonishes, [S]o that there should be no division in the body, but that its parts should have equal concern for each other. If one part suffers, every part suffers with it; if one part is honored, every part rejoices with it.

The local church "body" — that is, the local congregation — offers the richest opportunity to give attention to, and receive it from, fellow members of the Body of Christ. Indeed, all the more since we have Christ Himself, the Head, to help. Ephesians 4:15-16 provides this beautiful description: [S]peaking the truth in love, we will grow to become in every respect the mature body of Him who is the head, that is, Christ. From him the whole body, joined and held together by every supporting ligament, grows and builds itself up in love, as each part does its work.

In a sense, the local congregation, big or small, is a family. Through our shared faith in the atoning blood of Jesus Christ, we are all "blood" brothers and sisters with the same spiritual Father. We should treat each other accordingly. A new command I give you, Jesus said. Love one another. As I have loved you, so you must love one another. By this everyone will know that you are My disciples, if you love one another (John 13:34-35). We should view Sunday services as precious "family time." And we should use fellowship and ministry throughout the week to encourage and build each other up in this hard but worthwhile task of living godly in an ungodly world. First Thessalonians 5:11 states it simply: Therefore encourage one another and build each other up, just as in fact you are doing.



The point cannot be overstated, especially in light of the fact that God's precious Word has so much to say on it. Consider the flip side. When a believer doesn't regularly assemble together in God-fearing fellowship with other members of the family of Christ, not only does he close off other people whom he can help, he also closes himself off to all of the benefits that a close spiritual family offers — a family he can rely on, stand up for and share in God's blessings with.

That is why, besides just for sake of obedience to our Heavenly Father, it is so important that we find a good Christian church home. Especially in these latter days. As Hebrews 10:24-25 admonishes, And let us consider how we may spur one another on toward love and good deeds, not giving up meeting together, as some are in the habit of doing, but encouraging one another—and all the more as you see the Day approaching. We are to exhort, comfort and encourage each other while we wait for Christ's return.

But it won't stop there! After that, we who are still alive and are left will be caught up together with them in the clouds to meet the Lord in the air. And so we will be with the Lord forever. Therefore encourage one another with these words (1 Thessalonians 4:17-18). When the Lord Jesus Christ comes to gather up believers from the earth, we shall meet Him — not one at a time but all at once, together as one glorious, united family!

Encouraging words, indeed! Our relationship with Christ is individual. But our fellowship in Christ is corporate, for eternity. Let's make every effort, individually and collectively as one body, to be in that mindset of awesome eternal fellowship...starting now.


---

Image Credit: Alex Leung; Untitled; Creative Commons


---
Tags
:
Biblical-Truth
|
Christian-Life
|
Ministry-Church
---
comments powered by

Disqus
Published on 10-15-14