CHRISTIAN LIFE & GROWTH
Infectious True Love


By Laurel J. Davis
See Laurel's blog at The Reluctant First Lady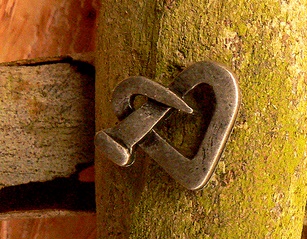 Few things warm the heart like a good old-fashioned love affair: pure, true and mutually faithful. The sweetest love is a two-way street between people whose love for each other moves the people around them. True love ignites the spirit so brightly that others are drawn to its warm glow.

How does that old song go? "You're just too good to be true. Can't take my eyes off of you." Certainly every heart secretly yearns for true love. To feel the utter wonderment of being swept off your feet by that "special someone." To rest in the comfort of knowing that, even when you're at your worst, your "one and only" still finds you precious. To wallow in the sheer joy of being loved for real and giving real love back. To know that love has chosen you. And to feel as if love will overcome anything and last forever.

Well, only by a personal relationship through Jesus Christ can anyone really know true love. God's love is not "too good to be true" but is as good as it is because of the very fact that it is true. God is love (1 Jn. 4:8) as well as truth (Jn. 14:6).

So, you find true wonderment, true comfort, and true joy. He has truly chosen you, His love conquers all, and it is eternal. God's love is true to the fullest and most fulfilling extent possible.

In fact, truth is how God gets us to love Him in the first place. It's the truth of the Gospel that He uses to woo each of us into intimate love relationship with Him. And the truth is, We love Him because He first loved us (1 John 4:19). God has His eye on us first, His love chooses us first, and then He woos us with deeply captivating words like: It is finished! (John 19:30).

Jesus uttered those words as He was dying on the cross for all of our sins—the ultimate expression of Love perfected. As 1 John 4:9-10 explains, In this the love of God was manifested toward us, that God has sent His only begotten Son into the world, that we might live through Him. In this is love, not that we loved God, but that He loved us and sent His Son to be the propitiation for our sins.

Such remarkable love should woo us to the point of blissful surrender into His waiting arms.

Such love calls us to not only wait expectantly for eternal life with Him to come but also walk in newness of life now (Romans 6:4ff) because we find it hard to take our eyes off of our "One and Only" Savior.

In other words, the believer's love affair, if you will, with Christ is not only established on truth but should also be sustained on truth — namely, the truth of His Word by which we are to live (Matthew 4:4). God's love for us is true, and so should ours be for Him. That mutual love reveals itself in how we live our lives now. As our True Love says, If you love Me, keep My commandments (John 14:15).

When that happens, when our blissful surrender to our One and Only True Love is observable by other people around us, then from the outside looking in, even the hardest of hearts will be moved at the sight of it — at the very least, to jealousy) How? By our love for one another (1 John 4:20-21). God's boundless love is infectious. It should make us burst at the seams and overflow with love for others (1 John 4:11-12).

In fact, in a truly Godly life, it's the light of His love in us that will shine forth brighter to people around us than any of our other spiritual gifts or works. Our love for others is the oil that gives meaningful light to the lamps of prophecy, knowledge, faith, giving, service and sacrifice (1 Corinthians 13:1-3ff). When true brotherly love is our motive for the things we do in the name of Christ, people are drawn to its warm glow.

That's probably what Jesus meant when He gave His model of brotherly love as a "new commandment" (John 13:34-35). Our blissful surrender to our One and Only True Love enables us to give true love to others. That in turn will hopefully kindle their own true love affair with Him so that they, too, can experience that same blissful surrender.


---

Image Credit: Len Matthews; heart; Creative Commons


---
Tags
:
Biblical-Truth
|
Christian-Life
|
Jesus-Christ
|
Ministry-Church
---
comments powered by

Disqus
Published on 9-3-14