CULTURE & ENTERTAINMENT
Funky Christmas Carol Lyrics


By KJM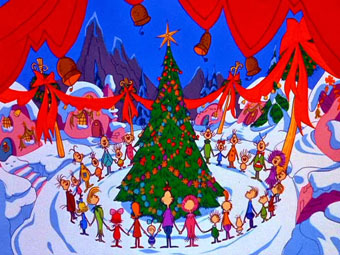 After successfully avoiding my local Christmas radio stations since, ahem, early November, I finally felt mentally prepared for Christmas music once my tree was thoroughly adorned. Growing up, Christmas was very important in my family...almost as important as all the church, orchestra, choir, and ensemble rehearsals that come with the season. I love carols dearly, partly because I've sung or played nearly all of them, often with my siblings and dad joining in.

However, no amount of musicianship or nostalgia can keep me from saying, "Wait, what?" to some of our beloved Christmas lyrics. There are certainly whole songs that belong in the "questionable" column, like Grandma Got Run Over by a Reindeer and Baby It's Cold Outside, because why are we so happy about people's deaths and seductions? But there are individual lines that always bring a question mark to mind.

For instance, there's the classic Here We Come a-Wassailing. Obviously people wonder what wassailing actually is, but that was dealt with handily by my favorite Christmas TV special (which you can buy here). The lyric that I wonder about is where it says they are wassailing "along the leaves so green." I may have never been to England, but I'm pretty sure the country is not covered exclusively in Holly trees, so just how much figgy pudding did you eat, Britain?

Of course many lyrics simply use outdated words. Two that strike me as amusing are "sinful sot" from You're a Mean One, Mr. Grinch, and "troll the ancient yuletide carol" from Deck the Halls. It turns out that a "sot" is a habitual drunkard — not the picture of the Grinch that I garnered as a child! Angry, mean, unfeeling, yes, but I rather doubt Dr. Seuss had "drunkard" in mind for his children's story. But, by golly it rhymes with "moldy purple spots," so I guess that makes it okay? As for trolling a carol...I realize this is partially a generational thing, to me a troll is either a large and dangerous creature that lives in the mines of Moria, or an annoying commenter on the internet. However, a legitimate, if quite old, definition of "troll" is to sing loudly, or celebrate in song, according to Merriam-Webster.

There is the sobering and beautiful Auld Lang Syne, originally a poem by Robert Burns. Although it is a song of farewell generally used at New Year's, its inclusion at the end of the classic film, It's a Wonderful Life has helped associate the song with Christmas. Apparently auld lang syne is old Scottish translated something like "old long since" or "days gone by."

Meanwhile, Santa Claus Is Coming to Town just straight-up invents a "rooty toot-toot and rummy tum-tum." There is a theory that this refers to an old candy, rum balls, but generally it is thought to be a poetic (?) expression of the sound of a train. Personally, when I was a child I thought it had something to do with a child who was drunk, but I certainly don't claim to have been a normal kid.

Even with all this, though, I will still say with abandon, troll those carols, my friends! Troll them proudly!


---

Image: The Whos in Whoville from How The Grinch Stole Christmas!


---
Tags
:
Celebrating-Holidays
|
Personal-Life
|
Current-Issues
---
comments powered by

Disqus
Published 12-21-15