THE ABIDING LIFE
Finding Freedom in Frozen

By Gwen Sellers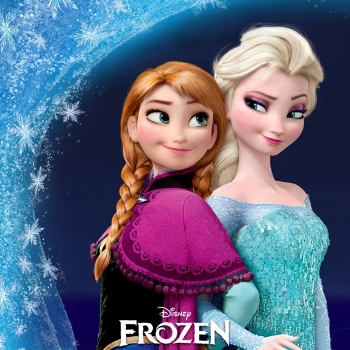 Single Page/Printer Friendly
Continued from Page One


We see what happens when we cling to the lie that doing life alone is better. Anna comes to ask Elsa to return home and is met with anger. Elsa is sorry she has hurt the kingdom, but has no idea how to fix it. And she'd rather just stay up on the mountain where she thinks she belongs, claiming Arendelle will be better off without her. The giant snow monster Elsa creates is nightmarish. Even worse is that Elsa strikes Anna with her powers, this time getting her heart. When people try to break into our self-protective shells, we often lash out. When we trust our own barriers for protection, rather than God, we end up confined and volatile. Not only does it hurt us, it hurts other people and can actually cause them to become hardened. The scary thing about Elsa's powers striking Anna's heart is that Anna will eventually become completely ice, unless saved by an act of true love.

After an exciting series of events where we find out that Anna's betrothed is in fact a scoundrel who plans to execute Elsa, whom he has brought down from the mountain, and allow Anna to die, while Kristoff, a man who helped Anna on her mountain trek, really does love Anna and is willing to fight for her, we come to the truth. The trolls have told Anna that only an act of true love will save her. We assumed it would be a kiss from Hans, her betrothed. When he shows his true colors, we are then led to believe it will be a kiss from Kristoff, who truly does love her. But that's not it at all. What saves Anna is her selfless sacrifice of her own life for that of her sister's. And then we realize the key to bringing summer back to the kingdom—love. Yes, love conquers all. I appreciate that the movie doesn't make it a romantic love. Olaf, the comedic snowman, tells us that love is when we put others before ourselves. Jesus certainly showed us that, and He commanded us to love one another (John 13:34-35). Love can unfreeze a heart and mend broken relationships. True love comes from God. First John 7:8-11 says, "Beloved, let us love one another, for love is from God, and whoever loves has been born of God and knows God. Anyone who does not love does not know God, because God is love. In this the love of God was made manifest among us, that God sent his only Son into the world, so that we might live through him. In this is love, not that we have loved God but that he loved us and sent his Son to be the propitiation for our sins. Beloved, if God so loved us, we also ought to love one another."

But the movie doesn't end there. With her newfound knowledge of how to control her powers, Queen Elsa begins to live fully alive. She unfreezes the kingdom, provides Olaf with a personal cloud so he can be a snowman in summer, and then creates beautiful ice sculptures and an ice rink at the castle. The castle doors can remain open, the kingdom can enjoy the beauty of things frozen while also enjoying summer. It is when we come together in community that we can be most fully ourselves. Elsa's power was to be feared when it was denied, hidden, and untamed. But it was to be celebrated when it was revealed to others, controlled, and used well. Elsa could see the fullness of her powers and relish in life's joys only when in community, and the community could thrive best only when its queen was fully alive.

We are similar. God has designed each of us uniquely with many gifts. Often our gifts can go awry. The enemy of our souls succeeds when we deny or hide our gifts completely. He also succeeds when we use only one extreme of our gift, when we are not tempered by the love of God and attempt to use our gift by ourselves instead of under His authority. But God is magnified when we submit to Him and learn to walk in the way He has created us among the people He has given us to do life with.
For as in one body we have many members, and the members do not all have the same function, so we, though many, are one body in Christ, and individually members one of another. Having gifts that differ according to the grace given to us, let us use them: if prophecy, in proportion to our faith; if service, in our serving; the one who teaches, in his teaching; the one who exhorts, in his exhortation; the one who contributes, in generosity; the one who leads, with zeal; the one who does acts of mercy, with cheerfulness. (Romans 12:4-8)
So delight in the beauty God has weaved into you (Psalm 139). Embrace the unique imprint of His hand on you. Share it with others. Let them influence you and be willing to influence them. God made you and placed you where you are for a specific purpose. "For we are his workmanship, created in Christ Jesus for good works, which God prepared beforehand, that we should walk in them" (Ephesians 2:10). Delight in the work of the Master as you watch the masterpiece of your life unfold. Let it go, trusting that God is keeping it all together.


---
Tags
:
Christian-Life
|
Current-Issues
|
Hardships
|
Personal-Relationships
|
Reviews-Critiques
---
comments powered by

Disqus
Published 5-13-14