DIVINE MEMORABILIA
Full Disclosure
The Gift of Confessing our Sins

By Catiana Nak Kheiyn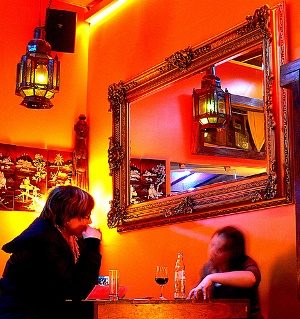 Confession. It is a humbling practice to be sure. It makes us vulnerable. It stretches our trust. Sin is shameful enough without having to talk to someone about it. Why would the Bible instruct us to bare our most painful wounds to others? What purpose is there in uncovering that smelly bandage that we've tied tightly around our brokenness?

James 5:16 gives the answer: "Therefore, confess your sins to one another and pray for one another, that you may be healed. The prayer of a righteous person has great power as it is working." Did you catch that? We confess so that we can be healed—not only from our physical wounds but also (and perhaps mostly) from emotional pain and spiritual torment as well. If no one knows, then how can we be held accountable in the future? Receive prayer for our struggles? Be cared for by loving friends and family?

Let me stress that to be forgiven of our sins, we do not need a mediator between us and God—other than Jesus of course (1 Timothy 2:5). First John 1:9 says, "If we confess our sins, [God] is faithful and just to forgive us our sins and to cleanse us from all unrighteousness." The only one who needs to hear from you in order to grant forgiveness is God Himself. What I am talking about here is a healthy, biblical confession of our struggles to other believers for the purpose of healing the heart. We are called to encourage one another, love each other, and support the body of Christ (1 Thessalonians 5:11). How could we do that if others did not confess their need for encouragement, love, and support?

If you are anything like me, you find it easier to dole out assistance than to ask for it yourself. It's much more comfortable, much safer, to be the helper than to be the one being helped. Not to mention that it fills our egos so much more to be the caregiver than the care receiver. And there's one of our problems right there.

Even the caregiver struggles with sin. Even the caregiver needs encouragement sometimes. But we want to stay locked up in our closets, festering away in silence. Smoldering with our sin spreading around us like a cloud, until the room is so full of smoke that we have to open a tiny crack in the door just so we can breathe. But all that does is let out a thin stream of vile smoke that slowly infects the other rooms of the house.

Confession is like throwing the door wide open to allow the hazy veil to disperse as fresh air rushes in. Nothing dampens the destructive effectiveness of sin like full disclosure. The enemy holds a frightening power over your life when it's just you, your sin, and him. Ephesians 4:25-27 says, "Therefore, having put away falsehood, let each one of you speak the truth with his neighbor, for we are members one of another. Be angry and do not sin; do not let the sun go down on your anger, and give no opportunity to the devil."

If you have no one to talk to, find someone. You cannot do this alone (Hebrews 10:24-25). You were never meant to be alone (Genesis 2:18). Join a small group at church. Pour over your circle of believing friends and find your mentor, your most trusted friend, or a family member—someone to whom you can bare your wounded soul. Let them care for you, encourage you, listen without judgment. And when you are healed, when the air has cleared and your doors are open, you will be all the more prepared to help others when their time of weakness comes.
"My brothers, if anyone among you wanders from the truth and someone brings him back, let him know that whoever brings back a sinner from his wandering will save his soul from death and will cover a multitude of sins." —James 5:19-20
---

Image credit: Dragunsk; "Conversation; Some rights reserved


---
Tags
:
Christian-Life
|
Personal-Relationships
---
comments powered by

Disqus
Published 11-25-13