DIVINE MEMORABILIA
Still Hope for Hope


By Catiana Nak Kheiyn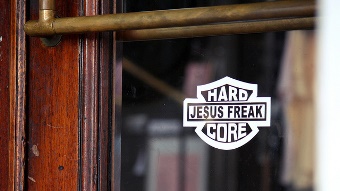 One of my favorite tokens to receive is a gift card. Some might call it impersonal, but that's where the choice of gift card comes in. Case in point: my brother selected an iTunes card as a birthday present for his technology geek of a sister. This generous gift afforded me the ability to indulge in downloading a new album I'd been curious about.

Having been exposed to every genre of music from childhood through teendom, I fell in love with many different artists and styles. After becoming a Christian in my early 20s, the little Baptist church, my first church, introduced me to traditional hymns and choruses. These songs embraced the glorious God I had just met; I relished in their beauty and honesty. The summer after I trusted Christ, I wandered into a tiny faith-based shop in Crested Butte, CO and discovered an entire subculture of Contemporary Christian Music (CCM)—God-songs that existed outside a hymnal. By crazy random happenstance, the first album I ever picked up was this funky thing called Jesus Freak by DC Talk.

I pressed that audio cassette into my tape player (am I dating myself?) and "So Help Me God" burst from the speakers. Mind = blown. This was no hymn, but it was still brutally honest and met me right where I was. I desperately wanted to believe that God Himself was greater than anything the world had to offer. After all, the world is pretty shiny if it's all you've ever known.

My desperation was nothing unique. The world is thirsty for something better than the bitter, neglected pool we're swimming in; they're hungry for sweet hope. We are a fallen, rebellious people who make deposits in our bank of mistakes every day. Yet, gazing at the tattered curtains and broken windows in our hearts, we secretly mutter the truth: this isn't how it's supposed to be.

Inherently, our hearts yearn for love, acceptance, and wise direction—believer or not. Problems arise when these needs aren't met, and we lash out and rebel in desperate unhappiness, certain that we are alone in our inadequacy and that no one knows the woes we've seen. But there's another truth we choose to ignore as we stare into the empty rooms and unhinged doors of our own house. If we look up, we'd see that we're standing in the midst of a war torn neighborhood.

The album I downloaded with my gift card was by Christian artist tobyMac (formerly of DC Talk). He made musical history with Eye On It by entering the secular Billboard Top 200 at number 1; it was the first time in 15 years a CCM artist had accomplished this. The response has been overwhelming in both Christian and non-Christian markets. [1] His song lyrics address positive and negative aspects of life but wrap it all in a message that speaks to the deepest hunger of the human race. The popularity of Eye On It clearly shows that both those who follow Christ and those who do not are searching for the same thing: hope.

But where does this hope come from? Believers know the answer, though sometimes we forget. Romans 8:18-25 says, "For I consider that the sufferings of this present time are not worth comparing with the glory that is to be revealed to us. For the creation waits with eager longing for the revealing of the sons of God. For the creation was subjected to futility, not willingly, but because of him who subjected it, in hope that the creation itself will be set free from its bondage to corruption and obtain the freedom of the glory of the children of God. For we know that the whole creation has been groaning together in the pains of childbirth until now. And not only the creation, but we ourselves, who have the firstfruits of the Spirit, groan inwardly as we wait eagerly for adoption as sons, the redemption of our bodies. For in this hope we were saved. Now hope that is seen is not hope. For who hopes for what he sees? But if we hope for what we do not see, we wait for it with patience."

We are not alone. We all wish for the same thing: someone to love and accept us unconditionally; someone who is powerful enough and kind enough to take care of us and make a positive difference in our lives. Whether you believe in God or not, is this desperate need not at the root of your every desire? Everything we do is in hopes that it will fulfill our primal want for love. So we hope, but the world cannot offer all that is good—at least not for long. God is the only source of hope for us, for the future.

"To them God chose to make known how great among the Gentiles are the riches of the glory of this mystery, which is Christ in you, the hope of glory." Colossians 1:27

When His power is within us, what can stand between us and God? Romans 8:38-39 says, "For I am sure that neither death nor life, nor angels nor rulers, nor things present nor things to come, nor powers, nor height nor depth, nor anything else in all creation, will be able to separate us from the love of God in Christ Jesus our Lord." Hope is here, friends, and it is freely offered with an open hand by One whose vast love for us knows no conditions.


---

1. tobyMac.com


---

Image Credit: Derek Bruff; "Jesus Freak"; Creative Commons


---
comments powered by

Disqus