DIVINE MEMORABILIA
Marriage is for Losers


By Catiana Nak Kheiyn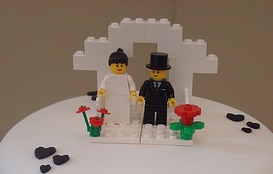 One of the wonderful purposes God has entrusted me with is mentoring young girls and women who are navigating the weird and terrifying world of the transition between teendom and adulthood and true independence. Of course, a common topic of conversation is relationships. When will I know if I'm ready to date? Should I date at all? Who should I date? How will I know if he's the one God wants me to marry?

A recent viral article on marriage by Seth Adam Smith encouraged me by saying the exact thing that I have been telling these girls. (It's always a relief to hear that I'm not the only one waving this flag.) His message was this: "Marriage isn't for you." That is, marriage should never be a selfish act. I would wager to guess that 99.9% of failed marriages are due to one or both of those involved thinking only of themselves.

When my girls ask me about when they will know when they're ready for a relationship, this is what I tell them: "When you want to be with that person NOT so that you'll have someone to tell you you're pretty or to hug you. When you aren't concerned about being romanced on Valentine's Day or receiving presents from a boyfriend. When you realize you love this man so much that you want to be in his life not for YOUR needs, but because you want to spend the rest of your life bringing HIM joy, supporting HIM, and fulfilling HIS needs. That's when you'll know you're ready."

Maybe that sounds a little one-sided, a little bit like I'm telling my girls to be subservient little minions to their future husbands. That's not it at all. A selfish attitude is never good for a relationship between two intelligent, unique human beings. Everybody has needs, yes. Everybody wants something. But here's the crazy thing: If both the woman and the man are going into the relationship with a mindset of service, then everybody wins.

Without that mindset, any romantic relationship is eventually going to fail.

I don't claim to have the best track record with relationships or a picture perfect marriage. I have definitely made a lot of mistakes since my first date in ninth grade. I've fractured many hearts and had my heart ripped up just as many times. The first two years of my marriage were riddled with heartache as my husband and I performed the ghastly dance of Me-First, each of us struggling to lead while selfishly demanding that our own desires be met before we would give back. Selfishness is a terrible virus in my heart, one that keeps coming back and has no cure but for Christ's presence in my life.

Yet those mistakes have not left me mortally wounded. I've learned from them, grown through them, stretched my scars into shiny planes of wisdom. Truly, I believe God allowed these flaws to mar my past so that I could pass on that wisdom to those who have yet to be cut deeply by the evil heart. God's purposes are always magnificent ones—even when a magnificent amount of pain is involved. Perhaps He can do even more with scars than the hurts that disappear so quickly we forget we had them.

One thing I have learned through all my failures and triumphs in love is this: in order to have a successful relationship, you must be ready to let go of your own needs. Lose your need for a boyfriend or girlfriend who will worship the ground you walk on. Lose your need for constant text messages and phone calls. Lose your need for a sense of significance based on what one person says about you. Marriage is for those willing to lose themselves in the act of serving someone they love.

Sound familiar? Jesus said something like that in Luke 9:23 when He told the people, "If anyone would come after me, let him deny himself and take up his cross daily and follow me."

Naturally, the next question is this: How will I know that this guy is the ONE? The truth is that you can't look for someone who will make you feel like losing yourself. Usually, it is something that happens over time. If God has marriage planned for you, He will bring that person across your path. He knows who is compatible with you and when their life will be at its peak moment to intersect with yours.

In the meantime, don't sit around waiting; you are alive on this planet for a reason! Find ways to make serving others a natural part of your life's dance.
Do nothing from selfish ambition or conceit, but in humility count others more significant than yourselves. Let each of you look not only to his own interests, but also to the interests of others. Have this mind among yourselves, which is yours in Christ Jesus, who, though he was in the form of God, did not count equality with God a thing to be grasped, but emptied himself, by taking the form of a servant, being born in the likeness of men. And being found in human form, he humbled himself by becoming obedient to the point of death, even death on a cross. Therefore God has highly exalted him and bestowed on him the name that is above every name, so that at the name of Jesus every knee should bow, in heaven and on earth and under the earth, and every tongue confess that Jesus Christ is Lord, to the glory of God the Father.
—Philippians 2:3-11
---

Photo Credits: Angelina Cupcake; Some rights reserved


---
Tags
:
Christian-Life
|
Current-Issues
|
Personal-Relationships
---
comments powered by

Disqus
Published 11-7-13