DIVINE MEMORABILIA
The Shadow Proves the Sunshine


By Catiana Nak Kheiyn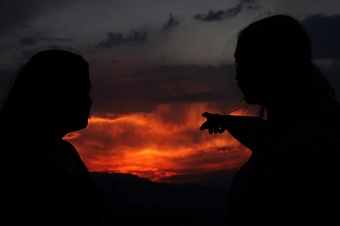 Lying is my natural inclination—as is jealousy, judgment, bitterness, and envy. Bind those with covetousness and the falsehood of conceit, and you may come close to the color of my heart. These twisted vines of humanity, with their barbs of hatred and selfishness, are stretched into the crevices of my soul and have entwined my heart since birth. See, I was born human, flawed and stained from the start. There was no hope for me—not that I could see.

As a child, each of my silly insecurities fed upon the other, poking dents into my tiny ego and writing words in my mind to define me. As a teenager, those naïve insecurities became fanged brutes that chewed upon my hands and feet, immobilizing me. I tried to put a balm of pride over my wounds, but that only fed the monsters more, giving them another taste of my imperfection. Huddled in my self-loathing corner, wrapped in judge's robes, I would haughtily point out the flaws of others to feign my own significance.

Deep down, I knew I was nothing. My soul was raw and bleeding from the thorns I'd pressed into myself. Cyclones of regret and worry circled around me with a deafening noise. The burden of pretending to be perfect is a weight none can bear for long. Ensconced by the shadows of godless existence, my frightened soul burrowed deep to escape, and the world became nothing but darkness.

Near the end of my college years, stiff from holding the fetal position beneath the undergrowth, a light began to poke through the detritus. A man knelt beside me and told me about this God I knew nothing about and a Savior who could change everything. I cautiously reached up and felt the warmth of the Sun. For almost two years, I peeked into this idea of Jesus, afraid that the light would prove to be an illusion.

When I touched the fingertips of God at last, He grasped my hands and pulled me from my dark dwelling in one swoop. "You were dead in the trespasses and sins in which you once walked, following the course of this world... once lived in the passions of our flesh, carrying out the desires of the body and the mind...by nature children of wrath, like the rest of mankind." (Ephesians 2:1-3)

Bright light wrapped ribbons around me, crumbling the sunken vines in my flesh. Though it had taken half a lifetime to build my morose garden, it took seconds for God's grace and mercy to strip it away. A metamorphosis I had never known possible rushed fresh life into my chest, fulfilling and satisfying. The beasts of insecurity shriveled under the ink of God's shining words of love that revealed who He intended me to be. "If anyone is in Christ, he is a new creation; the old has gone, the new has come!" (2 Corinthians 5:17)

Those who know me now, who met me "after", would never describe me the way I defined myself for most of my life. They would be surprised to know that I used to bully a girl for being different, or that I clandestinely betrayed my friends, or that my rebellious spirit skirted the limits of possibility to the point of burning scars into my past. I asked these friends today for a description of me, and this is what they said: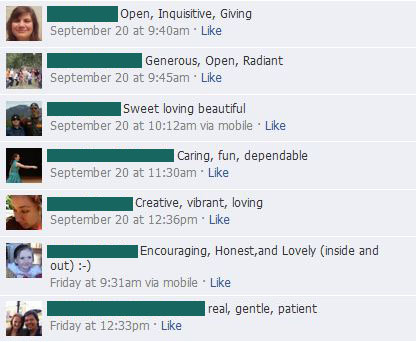 I love to share the story about the darkness of who I once was because it is in stark contrast with who I am today. The vivid divergence of personalities proves God's power. It proves that there can be light where once there was only shadow. My soul is this person because of Christ's saving, transforming grace—and only that.

God's ability to change a heart is very real, but there is nothing you can do to earn this or make it happen. It is only by the grace of God and power of the Holy Spirit that a heart can undergo metamorphosis. "For by grace you have been saved through faith. And this is not your own doing; it is the gift of God, not a result of works, so that no one may boast." (Ephesians 2:8-9)

Ephesians 4:22-24 says, "You were taught, with regard to your former way of life, to put off your old self, which is being corrupted by its deceitful desires; to be made new in the attitude of your minds; and to put on the new self, created to be like God in true righteousness and holiness." Though the vines in my soul still sprout now and again, God's light blots them out, sending them back into the withering darkness all alone.




---

Image credit: Wandering Star Photography


---
Published 9-24-12 | Published 8-21-13