DIVINE MEMORABILIA
Waiting on the Spiderweb


By Catiana Nak Kheiyn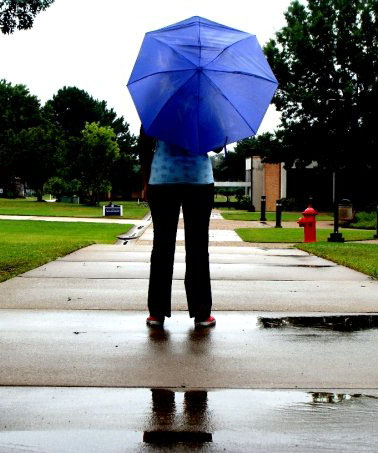 Early last summer, I received news that rocked my world. Sitting in my boss's church office, I learned that my salary would be reduced significantly starting August 15. "It's not performance related," he said, and I understood. The sad fact is that most every church has experienced an economic struggle over the last several years.

I did have the option of staying, but the new salary would not support my family's financial needs. Even through my tears, knowing I would have to leave a job after twelve faithful years, I felt certain that God had something in store for me—something big. He always does when life performs a dropkick loop-de-loop.

August 15 became the target in my mind. I had to find a new job before the changes went into effect. Would I need to go freelance and compete against other graphic design dogs? Would I have to give up working for a ministry? Whatever happened, I knew I could trust God to follow through with His usual awesome. I just had no idea what it might be.

One of my only remaining concerns was this burning question: Who would take care of the staff's communication needs? Could I trust anyone else with the responsibility? Would they stay up until 3:00 a.m. or give up Saturdays to do what needed to be done before Sunday?

This is where the life lines cross. This is where God held up the beautiful web of timelines He has fashioned around and through my life.

Rolling like a drop of dew on a strand of silk was my extraordinary friend Mary. In early June, she had flown free from the tornado of her life and landed at our house. She had just emerged from a relentless 4-year period of warp-speed, non-stop, caffeine-driven, collegiate sleeplessness. She worked full time. She maintained friendships. She graduated with high honors. This girl was on fire, running full tilt, bells and whistles shrieking. Then she arrived in Colorado, and all activity stopped.

Mary was shaken and unsteady, just trying to get her balance. God entrusted her to us—to embrace her in love and peace and, most of all, help her remember who she is in Christ. Her self-definition had been blown away. Who was she besides a working college student who lived on energy drinks and coffee? It was a lesson I needed as well. Who would I become professionally if not my church's Communications Specialist?

We were both facing changes, but change is a tricksy little beast. It cuddles up enticingly one moment, then bites your heels so you flee into the darkness. In the shadows of change, Mary feared she was wasting her life by sleeping in, not working, and having no set schedule. I worried that my church staff family would not receive the care they needed. Into the misty swirls of my doubts, the Holy Spirit whispered a fear-quenching idea: "She's the one. Mary will take your place."

After sharing this insight, we were both relieved. I felt free to release my heart's hold on the job. She felt free to rest, for an interview was not even possible until closer to August. We moved on with our assurances and encouraged one another as the beast of change danced circles around us.

Near the end of June, I gave official notice that I would be done on August 15. Mere days after cutting that string, God provided an opportunity to apply for a position at Got Questions Ministries, a non-profit organization that provides biblical answers to spiritual questions online. Webmastery and writing? Sign me up! After a multi-step application process, I was offered the job on August 10, five days before my deadline. Talk about cutting it close!

Yet, Mary still waited on the web, glistening with newfound health but shivering in anticipation. A lot had happened. She'd had a great interview but had not heard back. She secured a part-time cleaning job to pay bills. She got engaged and will be married next spring. Had she rested enough yet? Had the time come to get busy again?

Then the word came: no. The church gave the job to someone who would not move away so soon. Can you imagine how Mary felt? Had God cut her loose only to let her sink into the earth? Did this mean that the Holy Spirit really didn't speak to me last June? Had it all been some kind of self-made lie created only to abate our fears?

The conclusive opinion is this: God allowed us to embrace this assurance about the job, but it was never actually about the job. It was about embracing the truth that God takes care of us. Simply put, He's got it handled, and He doesn't want us to worry.

Matthew 10:26-27 says, "So have no fear...for nothing is covered that will not be revealed, or hidden that will not be known." In verses 29-31, Jesus expresses that God will provide for those He finds precious. "Are not two sparrows sold for a penny? And not one of them will fall to the ground apart from your Father. But even the hairs of your head are all numbered. Fear not, therefore; you are of more value than many sparrows."

God's ways of getting through to us are often counterintuitive. He'll use loss to teach us about generosity or poverty to show us riches. He knows what works for every individual and adjusts the web accordingly. He is aware of the precise placement of every strand of life; for He is the one who has weaved these delicate threads together. Our job is to listen to the vibrations of the Holy Spirit and follow the Father wherever He goes or wait where He says to wait—even when it doesn't make sense.

Yes, Mary still waits for the green light of "busy" to flash. Her time of rest has not ended, but that doesn't mean God's work is done. Quite the opposite in fact; His work has only just begun. For now, God has wrapped her in a safe place where He can continue to heal her wounds and give her rest. For now, peace is God's offering, and it is her time to drink of its sweetness without fear.


---

Photo Credit: Wandering Star Photography


---
comments powered by

Disqus
Published 9-13-12 | Published 8-21-13