THE ABIDING LIFE
Gleanings from Genesis
The Faithfulness of God in the Life of Abraham

By Gwen Sellers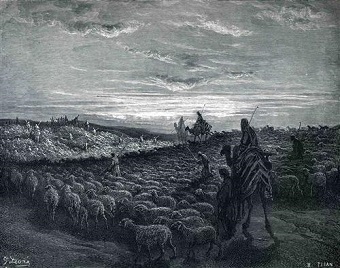 My small group is reading through Genesis together and in our readings I've found a few little gems.

A God who Prepares

Abraham began his move toward the Promised Land prior to God's specific call. Genesis 11:31 says, "Terah took Abram his son and Lot the son of Haran, his grandson, and Sarai his daughter-in-law, his son Abram's wife, and they went forth together from Ur of the Chaldeans to go into the land of Canaan, but when they came to Haran, they settled there." Genesis 12:1-3 says, "Now the Lord said to Abram, 'Go from your country and your kindred and your father's house to the land that I will show you. And I will make of you a great nation, and I will bless you and make your name great, so that you will be a blessing. I will bless those who bless you, and him who dishonors you I will curse, and in you all the families of the earth shall be blessed.'" Abram and company obediently set out and then God showed him the Promised Land. I love two things about this set of verses.

First, the move began with Abram's father. God had already put the wheels in motion to prepare Abram to respond in faith. This reminds me that the work of God is multi-generational. It also shows me God's tenderness. Moses told Joshua in Deuteronomy 31:8, "It is the Lord who goes before you. He will be with you; he will not leave you or forsake you. Do not fear or be dismayed." I am convinced that God goes before me in ways I do not even realize.

Secondly, I see that Abram is immediately obedient without knowing all the details. Hebrews 11:8-9 says, "By faith Abraham obeyed when he was called to go out to a place that he was to receive as an inheritance. And he went out, not knowing where he was going. By faith he went to live in the land of promise, as in a foreign land, living in tents with Isaac and Jacob, heirs with him of the same promise." God said move, so Abram moved. He was faithful with what he knew in the moment, and God revealed more specifics of His plan as Abram continued to obey. I often want to know how things will unfold. God asks me to trust Him in the moment, with what He has for now. If I remember that He is preparing me for what is ahead, I can more easily walk with Him into the unknown. I can also more patiently wait.

A God of Grace

Here's another thing I appreciate: the highlighting of God's grace. It is no secret that many of the "heroes" of the faith blew it big time, and on more than one occasion. I've often wondered why the New Testament praises both Sarah (Hebrews 11:11; 1 Peter 3:5-6) and Lot (2 Peter 2:7-8) because I tend to think of the ways they don't fit my definition of faithful or righteous. But, when I more carefully consider their stories, I do see their faith and their righteousness. More than that, though, I see God's grace. Neither person is particularly immediately commendable, and yet God continued to interact with them and they continued to follow after Him. We see a similar thing with King David. The key point for me is that it is not that these person's good outweighed the bad or that they had something special in themselves that made God like them. It is that God is gracious. He is persistent. He is faithful to maintain His promises. He continued to relate with them and use them. He ultimately made provision for their sin, as He has for mine, through Jesus. They believed God and that was enough. Hebrews 11:6 says, "And without faith it is impossible to please him, for whoever would draw near to God must believe that he exists and that he rewards those who seek him." Ephesians 2:4-10 says, "But God, being rich in mercy, because of the great love with which he loved us, even when we were dead in our trespasses, made us alive together with Christ — by grace you have been saved — and raised us up with him and seated us with him in the heavenly places in Christ Jesus, so that in the coming ages he might show the immeasurable riches of his grace in kindness toward us in Christ Jesus. For by grace you have been saved through faith. And this is not your own doing; it is the gift of God, not a result of works, so that no one may boast. For we are his workmanship, created in Christ Jesus for good works, which God prepared beforehand, that we should walk in them." God has done all the work, and it's for His renown. I need just believe.

A God of Reconciliation

Did you know that both Isaac and Ishmael buried Abraham? Ishmael was at least fourteen years older than Isaac. His mother and Isaac's mother did not get along, to say the least. After Isaac was weaned, Hagar and Ishmael were sent away — cast out to fend for themselves. Of course, God provided for them and promised to make Ishmael into a great nation. Still, one would think Isaac and Ishmael wouldn't have much to do with each other. But, Genesis 25:8-10 says, "Abraham breathed his last and died in a good old age, an old man and full of years, and was gathered to his people. Isaac and Ishmael his sons buried him in the cave of Machpelah, in the field of Ephron the son of Zohar the Hittite, east of Mamre, the field that Abraham purchased from the Hittites. There Abraham was buried, with Sarah his wife." Is that not beautiful? I often think of the contention in the Middle East and forget that God is a God of reconciliation. What a hopeful verse.

This is my God

The God of the Old Testament is the God of the New Testament and the God of today. He is a God who loves His people and is faithful to keep His promises. He is victorious in all ways. He cares for me personally and also within the frame of His overarching plan. How amazing!


---

Image Credit: Gustave Dore; "Abraham Journeying into the Land of Canaan"; 1866; Public Domain


---
Tags
:
Biblical-Truth
|
God-Father
---
comments powered by

Disqus
Published 2-4-2015