THE GREEK GEEK
Παραωπτωμα: Trespass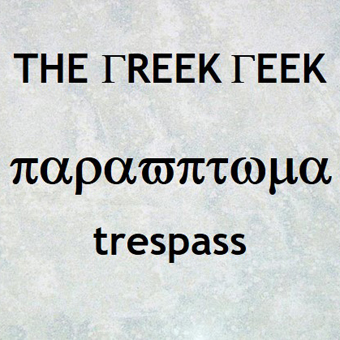 A "trespass" (paraptoma) is a type of sin we fall into; a lapse or deviation from truth and uprightness. It's mentioned several times in the New Testament:
Matthew 6:14-15 (and Mark 11:25-26): For if you forgive others their trespasses, your heavenly Father will also forgive you, but if you do not forgive others their trespasses, neither will your Father forgive your trespasses.

Romans 4:24b-25: It will be counted to us who believe in him who raised from the dead Jesus our Lord, who was delivered up for our trespasses and raised for our justification.

Romans 5:15-18, 20: But the free gift is not like the trespass. For if many died through one man's trespass, much more have the grace of God and the free gift by the grace of that one man Jesus Christ abounded for many. And the free gift is not like the result of that one man's sin. For the judgment following one trespass brought condemnation, but the free gift following many trespasses brought justification. For if, because of one man's trespass, death reigned through that one man, much more will those who receive the abundance of grace and the free gift of righteousness reign in life through the one man Jesus Christ. Therefore, as one trespass led to condemnation for all men, so one act of righteousness leads to justification and life for all men...Now the law came in to increase the trespass, but where sin increased, grace abounded all the more...

Romans 11:11-12: So I ask, did they stumble in order that they might fall? By no means! Rather through their trespass salvation has come to the Gentiles, so as to make Israel jealous. Now if their trespass means riches for the world, and if their failure means riches for the Gentiles, how much more will their full inclusion mean!

2 Corinthians 5:19: All this is from God, who through Christ reconciled us to himself and gave us the ministry of reconciliation; that is, in Christ God was reconciling the world to himself, not counting their trespasses against them, and entrusting to us the message of reconciliation.

Galatians 6:1: Brothers, if anyone is caught in any transgression, you who are spiritual should restore him in a spirit of gentleness. Keep watch on yourself, lest you too be tempted.

Ephesians 1:7: In him we have redemption through his blood, the forgiveness of our trespasses, according to the riches of his grace...

Ephesians 2:1, 4-5a: And you were dead in the trespasses and sins...But God, being rich in mercy, because of the great love with which he loved us, even when we were dead in our trespasses, made us alive together with Christ...

Colossians 2:13-14: And you, who were dead in your trespasses and the uncircumcision of your flesh, God made alive together with him, having forgiven us all our trespasses, by canceling the record of debt that stood against us with its legal demands. This he set aside, nailing it to the cross.
The way the New Testament uses the term "trespasses" is both encouraging and convicting. It denotes a type of sin that isn't the result of raw, rebellious evil. It's not an act of sedition against the authority of God. It's more something we slip into accidentally. Like the pothole we don't see until it's too late.

The convicting part is that even a hidden pothole can wreck our suspension. So it is with trespasses. They may be sin caused by carelessness, but they're sin nonetheless. They are still borne from a sin nature that permeates everything we do. And they still make us ineligible to have a relationship with God.

Because of this, trespasses are in just as much need for forgiveness as other wrongs such as impurities and sins. And, if we think about it, we know this. Matthew 6:14-15 highlights our own reaction to careless wrongs committed against us. Often it isn't the direct assault we find most offensive, but the casual slights and forgetful comments. Little things left undealt with can fester into worse wounds than we'd expect. And they can lead to greater rifts, as well; in Romans 11:11-12, the Jews "stumbled" away from Jesus, thus rejecting God.

Our relationship with God is riddled with these casual slights, most of which we blow off. Scripture tries to bring them to our attention. First, by reminding us how much they hurt when we experience them. Then by showing that even these "little" sins we accidentally fall into require Christ's sacrifice for forgiveness (Romans 12:24b-25). There is no such thing as an insignificant sin.


---
Tags
:
Biblical-Truth
|
Christian-Life
|
God-Father
|
Jesus-Christ
|
Sin-Evil
---
comments powered by

Disqus
Published 3-21-16