THE ABIDING LIFE
Jesus and Emotions

By Gwen Sellers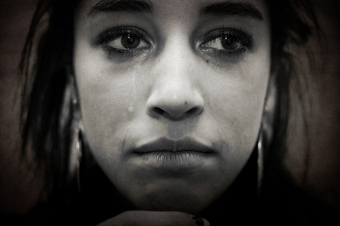 This Easter I was struck in a new way by a familiar story. On Good Friday, my pastor mentioned that we know how the story ends and that Jesus did as well. This got me thinking about Jesus' agony in the Garden of Gethsemane. Jesus knew He would endure incredible physical pain and unspeakable spiritual pain, but He chose to do so for our sake, submitting His will to the Father (Luke 22:39-46). But what I'd not further extrapolated is that Jesus knew He would rise again from the dead victorious over sin and death and yet He chose to engage with the present agony. Much like Jesus wept over Lazarus, whom He knew He was going to raise back to life, Jesus paused to acknowledge His own emotional reality. I am also reminded of the way Jesus lamented over Jerusalem (Matthew 23:37-39). God does emotion!

As a person who has struggled against my own emotion and often wished I was not as sensitive as God designed me to be, this was a freeing thought. Jesus validates acknowledging the present hardship, even though we know how it all turns out. I know that Jesus will come back again, that I will ultimately live with Him in a new heavens and new earth where there will be no more tears or pain. Yet I still feel the hard realities of sin in this world. God does not tell me to just ignore it because I know the end. He doesn't permit my emotions out of pity or simply because I'm weak and He's nice. Instead, He actually feels with me. Romans 12:15 tells us, "Rejoice with those who rejoice, weep with those who weep." If we are to do that for one another, how much more so must God do that with us? Psalm 56:8 assures us, "You have kept count of my tossings; put my tears in your bottle. Are they not in your book?" When we look at the life of Jesus, we do not see a man who was immune to emotion. Rather, we see One who engaged in the fullness of present reality while also keeping a proper perspective on the broader reality.

As Christians, we are called to live with kingdom vision. We should engage with life knowing that God is in control and that He loves us. As Paul told the Thessalonians, we do not need to "grieve as others do who have no hope" (1 Thessalonians 4:13–18). But rather than these truths stunting our emotions or negating the grievous effects of a sin-stained world, they free us up to express emotion. I can weep over pain because I know it isn't God's best. I can also rejoice over good things because I know they are simply a foretaste of what God has in store. I can live life with a full heart because I know my heart is protected in God's hands. I don't need to protect myself against feeling difficult things because my hope is not in myself, but in God. I don't need to downplay positive emotion for fear it won't last or so as not to place too much importance on it, because I know that ultimate joy is in Christ. When I am secure in Christ, I can bare my heart to Him, and to myself. Emotion need not be a fearful thing because God goes into it with me. Like the psalmists, and like Jesus in the Garden of Gethsemane, I can tell God the truth about what I feel and then submit to Him.

The submission piece is crucial. Our emotions can be misguided. And quite clearly we do not want to be led by our emotions. I don't want to experience deep pain apart from the knowledge that I have hope in Christ. That will only lead to despair. I also don't want to be so focused on my pain that I fail to move forward in what God has called me to. Conversely, I don't want to experience joy apart from knowing that a future, much better, joy awaits. I don't want to be so focused on the pleasant things of this world that I forget that it is fallen. But I do want to acknowledge the emotion, acknowledge that God has created humans in such a way that emotions are part of life, share my heart with Him in intimate relationship, and then trust Him and move forward.

I love that Jesus was willing to live a human life. Hebrews 4:14-16 says:
Since then we have a great high priest who has passed through the heavens, Jesus, the Son of God, let us hold fast our confession. For we do not have a high priest who is unable to sympathize with our weaknesses, but one who in every respect has been tempted as we are, yet without sin. Let us then with confidence draw near to the throne of grace, that we may receive mercy and find grace to help in time of need.
Jesus gets it. He gets it more than we realize. He knows just how fallen our fallen world is; He knows just how joyous and glorious the plan He is bringing to completion is. He sympathizes completely. And He is also completely capable to do something about it. This Jesus is our God. It is this Jesus who chose us, who deemed our redemption worth all of His pain — pain not only on the cross, but throughout His life. God stepped down into a sin-infested world, lived within its limitations, and ransomed us (Philippians 2:5-11). How truly amazing!

In what is known as His "high priestly prayer," Jesus prayed for His disciples:
"I have given them your word, and the world has hated them because they are not of the world, just as I am not of the world. I do not ask that you take them out of the world, but that you keep them from the evil one. They are not of the world, just as I am not of the world. Sanctify them in the truth; your word is truth. As you sent me into the world, so I have sent them into the world. And for their sake I consecrate myself, that they also may be sanctified in truth." John 17:14-19
He went on to pray:
I do not ask for these only, but also for those who will believe in me through their word, that they may all be one, just as you, Father, are in me, and I in you, that they also may be in us, so that the world may believe that you have sent me. The glory that you have given me I have given to them, that they may be one even as we are one, I in them and you in me, that they may become perfectly one, so that the world may know that you sent me and loved them even as you loved me. Father, I desire that they also, whom you have given me, may be with me where I am, to see my glory that you have given me because you loved me before the foundation of the world. John 17:20–24
Quite clearly Jesus has a purpose for us on this earth. This life matters. We are here for a reason, and He, the One with all authority and power, is with us (Matthew 28:18–20). He also desires that we ultimately be with Him. So engage fully in the present of what this life is, and do so knowing how the story ends. He is victorious and He claims us as His own.


---

Image Credit: Gideon van der Stelt; "Title"; Creative Commons


---
Tags
:
Biblical-Truth
|
Christian-Life
|
Jesus-Christ
|
Personal-Life
---
comments powered by

Disqus
Published 3-29-16