EXPLORING THE WORD
What can we learn from the life of Hannah?


By Dillon Burroughs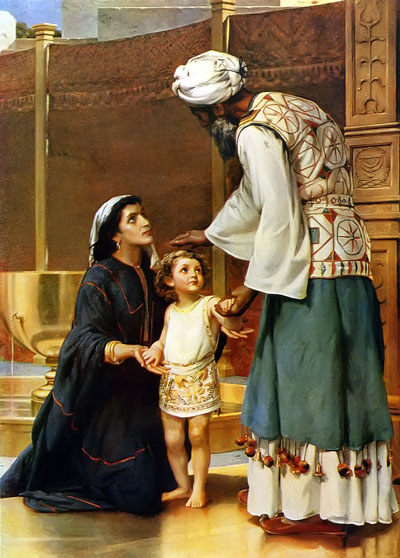 First Samuel 1–2 shares the account of Hannah, an extraordinary woman who endured many difficulties in life. We are told she had a caring husband named Elkanah and lived in the hill country of Ephraim. She was one of Elkanah's two wives. Further, Hannah was unable to have children, while Elkanah's other wife had multiple children. In a culture in which having children, especially sons, was viewed as being of utmost importance, Hannah's situation would have been overwhelmingly sad.

Once, when Hannah visited Shiloh, where the tabernacle of the Lord was, she poured out her heart in prayer before the Lord. She asked the Lord for a son, promising that if the Lord answered, she would dedicate her son to serving God all of his life. Eli, the high priest, saw Hannah praying silently and earnestly and thought at first she was drunk. After rebuking her, Eli heard Hannah's explanation and realized she had been praying. He replied, "Go in peace, and the God of Israel grant your petition that you have made to him" (1 Samuel 1:17). Hannah left, encouraged.

Soon, Hannah gave birth to a son whom she named Samuel. After Samuel was weaned, she took him to Eli and said, "Oh, my lord! As you live, my lord, I am the woman who was standing here in your presence, praying to the LORD. For this child I prayed, and the LORD has granted me my petition that I made to him. Therefore I have lent him to the LORD. As long as he lives, he is lent to the LORD" (1 Samuel 1:26-28).

First Samuel 2 opens with a prayer of worship from Hannah that glorifies God for answering her prayer. Interestingly, Mary, the mother of Jesus, offers a similar prayer in Luke 1:46-55. Hannah left Samuel in Eli's care but was not completely disconnected from Samuel. "And his mother used to make for him a little robe and take it to him each year when she went up with her husband to offer the yearly sacrifice. Then Eli would bless Elkanah and his wife, and say, 'May the Lord give you children by this woman for the petition she asked of the Lord.' So then they would return to their home" (1 Samuel 2:19-20). The Lord blessed Hannah with more children—five more, to be exact (verse 21).
The Lessons
Many lessons can be taken from Hannah's story. First, Hannah remained faithful to God even during difficult times. She had to deal with a polygamous husband, a lack of children, and mockery from the other wife, but Hannah never lost her focus on the God who cared for her.

Second, Hannah was a woman of prayer. She took her burdens to the Lord. She prayed for a son and then offered a rich prayer of praise when God answered. Her prayers were her lifeline.

Third, Hannah kept her promise to God even though it was difficult. She had pledged her son to the Lord, and she followed through. When the time came to leave her only son with Eli, she certainly would have had difficulty. But her pain did not lessen her integrity. By God's grace, she was blessed with even more children in the end.

Fourth, Hannah acknowledged God's answers to her requests. When Samuel was born, she gave thanks: "For this child I prayed, and the LORD has granted me my petition that I made to him" (1 Samuel 1:27). She did not seek to take credit or explain the results in any other manner. Samuel was a miracle, and Hannah praised God for His answer to her need.

Hannah offers a wonderful role model for all believers, especially for women who have endured times of difficulty in bearing children. Her experience provides an example of faithful prayer and commitment to God that Christians can apply today.


---

Image credit: "Samuel Dedicated by Hannah" by Frank WW Topham


---
comments powered by

Disqus
Published 12-18-12