THE ABIDING LIFE
Missing God


By Gwen Sellers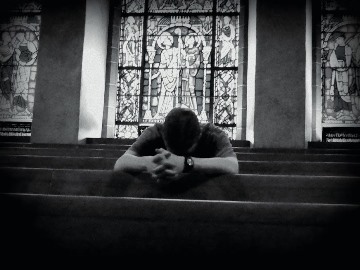 Have you ever missed God? Sometimes we can get so caught up in our worlds that, even if we are still doing all our Christian things, we aren't really getting to know God. We become intentional about living the Christian life well and suddenly find ourselves living a performance-based life rather than one that is grace-given. Or perhaps we get caught up in matters of theology or intellectual pursuit, learning more about God but not actually knowing Him. So what do we do?

First, let me say that it is important to be intentional about living a godly life. Paul wrote, "train yourself for godliness; for while bodily training is of some value, godliness is of value in every way, as it holds promise for the present life and also for the life to come" (1 Timothy 4:7b-8). First Peter 1:14-16 says, "Therefore, preparing your minds for action, and being sober-minded, set your hope fully on the grace that will be brought to you at the revelation of Jesus Christ. As obedient children, do not be conformed to the passions of your former ignorance, but as he who called you is holy, you also be holy in all your conduct, since it is written, 'You shall be holy, for I am holy.'" Jesus called us to abide in Him and to obey Him (see John 15:1-11). We are supposed to actively seek to live a godly life, and there is nothing wrong with being intentional about it.

We are also supposed to be knowledgeable about God. First Timothy 4:13-16 says, "Until I come, devote yourself to the public reading of Scripture, to exhortation, to teaching. Do not neglect the gift you have, which was given you by prophecy when the council of elders laid their hands on you. Practice these things, immerse yourself in them, so that all may see your progress. Keep a close watch on yourself and on the teaching. Persist in this, for by so doing you will save both yourself and your hearers." Hebrews 4:12-14 says, "For though by this time you ought to be teachers, you need someone to teach you again the basic principles of the oracles of God. You need milk, not solid food, for everyone who lives on milk is unskilled in the word of righteousness, since he is a child. But solid food is for the mature, for those who have their powers of discernment trained by constant practice to distinguish good from evil." It is good to engage with God on an intellectual level. Jesus even said that we are to love God with all of our minds (Luke 10:27).

But what do these pursuits mean if we don't actually know God? There is no life in obedience apart from Christ. There is no salvation in knowledge apart from the One who speaks the truth. When our pursuits become purely self-improvement and education, we miss out on that which is truly life. Instead, our focus must be on God Himself, and out of that comes the sanctified life and the growing mind. I am struck by 1 John 3:2. It says, "Beloved, we are God's children now, and what we will be has not yet appeared; but we know that when he appears we shall be like him, because we shall see him as he is." It is when we see Jesus for who He really is that we become like Him. It is not by self-effort or through education. It is through knowing Him.

John 15 is one of my favorite passages. It records Jesus comparing us to branches, Himself to a vine, and the Father to a gardener. In part, Jesus commands us to abide in Him, and promises that He will abide in us. It's a two-way deal; it's not all about us. We aren't commanded to produce fruit or to become a beautiful garden on our own. We are commanded simply to abide, and through that the fruit will come. The Vine is the life-source and the Gardener is the expert keeper of it, pruning it to His liking. The Greek word for abide in this passage can mean "to sojourn, tarry; to continue to be present; to be held, kept, continually; to remain as one; of persons, to survive, live." Can you just fathom it? The God of the universe calls us to tarry with Him, to live in Him!

In the same passage, we are also told to obey; Jesus says we are His friends if we obey Him. Do you see how this is similar? We don't obey because of who we are, but because of Jesus' friendship (and His salvation). Abiding and obedience both take effort on our part, but they are also both relational and both a result of knowing Jesus. All the effort and all the fruit has to do with who God is.

You see, life isn't about us. Life is about God. God isn't interested in our performance or our beating ourselves up over failure; He is interested in our hearts. In fact, He is jealous for us (Exodus 20:5; John 14:1-3; 2 Peter 3:9). He longs for us to know Him. He longs to make us new by the work of His hands (Ephesians 2:10; Philippians 1:6; 2 Corinthians 5:17). He longs for us to "Be still, and know that [He] is God" (Psalm 46:10). So rather than try to achieve perfection on my own, which leads to nothing but shame and disappointment, I am going to try to be still and know God. He is the author of true life and He alone will ultimately satisfy my thirsty soul. He has invited me into His life. Who could pass on an invitation like that?


---

Photo Credit: Kersley Fitzgerald


---
comments powered by

Disqus
Published 8-26-13