EXPLORING THE WORD
Trials and Temptations


Stacy Mouat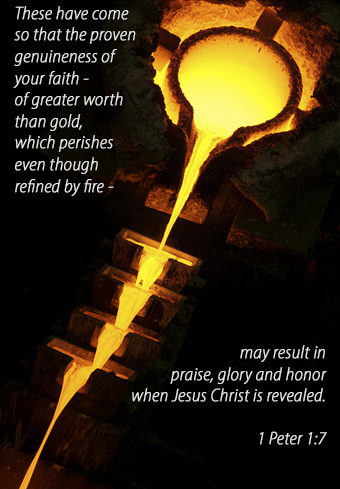 James 1:13-15 says that God does not tempt us. But in Jeremiah 35:1-10, God had Jeremiah offer wine to the Rechabites, a family that had taken a vow not to drink. Didn't God tempt the Rechabites? And what's the difference between a temptation and a trial?

Let's first look at James 1:13-15 which specifically says:
When tempted, no one should say, "God is tempting me." For God cannot be tempted by evil, nor does he tempt anyone; but each person is tempted when they are dragged away by their own evil desire and enticed. Then, after desire has conceived, it gives birth to sin; and sin, when it is full-grown, gives birth to death.
It is clear from this passage that temptation(s) to sin does not originate with God but in the heart of man. God does however bring "tests" or "trials" into our lives to prove — and increase — the strength and quality of one's faith and to demonstrate its validity (James 1:2-12). According to James, when we face temptations, God's purpose is to prove our faith and produce character. These test/trials are not meant to make us fail. In contrast, temptations are designed to make us fail; so we can be sure they do not come from God — they come from Satan (Matthew 4:1, 1 Peter 5:8), his evil angels (Ephesians 6:12), or from ourselves (Romans 13:14; Galatians 5:13). God allows us to experience them, but they are allowed for our benefit, to strengthen our inner man as we overcome them through the power of Christ in us (Romans 8:37, Ephesians 3:16). "The temptations in your life are no different from what others experience. And God is faithful. He will not allow the temptation to be more than you can stand. When you are tempted, he will show you a way out so that you can endure" (1 Corinthians 10:13).

God told Abraham to offer Isaac (Genesis 22:1, Hebrews 11:17-19). The temptation (translated "to test, try, prove, tempt, assay, put to the proof or test") was not intended to get Abraham to sin, but to test and prove his faith. There are many examples of the positive results of being tested. The psalmist likens our testing to being refined like silver (Psalm 66:10). Peter speaks of our faith as "of greater worth than gold," and that's why we "suffer grief in all kinds of trials" (1 Peter 1:6–7). In testing our faith, God causes us to grow into strong disciples who truly live by faith and not by what we see (2 Corinthians 5:7).

In the Jeremiah passage it is important to note that in the Jewish culture it was not wrong to drink wine — but it was wrong to get drunk. It was wrong for the Rechabites to drink wine because they had made a commitment not to drink wine. The Rechabites lived a different life. Jonadab the son of Rechab gave the command to not drink wine, to not live in houses, to not farm land, to always live in tents. He was calling his clan to simplicity, separation, and holiness. The idea was to make a radical separation from the world — from the corruption, from the sinful and evil influences of those around them. The Rechabites were consistent and had not broken their commitment for over 200 years (see 2 Kings 10:15-28). The families never got drink; they never built houses or planted vineyards or crops; they lived in tents and obeyed the commands of their forefather Jonadab.

After the encounter in Jeremiah 35, Jeremiah delivered the message to Judah that if the command of a mere man was honored and obeyed by his family — for over two centuries — why wouldn't the people of Judah and Jerusalem obey the command of the LORD (Jeremiah 1:12-17)? The Rechabite leader gave the command one time and his family had now obeyed for 200 plus years! The Lord gave Judah and Jerusalem repeated commands; and yet the people continually disobeyed the Lord. The Lord extended a promise to the Rechabites that because they lived consistent lives, separate from the world; separate from this world's false promises of position, power, prestige; serving as godly role models to those around them, that Jonadab would always have at least some godly descendants (Jeremiah 1:18-19).

The lesson of Jeremiah is that the Lord rewards faithfulness and devotion. God was not tempting the Rechabites to sin by having wine brought to them, but proving their character and commitment as an illustration to the men of Judah, who had failed miserably in this area — in their devotion to God. God already knew what was in the heart of the Rechabites when He called for the wine to be brought to them, but needed to show Judah what was lacking in theirs. This is one of those "tests," not temptations mentioned above, but more for those watching, not those being proven, as the Rechabites were obviously not tempted to forgo their vows and Judah needed to see what faithfulness and devotion looked like.





For more, see: "Does God tempt us to sin?"
"Why does God test us?"
"How can I overcome temptation?"


---

Image Credit: World Bank Photo Collection; untitled; Creative Commons


---
Tags
:
Biblical-Truth
|
Christian-Life
|
God-Father
|
Sin-Evil
---
comments powered by

Disqus
Published 8-24-15