KEEP WATCH
Becoming a Better You...Christ in You


By Jim Allen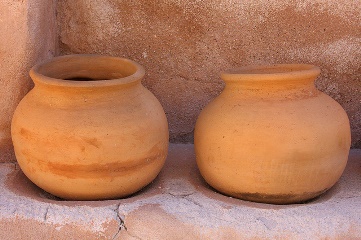 But we have this treasure in...earthen vessels, so that the surpassing greatness of...the power will be of God and not from ourselves. (2 Corinthians 4:7)

Is the church is drifting away from one of the most important tenants in the Bible that teaches the excellence of every believer is the abiding presence of Christ? It would appear so. Paul, in this verse, is saying explicitly the believer is an earthen vessel, common to be sure, but entrusted by God to contain the divine treasure of Christ's indwelling presence. Christ in you--what a powerful truth!

Today, many popular evangelical pastors write books that are easy to read, informative, and surprisingly persuasive. Using thin theology wrapped in smooth narrative, they explain how to find God's purpose for your life, how to become a better you, live your dream, plant a seed, discover financial breakthrough, ad infinitum. The Bible warns about those who lean heavily on worldly ideas and misapplied biblical principles that serve only to distort the true message of the Gospel (Colossians 2:8). While all of these authors promote the idea of becoming a better you for the glory of God, few if any talk about the presence of Christ in you (Galatians 5:24).

While our exalted position in Christ may be hard to fathom in light of our failures, it is true (Ephesians 2:5-7). A. B. Simpson writes, "One may rise from one level to another; but when one is resurrected he is brought from nothing into existence, from death to life, and the transition is simply infinite. A true Christian is not raised, but resurrected...born again. The Gospel does not teach us to rise and become a 'better you' but that we have already died and now risen in Christ to a new life, born entirely from above (Colossians 3:1)."[1] Therefore, the challenge for every believer is to believe it true (and by the power of this truth) walk in the abiding presence of Christ (Romans 8:1).

Not too long ago, an elderly lady in a restaurant...a woman with an angelic smile on her face for no apparent reason - walked over to me and patted my shoulder as if to show approval, and then left. No words were said. Although my wife thought it strange, I thought, "Who was that person and why did she do that?" The act was simple and kind, but powerful and lasting. It left an impression on me. Could this gracious and gentle deed from a kind and elderly lady, with a smile that lit up the room, be one example of how a simple act of kindness can dramatically bless another? I think so.

This lady, in my opinion, is a living example of a believer who exchanged her old life for the new life in Christ (2 Corinthians 5:17). She discovered the Treasure within, the presence of Christ, and fell in love with the Savior. Paul said of such believers, "[We are] always bearing about in the body the dying of the Lord Jesus that the life of Christ, the treasure, might be seen of men and blessed by the fruit in our life" (2 Corinthians 4:10,11) God is good and enables us to be living epistles, known and read of all men (2 Corinthians 2:3).

"God is always good, in spite of the fact that we live in a fallen, broken world that's full of sickness and disease and crime and natural disasters and all sorts of other bad things. God demonstrates His goodness every time another person shows they care. And He works through us, every time we show kindness to others. Sometimes God moves mountains and works miracles, but most often, He makes His presence known through ordinary people like you and me, as we do what we can to share His love." [2]

There is a lesson here. The elderly lady did not have to become a better person. Nor did she need to say anything for me to sense the love of God abiding in her. Jesus is that better person abiding in every true believer. This lady knew that "any display of goodness" was of God and not of her. Undeniably, during that magical moment in the restaurant, someone special had passed by with a heavenly touch. That someone special was Christ abiding in a lowly woman who had become a living epistle (2 Corinthians 3:3).

You are free to go and let the "Christ abiding in you" be a blessing to someone today.


---

1. "The Self Life and the Christ Life" - A. B. Simpson
2. "God, you and ICU" - Wordpress.com


---

Image Credit: Sam Howzit; "Two Clay Pots"; Creative Commons


---
comments powered by

Disqus
Published 5-22-13