KEEP WATCH
The Armor of God


By Jim Allen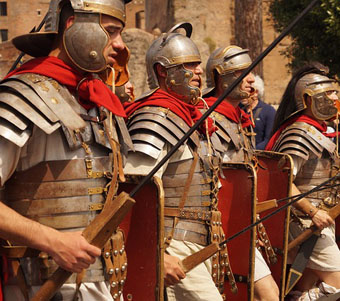 Do you ever feel life is full of contradictions? Do you sense the world is no longer making much sense? I do. We all do. In fact, one example of a contradiction is die to live (Romans 8:13). Another is give to receive (Luke 6:38). Still another is love your enemies and do good to those who hate you (Luke 6:27). These are paradoxes, ideas that seem absurd and entirely rejected by the world.

But these ideas are tenants of truth and fundamental to you and me. Even though Christian ideas are growing less valued by our culture, they are still important and fundamental to overcoming all that is of the world (1 John 2:16).

Paradoxical ideas are unconventional. Such ideas place believers in a bad light because the truth pushes back hard against worldly wisdom. In the world's eye we become the underdog, the ones least likely to succeed. About pushback Bob Conway writes,
As I read my Bible, I've come to believe that God loves the underdog. He loves it when people are told to give it up, to hang up the cleats, to throw in the towel because they have no conceivable chance of winning. He delights in a David who can't even suit up for battle because he's not big enough to wear soldier's armor. The nerve of a little shepherd boy thinking he can slay the world's most intimidating giant. [1]
God is keenly aware that His ideas change the rules, challenge the status quo, push back against the world's folly. God's ideas mix things up and go against everything the world counts as wisdom. Becoming weak to be strong is not what we learned growing up. It's not how we compete in sports. It's not how we grow a business. And, it is surely not the battle cry of a platoon leader facing the enemy.

But we have one thing the world does not have. We have an enemy that can only be defeated by unconventional truth. God knows this enemy and that our strongest frontline defense is no match for the wiles of spiritual darkness. But we can rejoice in some good news and it is this: We are not left helpless or defenseless. We have been given something very special.

The Apostle Paul wrote about that very special something in Ephesians. He told us our battles are not against flesh and blood but against principalities and powers of the air (Ephesians 6:12). The apostle talks about the importance of taking a stand to fend off the fiery darts of this spiritual enemy, but never in our strength. We engage in battle by putting on the full armor of God (Philippians 4:13; Ephesians 6:14-18).

Paul says we put on spiritual armor by girding our waist in the belt of truth (Ephesians 6:14). To gird means to bind tightly. The belt of truth is the first step in preparation because it's the underpinning leather to which all armor fastens (John 14:8). So, it makes perfect sense to gird the waist in the truth.

Next is putting on the breastplate of righteousness (Ephesians 6:14). This armor covers the vital organs sustaining life, most notably the heart. This armor is the imputed righteousness of Christ given to everyone who believes. While the breastplate protects from the wrath of God, it also reminds us that the righteousness of Christ and His atoning work on the cross is our present protection and eternal covering (2 Corinthians 5:21).

Next is shodding our feet with the preparation of the gospel of peace. This armor helps us stand our ground. Emotions, dreams, deception, accusation, distraction, temptation and all manner of assault bear down on the soul to cause imbalance. These things are incoming, the assaults that war against standing strong in peace, which is our strength (Psalm 29:11; 1 John 5:14).

Taking up the shield of faith is next, a protective barrier from all satanic attack. It helps quench the fiery arrows of the wicked one. There are many arrows of all size and purpose. They come from every direction. They create uncertainty leading to doubting God's faithfulness. But when we remain grounded in truth the shield of faith is impenetrable and covers completely.

Next is putting on the helmet of salvation. The helmet is the hope of our salvation and, in my opinion, the most treasured of all. Without the assurance of a future hope, we are severely weakened by doubt and fear. When we are barely able to stand, fear pierces the mind and doubt withers the soul. About this armor John McArthur insightfully writes,
The fact that the helmet is related to salvation indicates that Satan's blows are directed at the believer's security and assurance in Christ. The two dangerous edges of Satan's spiritual broadsword are discouragement and doubt. To discourage us he points to our failures, our sins, our unresolved problems, our poor health, or to whatever else seems negative in our lives in order to make us lose confidence in the love and care of our heavenly Father. (Source)
Taking up the sword of the Spirit (the word of God) is next. It is both armor for defending and weaponry for attacking. The sword enables the believer to defend truth and cut deeply to expose untruth. About this sword one believer writes,
The all-powerful sword of the living God is able to cut through every defense our enemy can raise—down to the very division of bone and marrow. When wielded by a servant of God, nothing can withstand its ability to cut straight to the core of a matter and uncover the truth... (2 Corinthians 10:4-5). (Source)
But, there is one more thing. Maybe you've noticed. There is no armor for the backside if one turns from the fight. Paul knew the battle would be to drive back evil by advancing the kingdom of God. Paul didn't mention armor for the backside because he knew what every battle-hardened commander already knew: A battle with the enemy is never won by retreat.

No retreat — no surrender is the battle cry of genuine faith. David, with a single stone, slew Goliath, the Philistine of Gath. The victory from David's incredible deed was not in his power but in the Lord's strength (Ephesians 6:13). David did not retreat. By faith he saw the end from the beginning. By faith he stood as an underdog and slung a stone with deadly resolve (1 Samuel 17:46-47).

In closing, the number of goliaths we face in life varies for each believer. We travel different paths leading to unknown, unwanted and unimaginable battles. David never imagined his path would lead from a shepherd's field to a battlefield. He never imagined he would, with his unconventional weapon, face a monster. He never imagined the armies would mock and laugh as they did, seeing him as the underdog.

David was a boy. He was not strong or athletic or trained in military tactics. But, he had one thing Goliath lacked and the Philistine army could never possess. David had faith in the God of Israel. Unafraid and standing by faith in the might of God against all odds, David saw the end from the beginning and seized victory over defeat.

David's story is our story when we put on the full armor of God.


Shalom!


---

1. Conway, Bobby; The Fifth Gospel; Harvest House Publishers; p. 139 Kindle Edition.




Image Credit: ClaudioLombariLovi; Untitled; Creative Commons


---
Tags
:
Biblical-Truth
|
Christian-Life
|
Satan-Demons
---
comments powered by

Disqus
Published 2-22-16