KEEP WATCH
Born-Again Christians and the Done-Deal Deception


By Jim Allen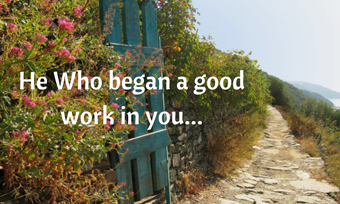 This is part one in a 3-part series about the "change" in the lives of born-again Christians and the "power of deception" that interferes with that change. This article is also about the connection between God's sovereignty to work His will in the believer and the believer's response to that will.

Born-again Christians undergo a change after placing their faith in Christ that will continue for a lifetime. As new creatures, believers draw near to God much in the same way a moth draws near to light. God is light and true believers will prefer the light of the gospel to the darkness of the world (2 Corinthians 5:17; Ephesians 5: 8-14). During this lifelong process of change and drawing nearer to God, born-again Christians learn to give up a life they no longer want for one they cannot live without (Ephesians 4:20-24).

Hidden within the reality of this new life experience are gremlins with extraordinary power to deceive and distract. Jesus spoke of these gremlins when he said, "Take heed that no one deceives you. For many will come in My name, saying, 'I am the Christ,' and will deceive many" (Matthew 24:4-5). Undetected deception will always lead to derailment of one's faith away from God's divine purpose. A pathway once envisioned as straight and narrow can become crooked and disjointed to the unwary believer. The gremlins of deception have, are doing so now, and will continue to severely try believers' faith in a world gone mad.

To be clear, the Bible teaches that once believers possess salvation, they learn to bring into balance two opposing truths. The first truth is that salvation is God's sovereign work in us from beginning to end; from His perspective, salvation is a done-deal. The second (and the opposing flipside) truth is that salvation carries with it the desire for believers to put forth an effort to grow in knowledge and grace of the Lord Jesus Christ (2 Peter 3:18). This new desire is God at work in us to do His will (Philippians 2:13). The reality of these two "conjoined truths" is often lost among new believers when pastors and teachers give undo emphasis to one truth at the expense of the other.

During my walk with the Lord, I heard about the doctrine that teaches salvation is a done-deal after confessing faith in Christ. Televangelists and church preachers alike spoke of it often. These leaders, with gremlins of their own, will tell audiences to relax and enjoy the gift of salvation. They repeatedly and convincingly say, "You already have salvation and do not need to work anymore. It is finished! All you need to do is believe and receive! Your salvation is a done-deal!"

While all of these done-deal phrases speak grace and truth, each omits the flipside truth on the same coin, and herein the done-deal deception. Without the desire to press on in faith and grow in knowledge and grace, one must question if he or she truly has been born again. A born again believer will hunger for the things of God (1 Peter 2:2). The "done deal" gremlin is at work in the church, confusing the work of Justification with the work of Sanctification, both of which are works of God but at different times and for different purposes.

This is not to suggest that sanctification will lead to sinless perfection. Let's face it: we are imperfect beings, and although God has begun a good work in us, that work will continue for a lifetime (Philippians 1:6).





Next: Crippled Wings: Salvation in the Bible and the Believer's Source of Strength
---

Image Credit: JB Banks; Vernazza trail Italy open gate"; Creative Commons


---
comments powered by

Disqus
Published 5-18-11