KEEP WATCH
Brokenness of Spirit

By Jim Allen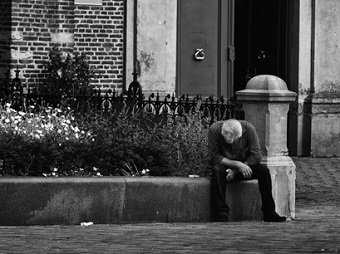 A person by the name of Jan wrote to Got Questions asking how much faith she needed to be saved. Undeniably, the question was interesting because just about everyone grapples with this question on occasion. Is there some kind of obscure line a person crosses to go from vain faith to saving faith? If so, how can we know? What does God require?

Let's begin with the apostle Paul who said, "If you declare with your mouth, 'Jesus is Lord,' and believe in your heart that God raised him from the dead, you will be saved (Romans 10:9)." But, is this all there is to it? Some in the church seem to think so. But, not everyone agrees. The apostle Paul also said, among other things, godly sorrow works to bring repentance (a type spiritual brokenness) necessary for salvation (Romans 2:4; 2 Corinthians 7:10). Jesus also spoke about the necessity for godly sorrow leading to repentance and salvation (Mark 1:14-15).

Jan went on to say she had been exploring Christianity for some time but didn't think she could believe everything in the Bible. I sensed a lack of faith in her words, and it became clear the answer to her question must begin with the thief on the cross and nowhere else. Though this is a bold claim on my part, it must be the starting point because it brings forward a fundamental principle many in the church no longer recognize as relevant.

Turning back the pages of history to the time of Christ, one among many of Jesus' miracles includes the transformation of the thief on the cross from sinner to saint (Luke 23:41-43). Have you ever wondered what miraculous event occurred between God and the thief crucified next to Jesus? I have. What divine principle came into play that day resulting in the salvation of this unseemly soul?

Jesus hinted at this divine principle earlier in his ministry when he told the parable about the Pharisee and publican (Luke 18:10-13). While the Pharisee prayed and boasted about his good works and praiseworthy standing before the Lord, the publican (a lowly tax collector) stood afar off, bowing his head in shame and (not lifting his eyes) prayed, "Lord, be merciful to me a sinner." Jesus said about this publican's self-effacing prayer: "I tell you, this man went down to his house justified rather than the other..."(Luke 18:10-13).

So then, how was the thief justified and by what divine principle? Matthew Henry writes about the value of brokenness when he wrote:
He (the Pharisee) went up to the temple to pray, but was full of himself and his own goodness; the favor and grace of God he did not think worth asking...The publican's address to God was full of humility, and of repentance for sin, and desire toward God. His prayer was short, but to the purpose; God be merciful to me a sinner. Blessed be God, that we have this short prayer upon record, as an answered prayer; and that we are sure that he who prayed it, went to his house justified; for so shall we be, if we pray it, as he did, through Jesus Christ...
Henry has it right. The epistles of Paul talk about brokenness, a result of the Holy Spirit's work to convict the soul of sin, of righteousness, and of judgment (John 16:8). Without the divine plow of godly conviction to break up the impenitent soil of the heart, no amount of personal faith will change a thing. The principle of brokenness stands today even though it is for many an inconvenient truth and perhaps why the institutional church pushes it aside as offensive and needless. What a mistake.

But Jesus also said while reading from Isaiah 61, "The spirit of the Lord is upon me because he has anointed me to preach the gospel to the poor, the broken-hearted, the captives and the blind" (Luke 4:18). Jesus did not come to save the proud and impenitent and righteous Pharisees of our day. He came to save the broken-hearted, remorseful souls fully aware of their unholy plight (Psalm 34:18; Matthew 11:28-30).

This principled truth came to light during the crucifixion when the impenitent thief mocked Jesus for not saving himself (Luke 23: 39) while the other admitted his punishment as just and deserving (Luke 23:40-41). Though the Bible does not say, I believe the thief received the gift of faith after demonstrating his brokenness in spirit and unworthiness of soul.

At that pivotal moment and in some miraculous way, the thief believed Jesus was the Lamb of God. And then, turning to the Savior with lifted head, he cried out, "Lord, remember me when you come into your kingdom" (Luke 23:42), and became a child of God, a citizen of heaven.

Though God is boundless in mercy and rich in grace, He alone set the condition for how one is to be saved.

Humility is good soil because it is broken ground having been prepared to receive the seed of life. Humility comes from the root word humus, meaning a dark and cultivated soil ideal for planting seed. I like this depiction because in Matthew 13 Jesus talks about the good (broken) soil of the heart enabling it to hear and receive the good seed of God's Word (Matthew 13:23).

The good news is that brokenness of the heart is a necessary struggle for everyone hearing the call to salvation. As a mother labors to birth her child, so too does the soul labor to birth the truth about its plight and need for new life in Christ (1 Peter 1:23). But even after salvation is assured, there are moments of quiet desperation and whispers to the Lord saying, "Lord, be merciful to me a sinner."

In closing and for the believer, our struggle is real and our quest for rest and peace can only be found in God's grace and forgiveness. We are led daily to drink freely from the deep pool of unending forgiveness, walk the path of righteousness for His name sake, and learn not to fear when the shadows of life darken our narrow pathway (Psalm 23).

I don't know if Jan crossed that obscure line from vain faith to saving faith. I hope so; and if she did, then God will harmonize her heart to sing streams of mercy never ceasing. She will grow to experience joy and love and call for unceasing praise in the courts above. And when failing to be perfect in faith as we, she will humbly whisper, "Lord, be merciful to me a sinner."

Shalom!


---

*Matthew Henry's well-known six-volume Exposition of the Old and New Testaments (1708–1710) provides an exhaustive verse by verse study of the Bible. After the author's death, the work was finished (Romans through Revelation) by thirteen other nonconformist ministers, partly based upon notes taken by Henry's hearers, and edited by George Burder and John Hughes in 1811.





Image Credit: Rianne van de Kerkhof; "Life is hard"; Creative Commons


---
Tags
:
Biblical-Salvation
|
Biblical-Truth
---
comments powered by

Disqus
Published 3-18-15