KEEP WATCH
Approaching the Throne of Grace
The Apostasy of Contemplative Prayer
Jim Allen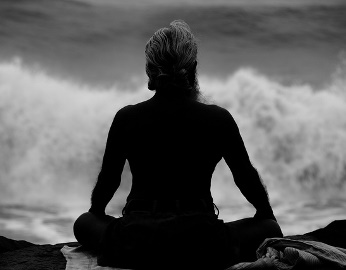 Single Page/Printer Friendly


Will a religious mantra help believers approach the throne of grace to experience God more fully?

While eastern prayer practices of Buddhism and Hinduism appear to have played a role in the growing popularity of mystical prayers in the church, Jewish temple rituals may have reinforced the idea. After all, the Jewish worship protocol was rather involved for its time, although necessary to help explain Jesus' role as our High Priest (Hebrews 4:14-16). And still others suggest the mystical prayer originated here in America.

A mystical or contemplative prayer begins with a centering prayer wherein "…the practitioner focuses on a word and repeats that word over and over for the duration of the exercise. The purpose is to clear one's mind of outside concerns so that God's voice may be more easily heard. After the centering prayer, the practitioner is to sit still, listen for direct guidance from God, and feel His presence." [1] Sounds good but is it?

Mystic prayer found its way into Christianity during the last half of the 20th century. The prayer varies among denominations and from believer to believer. One mainline church refers to its mystic prayer retreat as the Centering Prayer Immersion Experience that includes six thirty-minute periods of prayer emersion followed by meditative walks for each period.

Practitioners of mystical prayer report a wide range of experiences from tingling sensations and euphoria to dreams and visions:
In Rick Warren's Purpose-Driven Life, on Day Eleven, he encourages people to practice "breath prayers" by repeating words and phrases over and over in a mantra-style prayer, a practice used centuries ago by a group of mystical monks known as the Desert Fathers. This so-called "prayer" is identical to that found in Hindu yoga and Zen Buddhism. [2]
Before Rick Warren's rise to prominence Father Keating* (a monk and priest) wrote:
Centering Prayer is a method of silent prayer that prepares us to receive the gift of contemplative prayer, prayer in which we experience God's presence within us, closer than breathing, closer than thinking, closer than consciousness itself. This method of prayer is both a relationship with God and a discipline to foster that relationship. Centering Prayer is not meant to replace other kinds of prayer. Rather, it adds depth of meaning to all prayer and facilitates the movement from more active modes of prayer — verbal, mental or affective prayer — into a receptive prayer of resting in God. Centering Prayer emphasizes prayer as a personal relationship with God and as a movement beyond conversation with Christ to communion with Him. [3]
According to Father Keating, his prayer method brings forward the idea of establishing a personal relationship with God that moves a believer beyond conversation to experiencing God's presence. His approach to God is unbiblical because it replaces Jesus as our high Priest (Hebrews 4:14-16) with words to gain God's favor. Keating's prayer method is man-centered with the onus on the practitioner. With his prayer, one approaches God in such a way to win His approval and acceptance resulting in the experience.

What the priest appears to have missed is that the Trinity does not relate to us by experience but by truth that leads to a personal and abiding relationship that is the true experience one should desired (John 15:4). To experience a supernatural force not founded on biblical truth is to experience a supernatural force grounded on deception.

How is it possible to commune with someone without first getting to know that someone? This is mysticism. And, exactly what is the difference between thinking and knowing the person with whom you are communing? The Bible is clear about the need to know Christ (John 14:17; Philippians 3:10) before we can experience the fullness of Christ (Ephesians 4:13). The difference between "thinking" and "knowing" is immeasurable and one reason for unrestrained deception in the church.

According to the Bible, men like Thomas Keating and Thomas Merton** (father of contemplative prayer) are promoting these kinds of prayers for all the wrong reasons.

First, God's presence in us is not a mystical experience. God's presence is by faith alone through Christ alone (Romans 10:17). We do not always feel God's presence because His presence is faith-based on truth and not faith based on a touchy-feely experience. Seeking to experience God is unbiblical and unnecessary when knowing God is our experience we live out as overcomers.

The faith of the overcomer is one who believes God apart from any experience. Pastor David DePra shares a powerful truth:
It should be obvious to any believer that despite the finished and full victory of Jesus Christ that we do not...live in much of that victory...Well, herein is the need to overcome. We are called to overcome — not the forces that Jesus already defeated — but we are called to overcome the unbelief that would keep us from standing in His finished victory. [4]
Standing in the finished victory of Jesus is the experience we should seek. The apostle John writes, "For whoever is born of God overcomes the world: and this is the victory that overcomes the world, even our faith" (1 John 5:4). Believers walking in the Spirit are overcomers because they experience God's love, joy and peace; they experience a gentile and forgiving heart overflowing with kindness, goodness and faithfulness to all (Galatians 5:22-23). This is the experience God has for us; this is the experience Jesus wants to give us; and, this is the experience we learn to possess by faith.

Coming before the Lord in prayer is not some mystical, tingling sensation causing us to empty our mind and drop to the floor with no thought given to the source of the experience. Our life in Christ is our prayer played out daily before the throne of grace, made possible by the indwelling Christ (John 15:5).


Continue to Page Two


---

Image credit: Nadir Hashmi; Meditate; Creative Commons


---
comments powered by

Disqus
Published 5-20-14