KEEP WATCH
The Great Escape: Thoughts on God's Command to Fear Not


By Jim Allen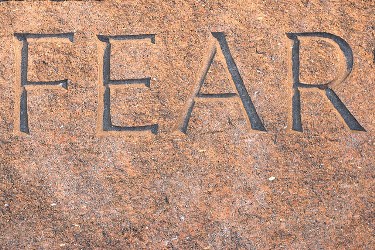 Every day was the same, laborious, predictable and dreadful. There was no freeway commute or iPhone to check in with family and friends. Poor performance on the job was met with a whip, sword, or spear. There was no corporate ladder to climb and no retirement plan for the golden years. Born into slavery, Israel found comfort with the idea of being slaves. They assented to enslavement as their lot in life with no hope of escape, willing to do whatever their unholy master desired (Exodus 5:10). Today, life for many people is all about cutting the best deal, scheming and conniving to grow wealthy at any cost (Ephesians 4:17). The world today, like Israel then, finds comfort in enslavement and knows not of their need to escape.

Although born again believers learn to walk away from the ways of the world, there is one slave master much more cunning and foreboding than all others. The name of this slave master is Fear, a disturbing emotion aroused by real or imagined peril. Fear is a nasty fact that sticks to the soul like glue. As Jim Bramlett said in his post "God's Judgment on America":
Many are praying for revival in America according to the promises of 2 Chronicles 7:14. God will surely honor the prayers. There will be revival, and there will be a great harvest, the greatest the world has ever known. However, based on the parallel of Jeremiah's warning to Israel and God's answer to him, the part of 2 Chronicles 7:14 about "heal their land" — as relates to the secular culture — will not be answered until Messiah returns. As with Israel in Jeremiah's day, I believe judgment on America has already been decreed. God's moth-like judgment (Hosea 5:12) is in progress, eating at us slowly, but His lion-like judgment (Hosea 5:14) will soon pounce, devouring us suddenly and completely. (Source)
Mr. Bramlett's view on the world's disorder and America's plight portrays a grim future that comes into alignment with the Book of Revelation. Although we are free in Christ, our bodies are captive to the reality of this godless world. A foreseeable end to "one nation under God" coupled with the reality of our ongoing internment on this spinning orb is the perfect storm for fearful expectation. It need not be so. The good news is believers need not fear...God's plan for us is peace, protection, and a future with hope (Jeremiah 29:11). The apostle John said, "There is no fear in love; but perfect love casts out fear: because fear hath torment. He that fears is not made perfect in love" (1 John 4:18).

During Israel's exodus from Egypt, the nation found itself in an impossible quandary by obeying God. Stopped by the Red Sea and with no hope of escape, the seething Pharaoh with his army of assassins came upon them suddenly, with deadly resolve (Exodus 14:10). Like Israel then, we too find ourselves trapped in a dreadful dilemma. If there is one lesson from Israel's Red Sea experience it is God's unyielding love for His people coupled with the power to deliver all who take refuge in Him (Psalm 91). God said to Moses then and is saying to you and me now, "Fear not, stand still, and see the salvation of the LORD" (Exodus 14:13).

So then, Israel stood still in faith. Israel did not faint nor flee from its enemy. Israel saw the miracle of salvation when God parted the water, making a way where there had been no way. The Bride of Christ will soon see her salvation, in a like manner, when the Groom parts the clouds (of water) to call us home. This call is the "great escape" Jesus inspired the apostle Paul to write about so long ago, "Wherefore comfort one another with these words" (1 Thessalonians 4:13-18).


---

Image Credit: Loretta Prencipe; "Fear"; Creative Commons


---
comments powered by

Disqus
Published 5-30-12