KEEP WATCH
The Promise of Freedom in Christ
What does the Bible saying about no guilt in life, no fear in death?
Jim Allen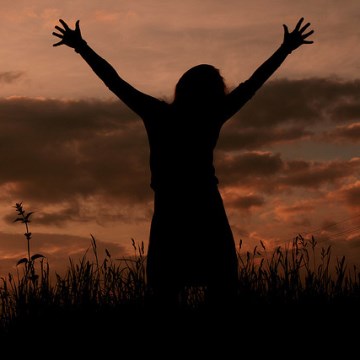 " No Guilt in life, no fear in death. This is the power of Christ in me."

Songwriters Stuart Townsend and Keith Getty wrote these words for the last part of a song entitled In Christ Alone. Both men openly admit biblical truth is the substance for empowering their creative desire to write songs of praise that deepen the worship experience. In fact, biblical truth should be the foundation for empowering every believer to live a life free from guilt, without fear, and in praise to the risen and ascended Lord (Psalm 69:30; Ephesians 5:19).

"No guilt in life" is the freedom we enjoy now that Christ has lifted the heavy load of condemnation (Romans 5:1). God buried the heavy burden of our sin in the deepest sea, never to surface again (Micah 7:19). He took our guilt, sorrow, and infirmity upon Himself and carried them far away—as far as the east is from the west (Isaiah 53:4). Now we are free to live apart from our sinful life, living with Him instead, in the light of His grace, praising His holy name (Exodus 15:2).

"No fear in death" is more than a promise of Heaven. We can only vaguely imagine eternity and the coming glory that will be ours in Christ (1 Corinthians 2:9), but a child of God is blessed beyond measure and in many ways (Ephesians 1:3-6). Physical death is not the end for believers because we have already passed from spiritual death to life (John 5:24). This world is no longer our home. Our stay here is but for a time (Philippians 3:20) as we learn about God's purpose and His will for our lives—to be newly made in Christ (2 Corinthians 5:17).
Goodness and Mercy
"From life's first cry to final breath, Jesus commands my destiny."

This part of the song captures the breadth and width of God's watchful eye on His children. His grand survey of the moment of our conception to the end of physical life occurs under divine guard of our watchful Shepherd, Jesus Christ. Read Psalm 23 for a beautiful image of our life's journey as a child of God.

We begin our journey from the moment of peaceful restoration, leading to the path of righteousness (Psalm 23:1-4), then finding ourselves in a dark and menacing world, surrounded by evil doers. We walk the path of life, free to fear no evil because Jesus is at our side (Psalm 23:4). We are "works in progress" (Philippians 1:6); and despite our struggles and failures, we press on toward the high calling in Christ Jesus knowing our path is narrow and often unimaginably hard to walk (Philippians 3:12-14).

Yet there is hope, for the capstone of Psalm 23 is in verse 6: "Surely goodness and mercy will follow me all the days of my life; and I will dwell in the house of the Lord forever." The table prepared before us, in the midst of our enemies, is the word of God. The Lord invites His adopted children to dine freely and often, to swallow and digest His Word and grow wise and strong in faith (2 Timothy 3:15). The Holy Spirit is our cup of overflowing joy—a demonstration from heaven—that our earthen vessels are entirely incapable of holding all of God (Psalm 23:5). What a beautiful, blessed image of everlasting life.

God's presence in a billion believers would still be too few to hold His majesty. Just one thought from God would be enough to fill us with wonder for eternity (Jeremiah 23: 23-24).
Secure in Christ
"No power of Hell, no scheme of man can ever pluck me from His hand."

This lyric captures our eternal security in a way only Jesus could say it, as recorded in John 10:27-28: "My sheep hear my voice, and I know them, and they follow me. And I give them eternal life, and they shall never perish; neither shall anyone snatch them out of my hand." The apostle Paul goes on to say the Holy Spirit places those who are born again of incorruptible seed (1 Peter 1:23) into the body of Christ: "There is therefore now no condemnation to them which are in Christ Jesus, who walk not after the flesh, but after the Spirit" (1 Romans 8:1).

Paul repeats the eternal security theme in Romans 8:14-16: "For as many as are led by the Spirit of God, they are the sons of God. For ye have not received the spirit of bondage again to fear; but ye have received the Spirit of adoption, whereby we cry, Abba, Father. The Spirit itself bears witness with our spirit, that we are the children of God."

So convinced that genuine believers have eternal security, Paul says, "For I am persuaded, that neither death, nor life, nor angels, nor principalities, nor powers, nor things present, nor things to come, nor height, nor depth, nor any other creature, shall be able to separate us from the love of God, which is in Christ Jesus our Lord" (Romans 8:38-39).

In every way imaginable, Jesus commands our destiny. He guarantees our safe keeping with the most notable of all promises to those who love Him (John 14:3). This reassuring hope of His imminent return for us is the power of Christ in you and in me!


---

Image Credit: ~Zoe~; "What does your soul look like?"; Creative Commons


---
comments powered by

Disqus
Published 3-7-13