KEEP WATCH
Pharisees in the Pulpit Part 2
Bondage to the Law of Works

By Jim Allen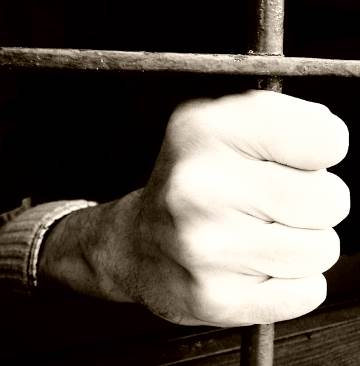 In my last post, I said legalism is a monster and in direct opposition to the precepts of faith. In this post, I want to skip over the long history of narratives addressing legalism as a problem in the church and focus on the impact legalists have on innocent believers. As already defined, legalism or the law of works is religious performance carried out by the believer to establish a right standing with God. The problem with the law of works is not the goal but the means for achieving the goal. When a legalist sees a fellow believer failing to live up to a mandate, the pastor unleashes a thug or two to rebuke the offender with stern warnings, placing the believer under bondage to the law of works.

As a case-in-point, one minister said, "If you steal your tithe dollars to spend on yourself, the Spirit will use the rod on you." This evangelical minister spoke a monstrous lie by twisting Scripture to say what it does not in light of the gospel of grace. This minister went on to say using Malachi 3:8, "Will a man rob God? Yet you have robbed Me! But you say, In what way have we robbed You?' In tithes and offerings." Another minister, cut from the same cloth, said nearly the same but took it a step further by saying that those who did not tithe are thieves and that according to 1 Corinthians 6:10 would lose their salvation. Although spoken with a disingenuous sense of concern and love for the offenders, this minister wanted financial results.

Both ministers were unknowingly practicing legalism and both missed the entirety of what the Bible is teaching about what belongs to whom. Although God desired ten-percent of one's wealth under Old Testament Law, now under grace He desires "all" of the believer's heart. God values the heart of the believer more highly than any earthly treasure including the tithe. If the value God places on the heart were not true, then for whom did Jesus die? When God possesses the heart of a believer, tithes and offerings are never an issue again.

The internet is a treasure trove of known cases of spiritual abuse resulting from mean-spirited pastors whose enforcement of the law of works is both confounding and disheartening to everyone involved. One conservative evangelical Christian, by the name of Vyckie, had this to say about her experience in the Quiverfull movement:
My life as a devoted fundamentalist believer had become a living hell of emotional and spiritual abuse. For all our efforts to know God, to love Him, discern His will and live out His precepts in our lives, our family was going crazy — we hated ourselves and we hated each other and we all wanted to die...I kept waiting on God — trusting Him to work everything together for good...But it never happened — things didn't work out for us.
After the family broke up, Vyckie left the Quiverfull movement (church) and rejected her faith. She fell away and is no longer a believer even though she tried to love Jesus. Vyckie's story is one among many online stories about abuse. Regrettably, many such stories go unpublished and remain unknown. The dark and abusive side of Christianity is disturbing and has deep roots in legalism, which is a lethal monster unleashed by evangelical Pharisees who uphold self-improvement as a program designed to gain God's favor and acceptance through obedience and good works. Do not these ministers know that when God looks at a genuine believer He sees the imputed righteousness of Christ (Romans 3:21-22; 4:23)?

Because of these dastardly acts, lives are ruined, churches fail, and websites come online to expose the abusiveness of legalists who twist doctrine to suit their distorted view of God. Individuals and families alike are destroyed by control freaks who fleece the flock with one hand and threaten them with the other hand while holding up a list of dos and don'ts. The nastiness of legalism leaves a long trail of broken ex-believers who have given up on the Christian faith. Many of their testimonies are online, speaking of the hell and torment they encountered while trying to follow Christ. It is truly sad and my spirit is trodden.

The Bible pulls no punches when it comes to faith. To be sure, God will test every believer. Believers will go through phases of struggle to grow and strengthen their flight muscles of faith. The apostle James gives us an idea of this testing when he says:
"My brethren, count it all joy when you fall into various trials (testing), knowing that the testing of your faith produces patience (lack of complaint with fortitude). But let patience have its perfect work, that you may be perfect and complete, lacking nothing." James 1:2-4
The Savior's most scathing rebuke was to the legalists of His day who paraded in vestures of good deeds and self-righteousness. Jesus will again one day unleash his scathing rebuke on ministers who flog the flock into legalistic submission (Matthew 7:21-23). Legalism and those who practice it deny, dismiss, and undercut the gospel of grace. Even though the rhetoric of the evangelical Pharisees may be well-intended, the message of bondage and abuse is no less appalling and dangerous to one's faith. Since no one is going to have an easy path to walk in this life, the challenge or test of one's faith is endurance, which is the need to continue believing the gospel regardless of the trials and setbacks. To continue in the faith is fundamental to a true disciple and expected because Jesus said to those who believed on Him, "If ye continue in my word, then are ye my disciples indeed; And ye shall know the truth, and the truth shall make you free" (John 8:31-32). Jesus is talking about holding fast to the gift of faith.

In my next post, I will expand on the "paradoxical confrontation" between the two truths, one being the law of works and the other the law of faith. Scripture itself will explain why there is a confrontation difference between the two and demonstrate the ongoing need to rightly divide the word of truth (2 Timothy 2:15).


---

Pharisees in the Pulpit, The Series
Part 1: Adding Legalism to Faith
Part 2: Bondage to the Law of Works
Part 3: Freedom in the Law of Faith


---

Image Credit: madamepsychosis; "Holding, pushing #2"; Creative Commons


---
comments powered by

Disqus
Published 6-11