KEEP WATCH
Living the Gospel
Is the Gospel beyond belief?
Jim Allen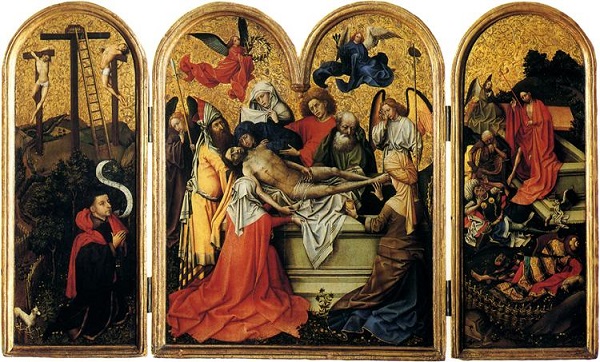 One amazing fact about Jesus' first coming is that he came to bear witness to truths beyond our capability to believe. He came to tell of another place where there is peace and joy and rest. He came to tell of a journey from a dark kingdom to one basking in light and peace. He came to save men from themselves.

The apostles were the first to hear about this new hope from a person who loves. Chosen to follow and often confused, these men of lowly means saw the beauty and wonder and majesty of the Savior's walk. But what they did not clearly see is that one day they too would be empowered to walk as he, in the Spirit, the power of God (John 15:5; Acts 2:4).

Jesus' first coming was both physical and spiritual, an event like no other, with a divine purpose understood by few. Some would comprehend the significance of his coming, and those who did were enlightened by the Holy Spirit to recognize it as so (Luke 1:13, 67-79; John 1:29; Mark 8:29).

All throughout the Bible the physical is often a picture of the spiritual to show us a path from a beginning to an end. Though Jesus's life on earth was indeed a miracle, his purpose in coming was divinely instituted to make a way for us (John 3:16). Jesus' many footprints left along the dusty paths and rocky byways of Galilee are a picture of a person living in full dependency on the Holy Spirit; and, that those who would place faith in the great I AM would one day learn to do the same (Ephesians 5:8).

Jesus' many footprints left along the dusty paths and rocky byways of Galilee are a picture of a person living in full dependency on the Holy Spirit; and, that those who would place faith in the great I AM would one day learn to do the same (Ephesians 5:8).

Though Israel's exodus from Egypt is both ancient history and a lesson that would one day become ours to learn, it is nevertheless one learned by faith; that is, we learn to give up that which we cannot keep to possess that we cannot earn. Yes, we learn to walk by faith even though faith is a gift (Ephesians 2:8). Israel's exodus from Egypt is a fitting depiction of faith and personal journey from the old to the new.

Our exodus from the old life is also challenging with some interesting twists and turns along the way. While some steps seem agonizingly difficult, others are effortless and still others priceless and treasured forever.

Do you sometimes feel as though God is sending the four horseman of the apocalypse to mess with your life? If so, rest assured He is at work replacing dependence on an earthly kingdom with dependence on a heavenly kingdom. This internal ordeal of the soul is a tug-of-war for ownership of the throne, a struggle between the old man and the new man (Matthew 11:12).

The call to follow Jesus is an appeal to step down from ownership of self. It is an agonizing request because self-rule is in the balance. Self is not in the business to follow but to lead, and has always had a big say in our daily goings-on. But Jesus said, "he who loses his life for my sake will find it (Matthew 10:39)."

As believers agonize over ownership of behavior, it becomes clear that some things in life must be released, and so they are. Each release is a step downward from the throne towards the grave where the old Adam must go, that part of us that wails to not let it be so.

God crucified the old Adam with Christ 2,000 years ago. This is a work He started and finished, but only if we can believe it to be true for us (Galatians 2:20). Why is this so important? It is important because our old life seems to be very much alive.

Matthew Henry writes about the old sin nature:
It is weakened and in a dying state, though it yet struggles for life, and even for victory... Sin may struggle in a real believer, and create him a great deal of trouble, but it shall not have dominion; it may vex him, but it shall not rule over him.


Matthew Henry's words can be summarized into one word: sanctification, that ongoing work of God that slowly raises the new man from the grave of ungodly pursuits and temptations to walk in newness of life. The Apostle Paul said that in spite of his imperfections and failures he would continue to press on to the high call of God in Christ Jesus (Philippian 3:12-14).

So then, how can there be a resurrection of the new until there is first a crucifixion of the old?

Is giving up self really necessary? Even though the old nature is weakened and in a dying state, it will struggle for life and even for victory if we give in to its pitiful whimper. Does the Bible really say we live by dying and overcome by believing? How can such a notion be true and yet so easy?

A person wrote to Got Questions and asked, "Is salvation really that simple and easy?" The question was important and insightful. The answer to the question was perplexing because the Gospel is simple and complex and yet easy and difficult.

The easy and simple part about Christianity (for you and me) is Jesus did the heavy lifting 2,000 years ago (Romans 5:19). He took up our cross and went to Calvary. Now, the hard and complex part about Christianity is to believe our old nature has been crucified and raised with Christ (Ephesians 2:6).

This truth about our identification with Christ goes beyond our human ability to believe and why most don't. But, if you do believe and have confidence in the work of the cross, then you have been born again and given grace and faith to walk the walk (1 Corinthians 1:18).

In closing, the Bible says we are works in progress (Philippians 1:6) and that learning to walk by faith in the Spirit will at times seem like the hardest thing we ever do. More importantly, we don't change our lives to walk in the Spirit; but rather, because we are changed we do so following in the footsteps of the Savior (1 John 2:6).


---

Image Credit: Robert Campin; "Triptych: The Two Thieves with the Empty Cross, the Entombment, The Resurrection"; c. 1415; Public Domain


---
Tags
:
Biblical-Truth
|
Christian-Life
|
Jesus-Christ
|
Witnessing-Evangelism
---
comments powered by

Disqus
Published 1-28-15